This post is particularly timely, as I am writing it in conjunction with an Instagram takeover I am doing TODAY over at @headinghometodinner. Heading Home to Dinner is Boston's first-ever dine-by-design event, featuring tables and bar carts created by dozens of the area's top designers, in support of Heading Home's mission to end homelessness in our local communities, by working to secure permanent housing for families in need.
I'll be blogging more about the event itself (there are actually a few of them!) in the weeks to come – today is all about the design inspiration. Specifically, how bar carts can be used (and useful!) in your home, no booze required. Which might be especially pertinent if your kids are getting to the age where liquor is not so much styled and displayed, as it is locked away and inaccessible to the underage :).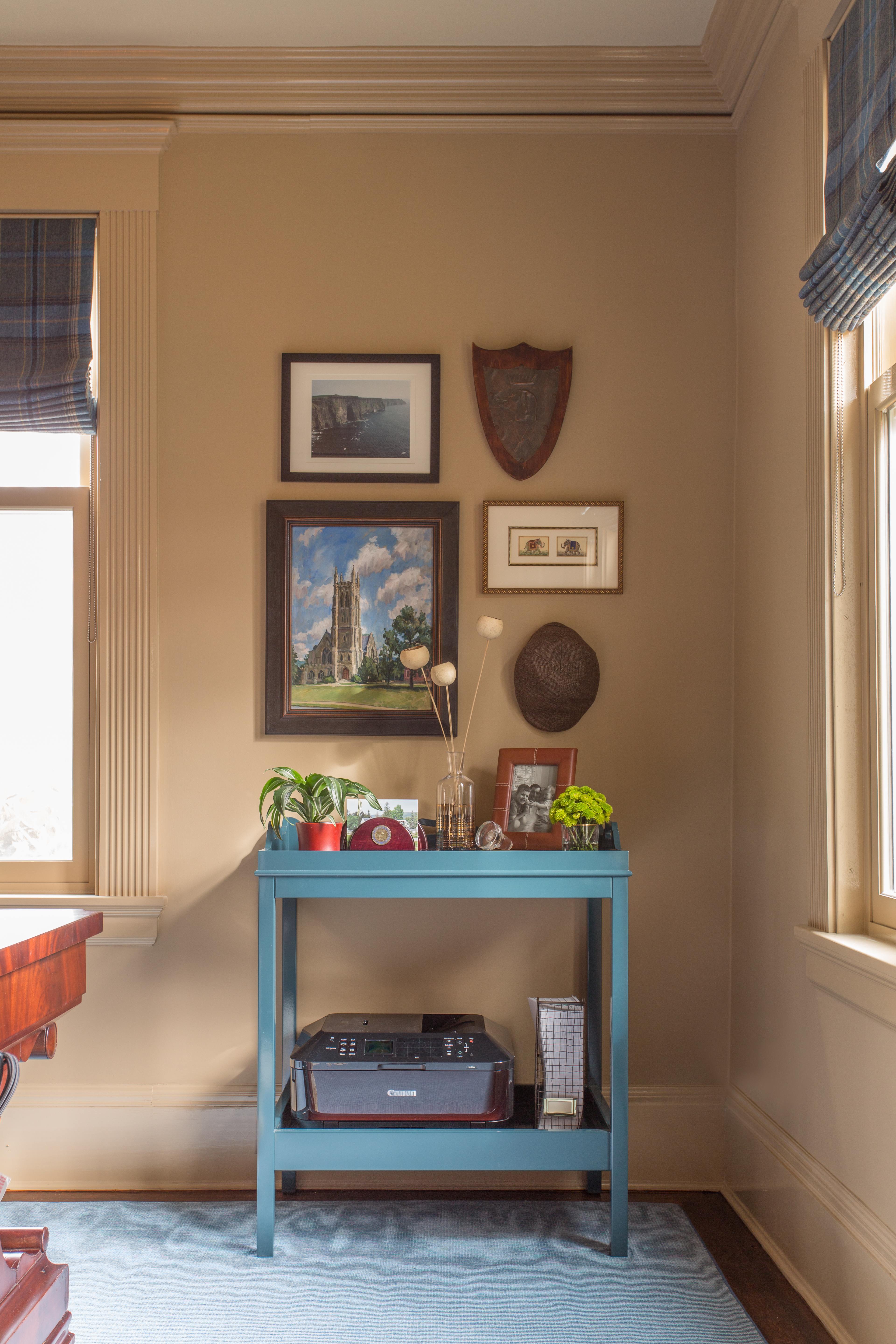 Design: Kelly Rogers Interiors. Photography: Eric Roth
Let's start with a past project of mine, which happens to be in my own home. In the 'Manbrary,' or, our library and my husband's sometimes office, I employed a bar cart as a way to corral office accoutrements, as well as the printer. Since the corner of the room was where I needed this to go, a chest was too big, but a side table would have looked out of place, and too small/low. The Billy Bar from Nina Campbell's collection for Oomph was the perfect solution with its lower shelf, taller height, oh, and the lacquered finish just happened to exactly match the built-ins on the opposite side of the room! In a nod to the intent of the wheel-less bar cart, I did use a decanter and a tumbler as vases.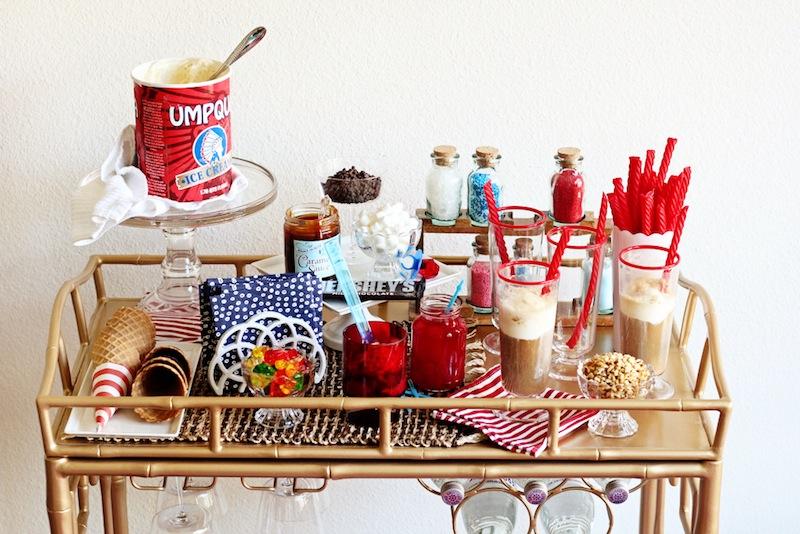 I just love the idea of an ice cream sundae and float bar cart! This one by Society Social is summer cookout-ready – just load it up and roll it out to the patio for a festive take on a dessert cart.
Corral a bevy of books in a portable, rolling bar cart bookcase. I love how, unlike a bookshelf, it floats and sits away from the wall – it really adds charm and warmth. Not to mention, portability, which is super-important in small spaces, in particular.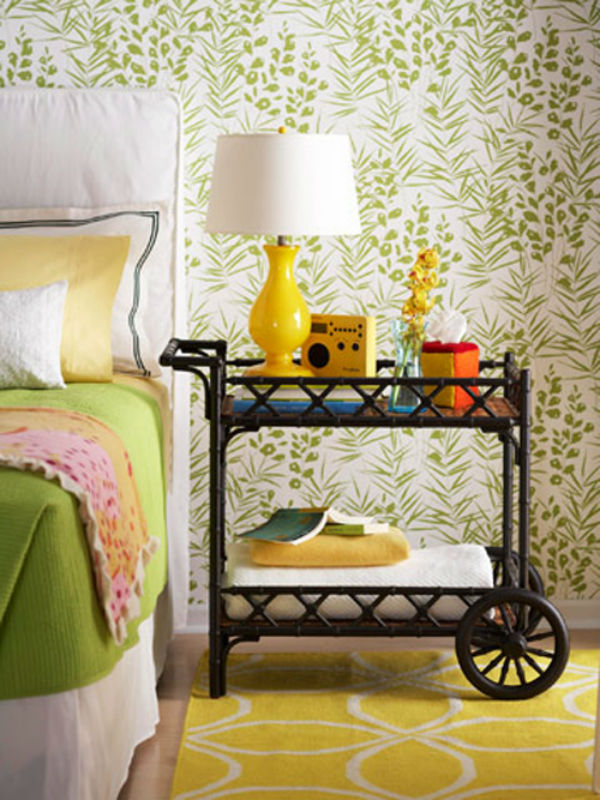 Or how about a bar cart night stand? I generally prefer when a nightstand has at least one drawer, but again, the bottom shelf provides a lot of utility – here, it stores extra blankets and a book-in-progress. I think another benefit for me, anyway, would be the lip all the way around the top surface. I knock my phone and/or glasses off my nightstand – much to my husband's chagrin –  in the dark about every other night. This would be a great casual look for a guest room or beach house.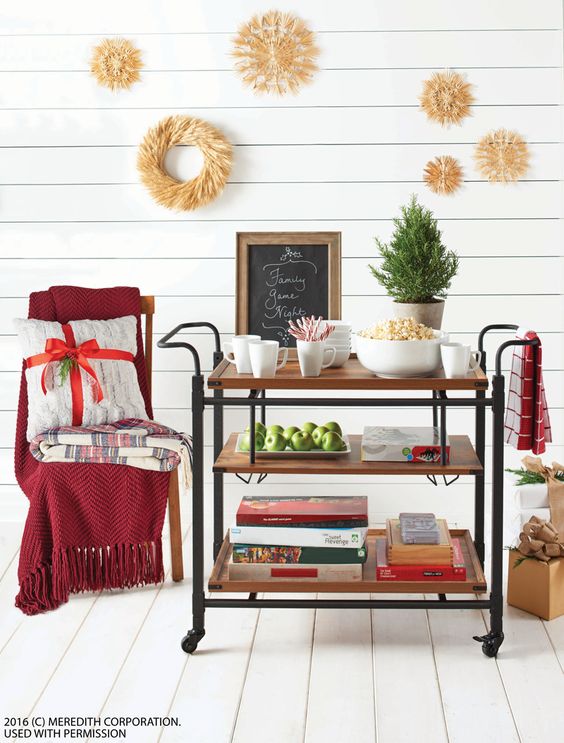 I'm a total homebody, and there's not much I love more than a good game of Trivial Pursuit accompanied by a large group of extended family and a steaming mug of hot cocoa. Also, I'm really competitive when it comes to board games :). And what a cool way to stage family game night – put all of your favorites (my son will require Monopoly) on the bottom shelf, and set up the snacks and beverages on top. I'd be good to go for hours on a chilly winter evening. Maybe even days…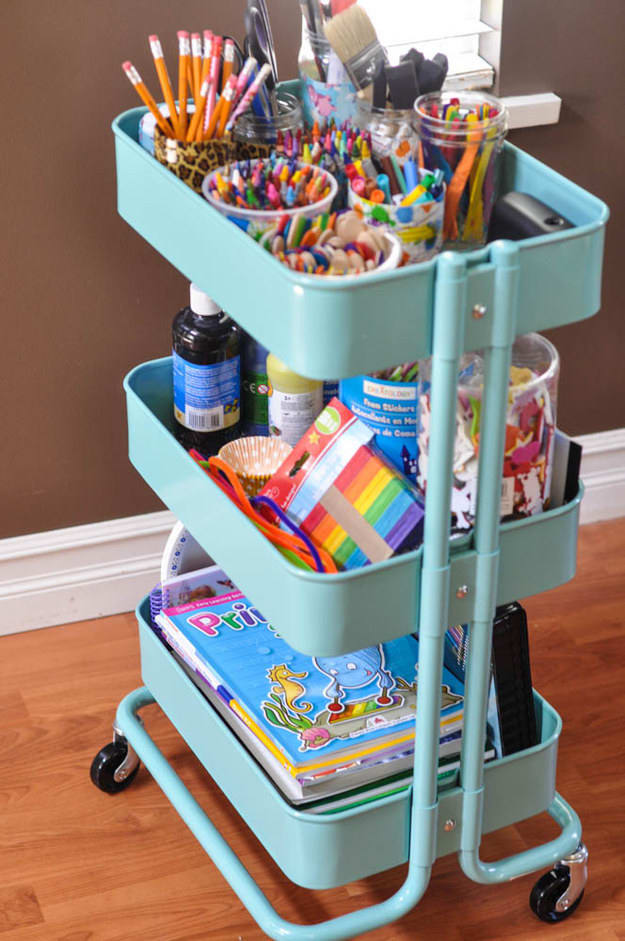 I am suddenly feeling like my kids really need a bar cart. Something like this would be so useful in the case where there is no dedicated playroom, and supplies might migrate from one room to the next. There is nothing that drives me more crazy than seeing this 'migration' (especially after a major clean-up has gone down), but what if the storage solution migrated with the arts and crafts supplies? Genius.
Have you ever gotten creative with a bar cart? I'd love to hear your ideas!