As many of you are already aware, we're slowly approaching the finish line on a new construction home, which is generally believed to be completed sometime next month (note my full confidence in this assertion 🙂 ). I've been dropping by frequently to monitor progress, and I've learned a few things.
1.) Everything takes at least twice as long as the contractor says it will (and it's not necessarily his fault).
2.) My soon-to-be 14-month old ain't getting any lighter. I'm testing the limits of our Baby Bjorn – and my back.
3.) What is happening is starting to look gooooooood…. 🙂
I wanted to share some progress on – as well as the overall color scheme for – the kitchen, which of course is a critical part of the color scheme for the entire house. As usual, the photo quality is a function of my equipment (iPhone 4 w/ fingerprinted lens) and cargo (squirmy toddler).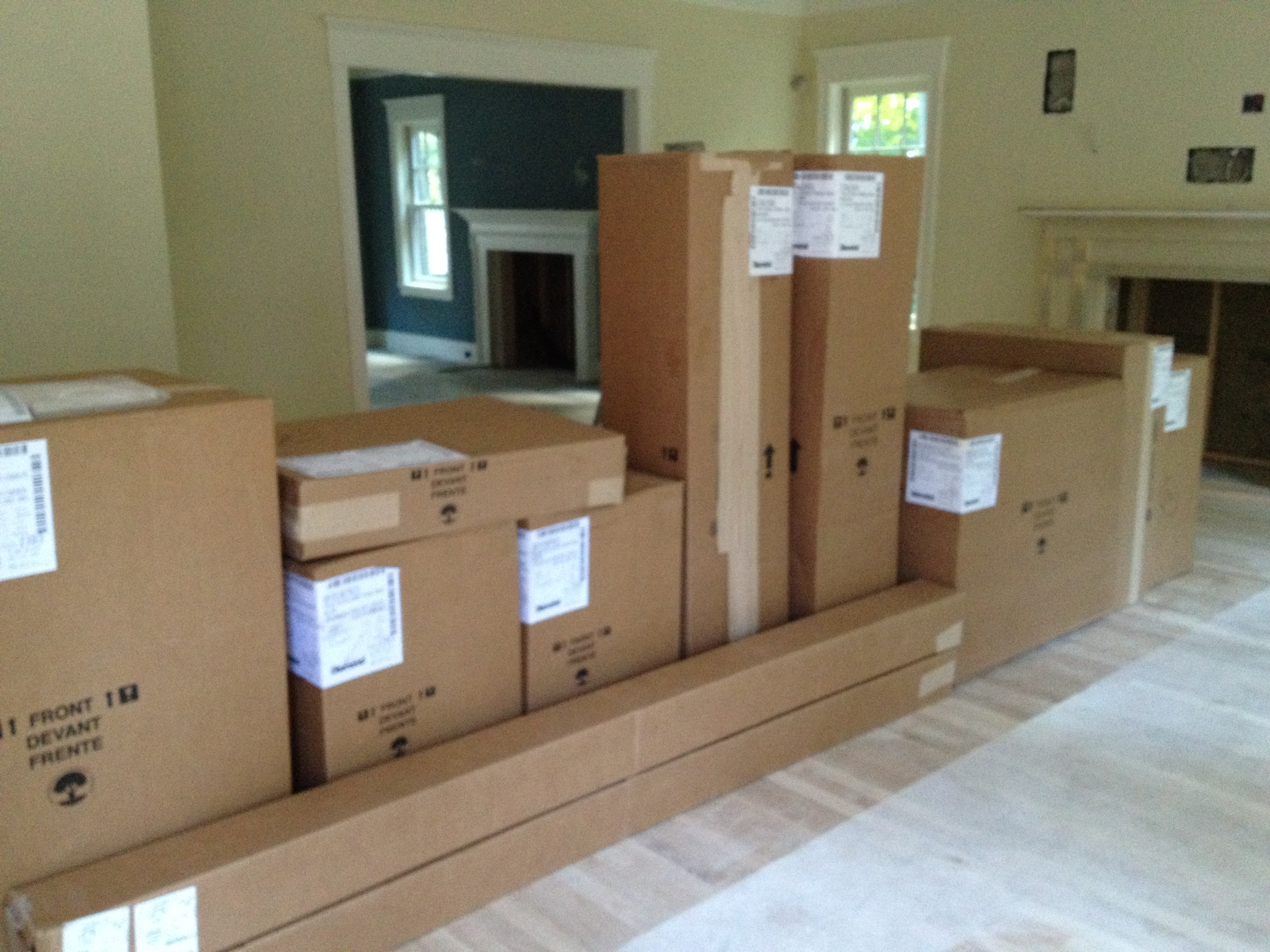 Boxes and boxes of cabinetry for the kitchen and beyond awaiting installation.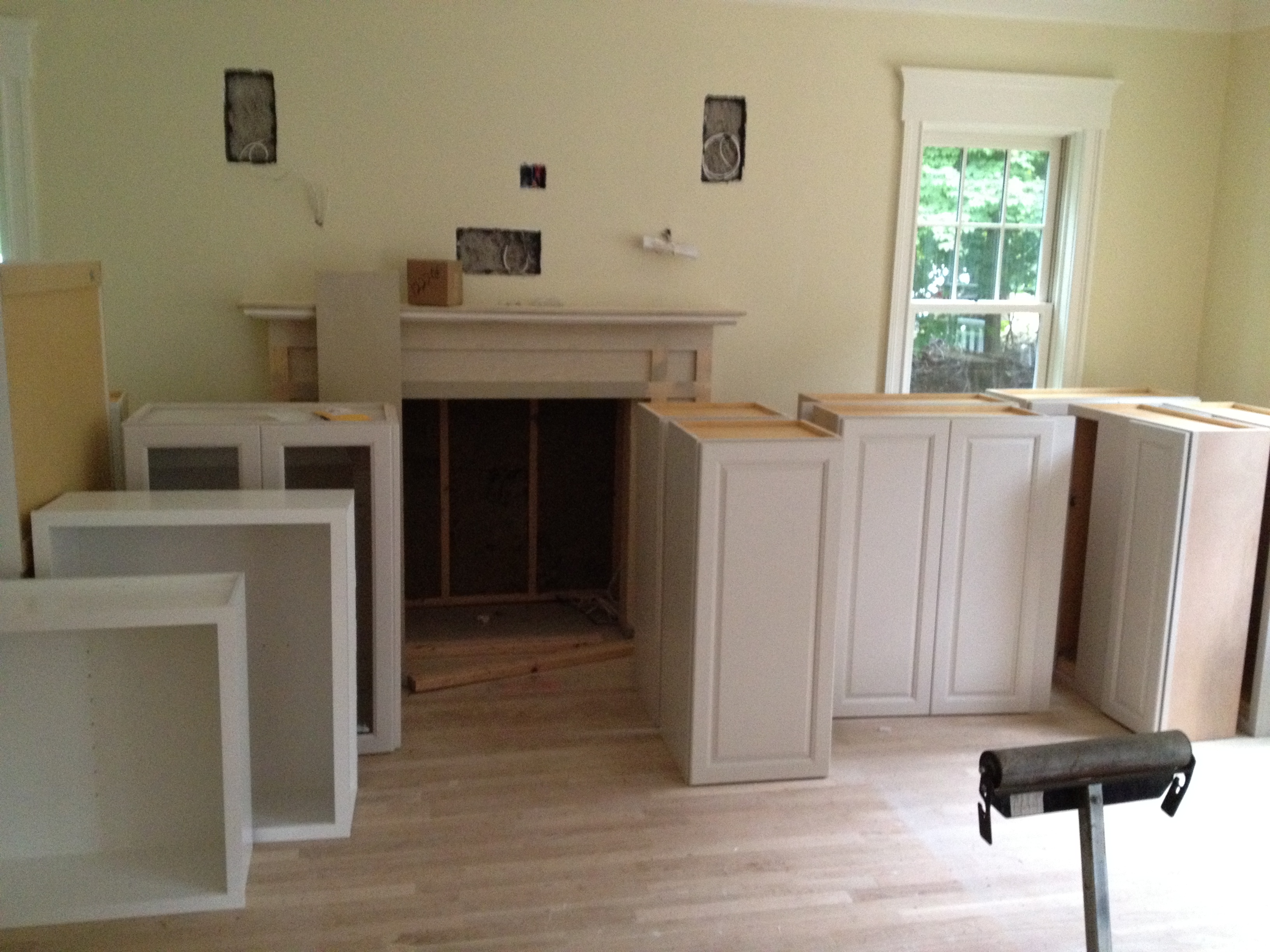 Upper cabinets sitting on our family room floor.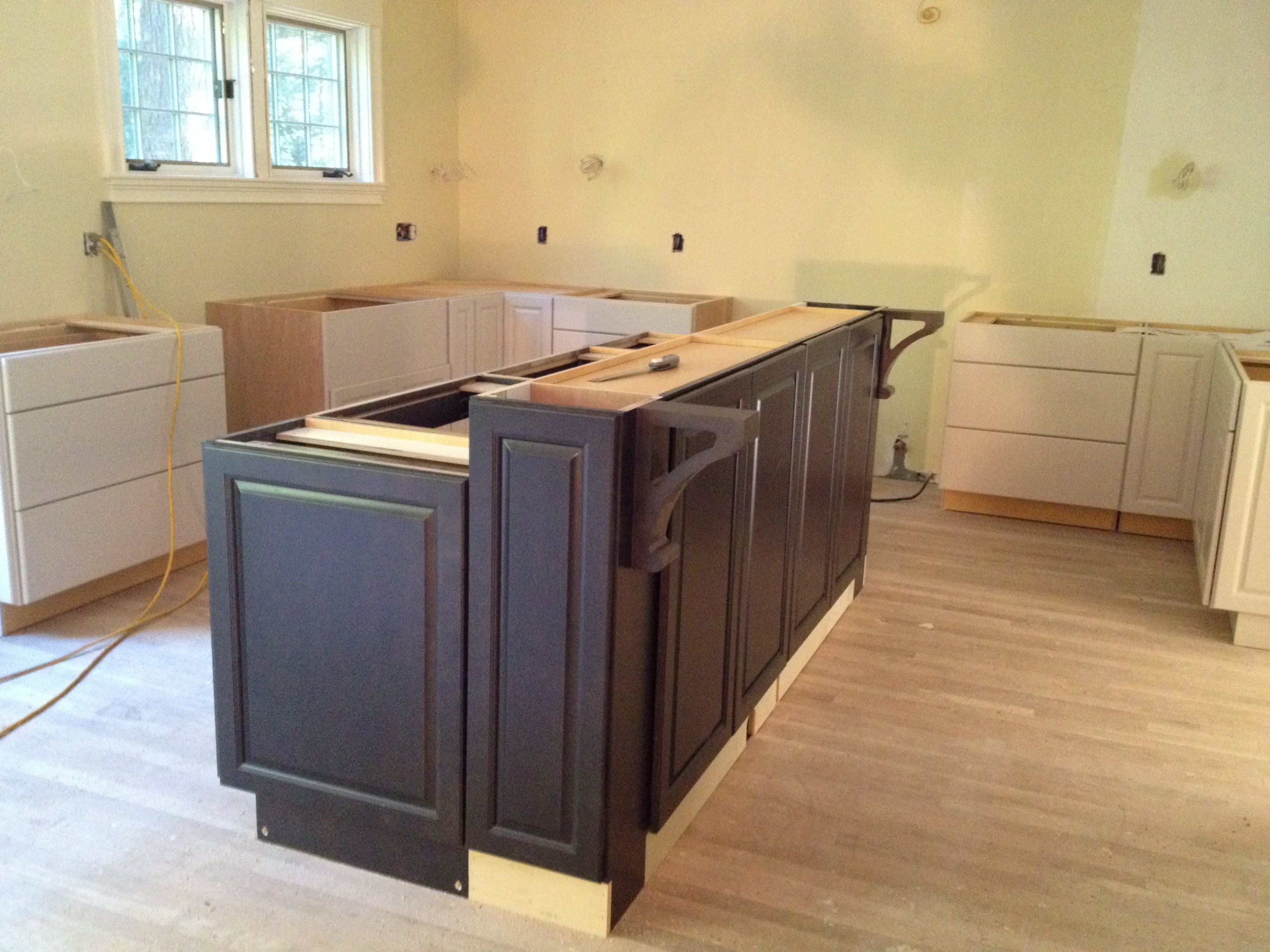 Perimeter cabinets in a dull (grayish) white and a deep charcoal gray island – the building blocks of our kitchen. The island has a raised bar-height seating area, with a decorative (and functional) corbel on each end.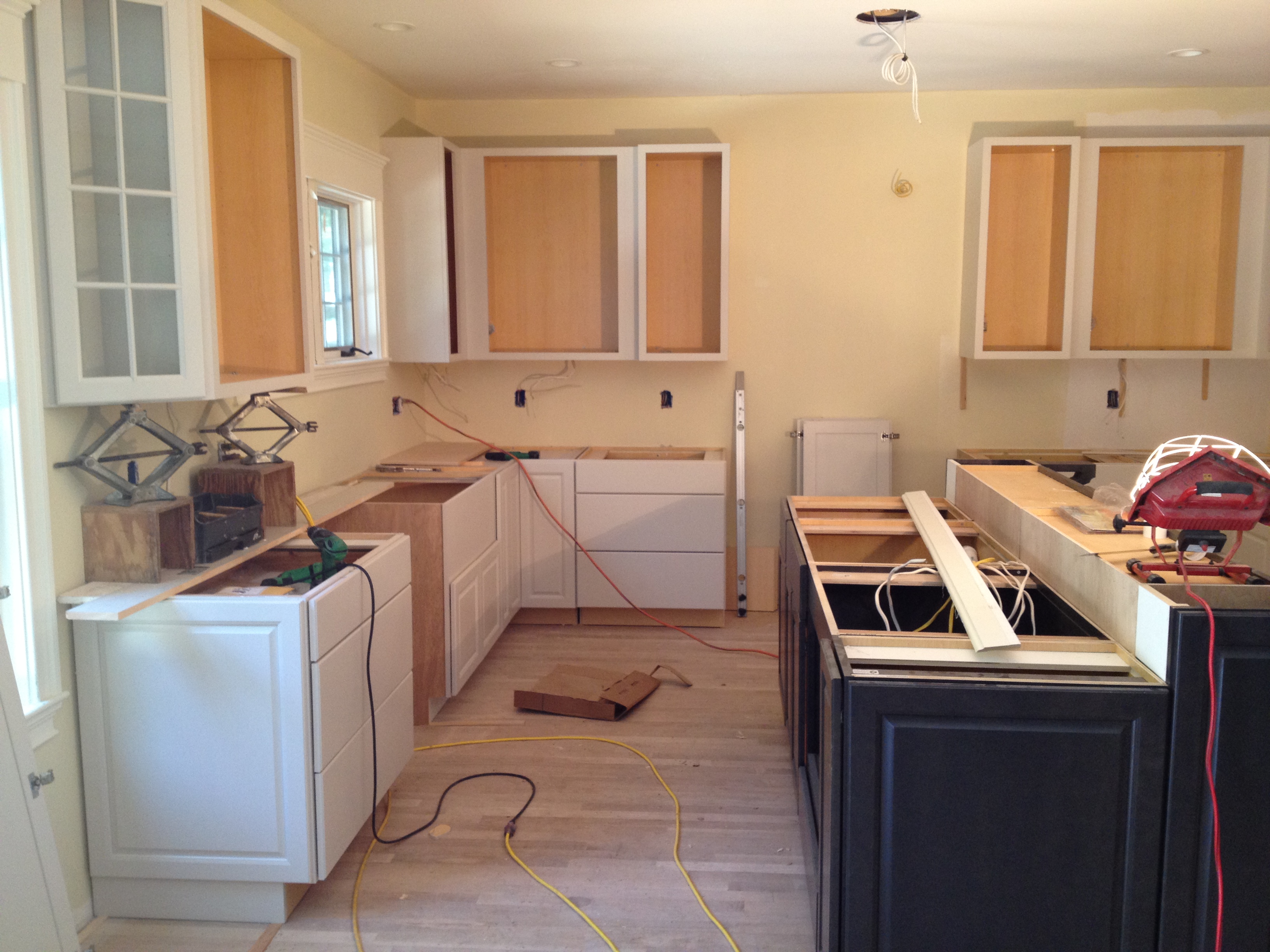 Uppers now in place! There will be moulding that brings the cabinetry all the way to the ceiling. I chose a simple raised panel door style for the doors and side panels, while drawers are more or less flat. I'm hoping to jazz up the drawers with some great satin nickel pulls :).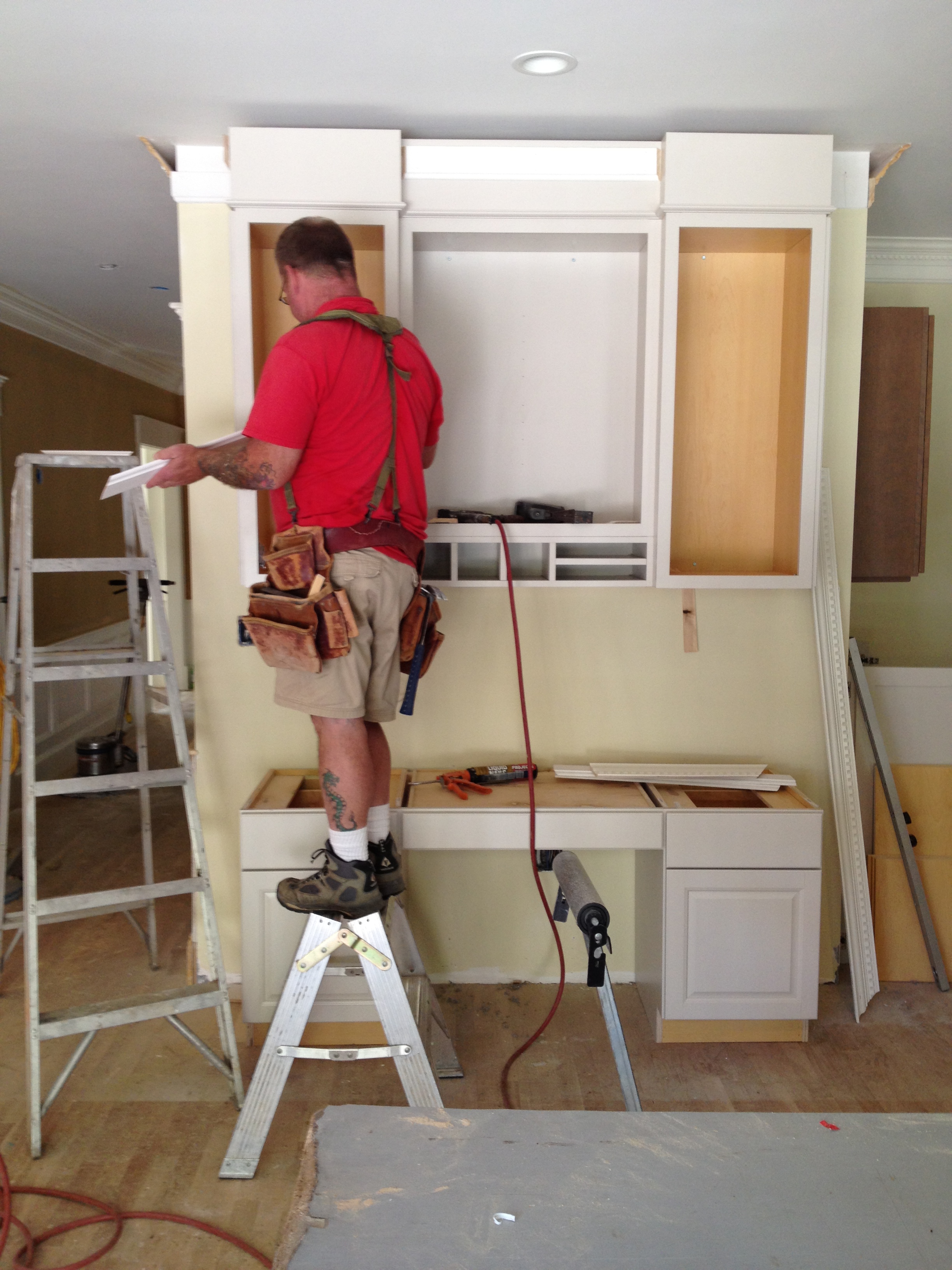 The camera-shy cabinet installer working diligently on the "mother's desk," which is in the dining area in-between the kitchen and the family room. I'm so happy to have a desk and storage on the first floor, so I don't have to commandeer kitchen drawers into junk drawer service, and I have a convenient place to pay bills (and blog).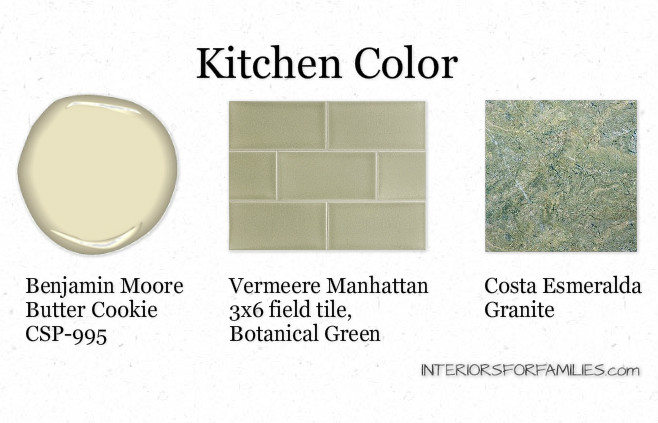 While I love the gray tones of my cabinetry, the starting point for my kitchen color scheme was actually Costa Esmeralda granite, which I fell in love with early in the materials selection process. Now, I'm well aware that not everyone loves granite (or green!), but this is not your typical granite. It's a lovely green with healthy doses of mottling and delightfully irregular creamy veining. To warm up the space, I chose to paint the walls Benjamin Moore Butter Cookie, a light and buttery (how 'bout that!) color that carries through nicely into the adjacent family room. The glazed ceramic subway tile I selected for the backsplash is a more natural spring green, which helps connect the countertop color with the walls as a relatively even interval between them. Floors are (will be) white oak stained with Minwax "Special Walnut."
These are the building blocks of our new kitchen! Needless to say I am very excited to see it start coming to life. Once we're in and I've lived with everything for awhile, I'll probably experiment with adding pops of dark green and orange, alongside white (for example, inside the upper cabinets with glass doors), and see if one of my favorite framed prints might be able to find a home here, as well. And I'll need to figure out window treatments and bar stools, too, of course…one thing at a time (or a few dozen…)!