Is it Week 2 or Day 2? Actually, both. I threw my hat into the ring on this round of the One Room Challenge earlier this week (see my Week 1 post, which missed the deadline for the linkup), and I'm already beginning to wonder if I miscalculated. This is my 'after hours' project, but I already have projects I'm working on after hours.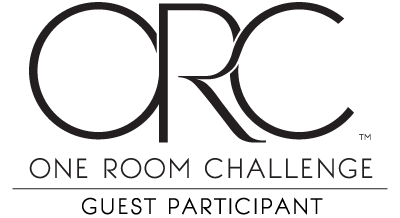 Yesterday began with picking up dog poop from my foyer rug, and ended with one of my children (who shall remain nameless) repeatedly yelling down the stairs "I don't like you, Mommy!" So I'd say I'm pretty much winning at life.
OK, so where am I…
I did manage to take some 'real' before pics to show you the current, unvarnished state of the room and its environs.
Unfortunately due to the approach of Thanksgiving and Christmas, my upholstery workroom is running on a very long lead time for custom work. I would miss the deadline by nearly two months – so no custom upholstered daybed for me. I *think* I sourced a bed from a manufacturer I like that they happened to have sitting in their factory, but it needs to be refinished and to have upholstered panels applied to it. I'm still waiting for a picture of it, and absolute confirmation it exists. In the meantime, Eamon gave me his feedback on fabrics, and here is the only one he liked of my finalists.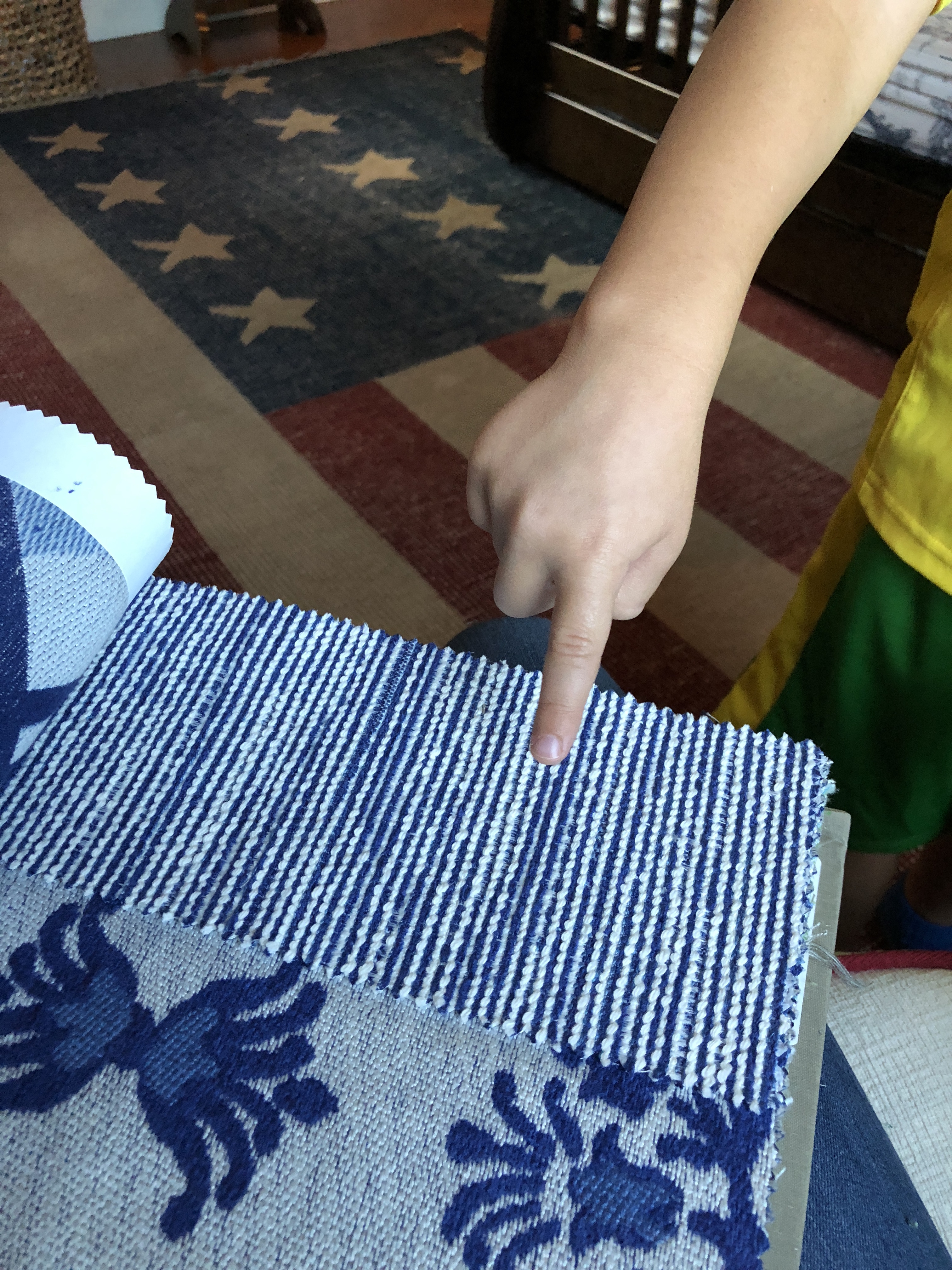 It's a Crypton Home fabric from the Dana Gibson collection for Stroheim. Also known as, the collection I turn to again and again for vibrant colors, interesting textures, and fun patterns with the performance of Crypton. My fabric books are well-worn!
My drapery workroom was in yesterday morning to measure the windows for new blackout, cordless woven shades for Eamon's room, as well as a decorative 'Roman valance' (a Roman shade without the functionality) for the little niche outside his room.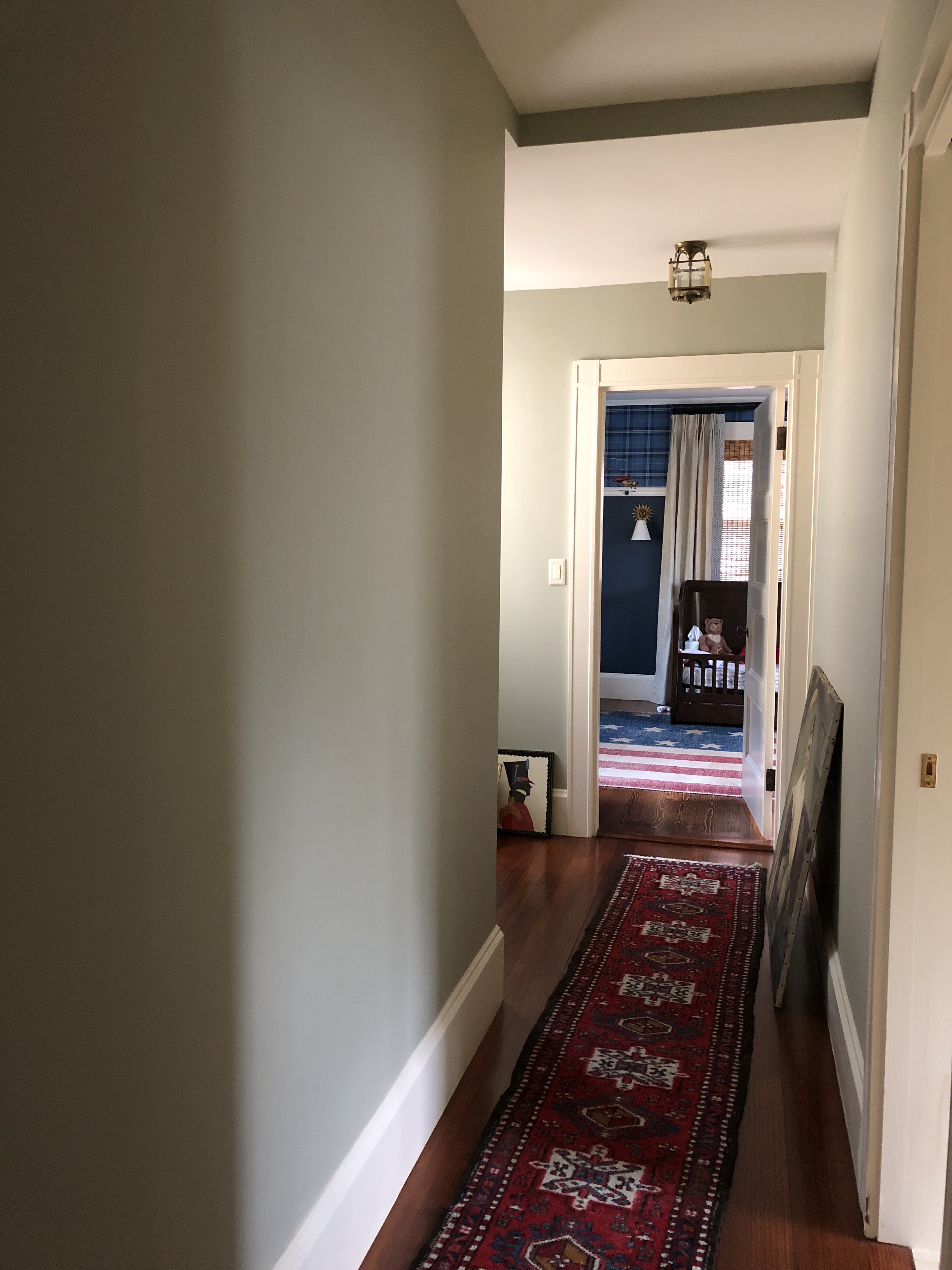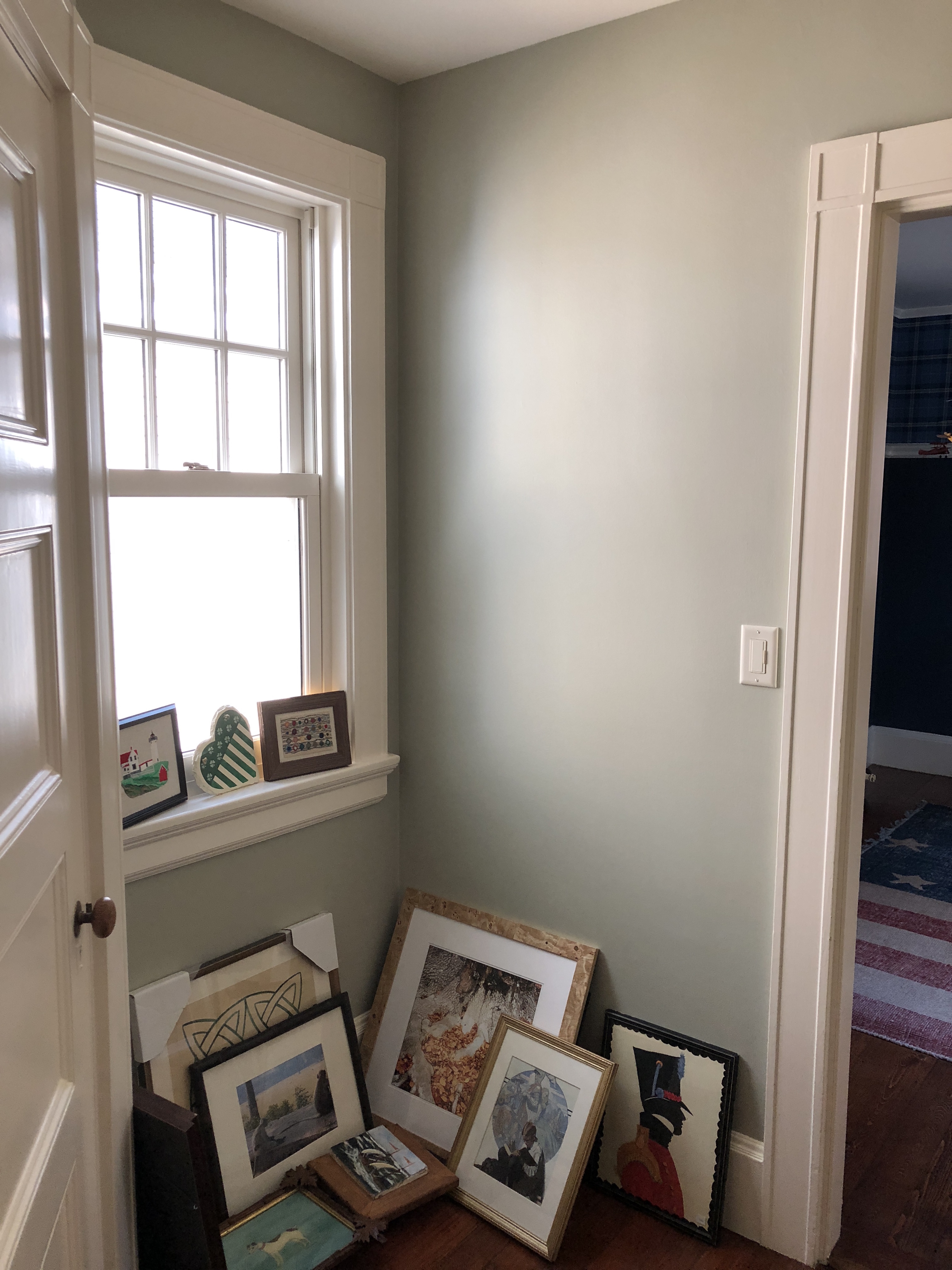 Here is the fabric I chose in about 5 minutes, reserved, then purchased, all in the same day. This may sound totally normal in terms of going shopping and walking out of the store with a purchase, but in the design world these decisions tend to happen in a much more considered fashion, and may take weeks or months to come together to the point where the dollars start flying.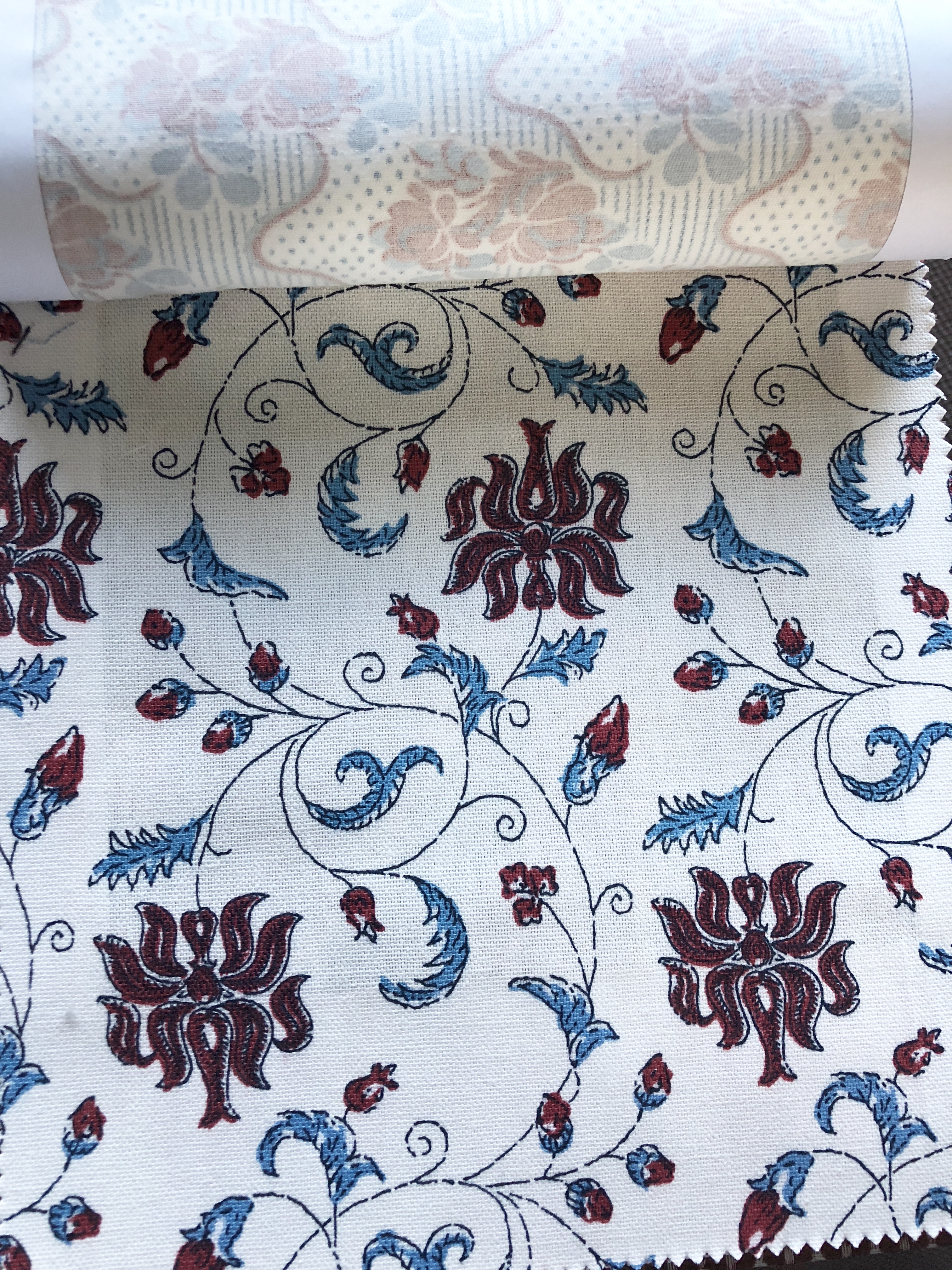 Going back to my checklist, well, none of it is complete yet. But it's all in process. Sort of.
Remove toddler bed and replace with twin or full-sized upholstered daybed. Status: Sourcing.
New mattress and bedding. Status: Have not even looked yet.
Add nightstand and articulating reading lamp. Status: Have not even looked yet.
Move out the antique walnut chest and replace with more kid-friendly dresser. Status: Have not even looked yet.
Organize drawers and closet, and clear out/donate clothing that no longer fits. Status: This will be the last thing I do :).
Incorporate some toy storage somewhere. Status: Not yet.
Replace corded woven shades with cordless blackout-lined woven shades. Status: Measured windows, so there's that! Hoping to place order this week.
Hang salon-style art gallery in hall outside his room. Status: Not yet. Decided to frame antique prints locally to keep things moving.
Add window treatment and small console table/furniture piece in hallway. Status: Window treatment in progress, have not even looked yet for a console table.
And because I'm a glutton for punishment, I am adding to my list:
10.  Install new runner on back stairs up to Eamon's room. During our renovation last year, part of the back stairs had to be removed, then reconstructed, so we lost the carpet. It was ok – I was planning on replacing anyway. But construction wrapped over 10 months ago! I have a plan…look for updates on stories this week. In the meantime, here is the current hilarious situation.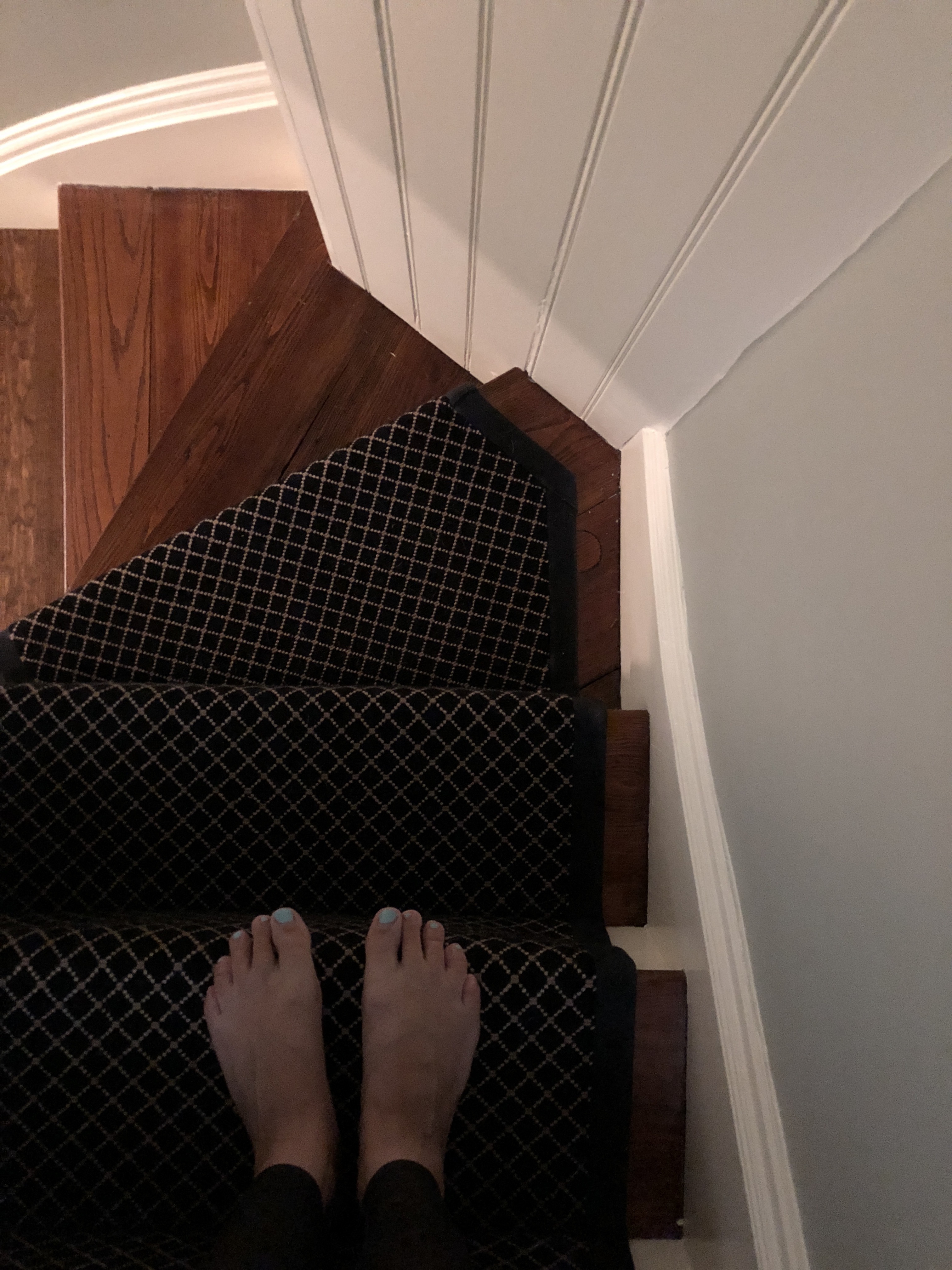 Let's cheer on all of the other One Room Challenge guest participants, and the featured ones too!
SaveSave
SaveSave
SaveSave
SaveSave
SaveSave
SaveSave