Although but a week has passed since the One Room Challenge, the brainchild of Linda at Calling it Home, began, it's like three years in ORC time. In all seriousness, though, we are now at the week 2 mark – a full 1/3rd of the way through this thing. Wait…whaaaat?
Last week I shared some pretty iffy 'before' pictures of the space I'm transforming in my home – the "Manbrary." I'm determined to make this the next trend in home design.
Move over, man caves, we have evolved. Neanderthals need not apply – the sophisticated, modern man will spend both work and leisure time in his cozy cocoon of wood, leather, brass, wool, books, and sheer masculinity. He can be found in his natural habitat, tapping away at his laptop (hunting and pecking, probably…), dialed into an after-hours conference call, or leafing through the latest non-fiction best seller, fireside, whilst sipping Maker's Mark. If people still smoked cigars in their homes, that would be happening here, too (but NO). Perhaps a semi-serious board or card game now and then, and lots of football talk when others are present. Women and children are always welcome, of course, but we try to give him his moment of manly zen whenever possible. 
It's an office. It's a library. It's a retreat. For a man.
It's a Manbrary.
So what's going on with the Manbrary this week? Well, I had to make some pretty important decisions about the room early on, due to longer lead times for things like custom window treatments and upholstered furniture (and others…).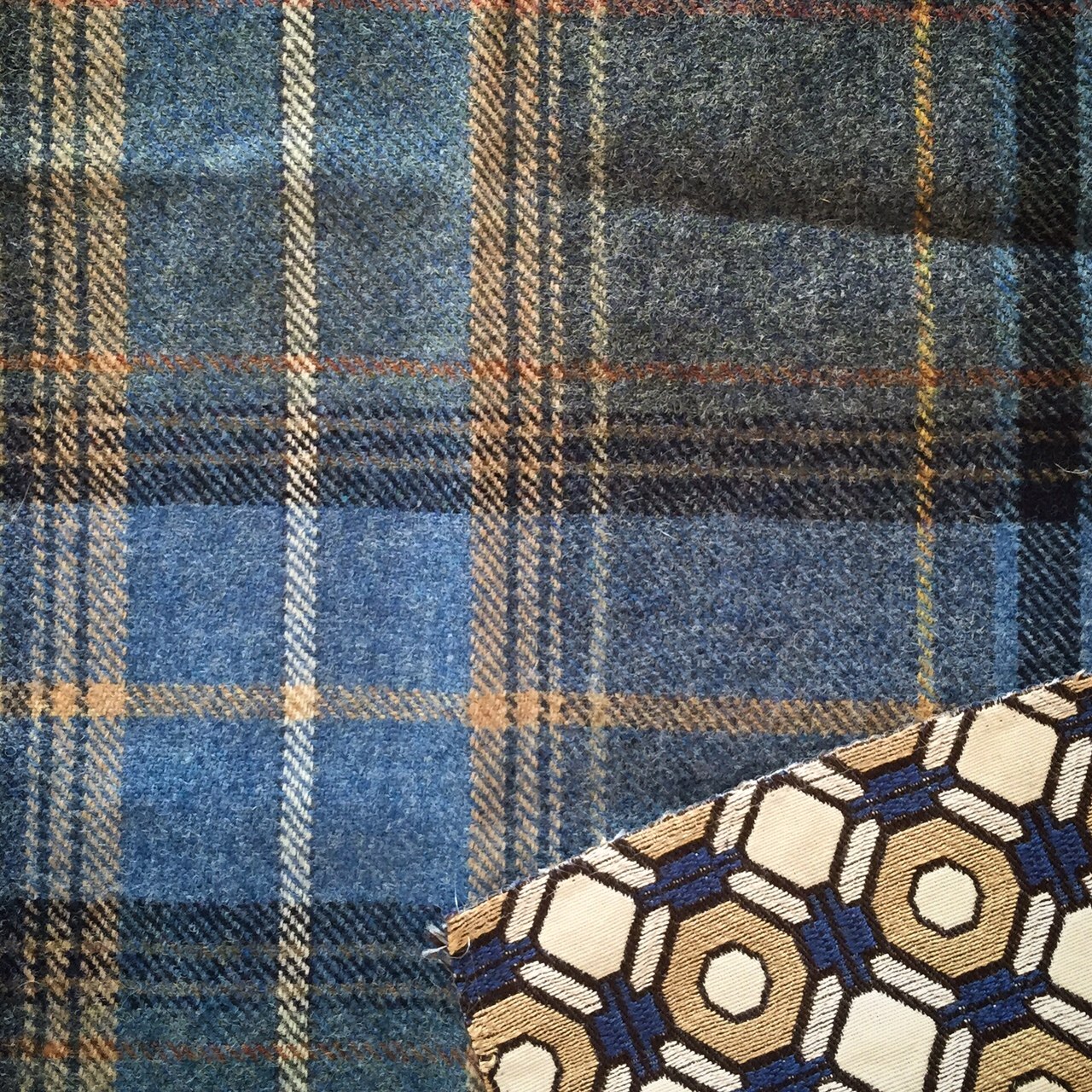 The wool plaid, which I'm using for Roman shades, was actually my second choice fabric. My first choice I lost (long story!) and it got backordered – until mid-November. Hmph. Anyway, it was a happy accident, because I like this one, from Mulberry Home, even better! And I didn't have to change my color scheme, either! And then I nearly lost the other fabric, too – that one will cover two upholstered chairs sitting in front of the desk.
Oh, I made this very sketchy floor plan using the old real estate plans for my house (note, this is NOT how I do things for my clients – only how I do things for myself when I have approximately 10 minutes to spend on it!).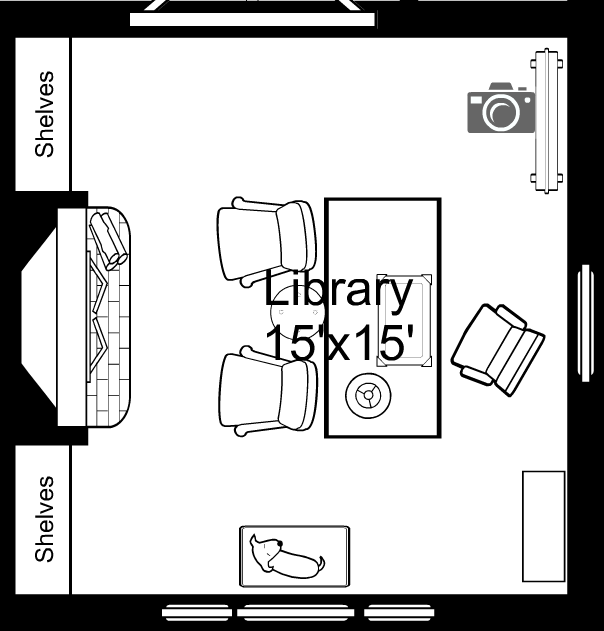 The desk and desk chair are existing and are the only things that are staying in the room and not changing. The two chairs will serve dual purposes – they will (hopefully) encourage us to spend time in the room and enjoy a warm fire together once in awhile, and they can be turned around and used as guest chairs when my husband needs to host a meeting at our home. I may just commandeer the space when my vendors come to call!
I heard from some of you here and on Instagram that you liked the rug that is currently in the room, and some were confused as to why I'd want to get rid of it. I honestly love the rug. It's the rug with the desk that I don't love. Between it and the two-toned walls (trim and paint colors), there is just way too much going on in the room competing with what should be the showpiece – the 78″-long beast of an antique desk (which my husband picked out himself, by the way…). Something had to give. I went searching for a less busy broadloom carpet that I could cut and bind to follow the outline of the room, leaving a certain amount of hardwood floor exposed on all sides.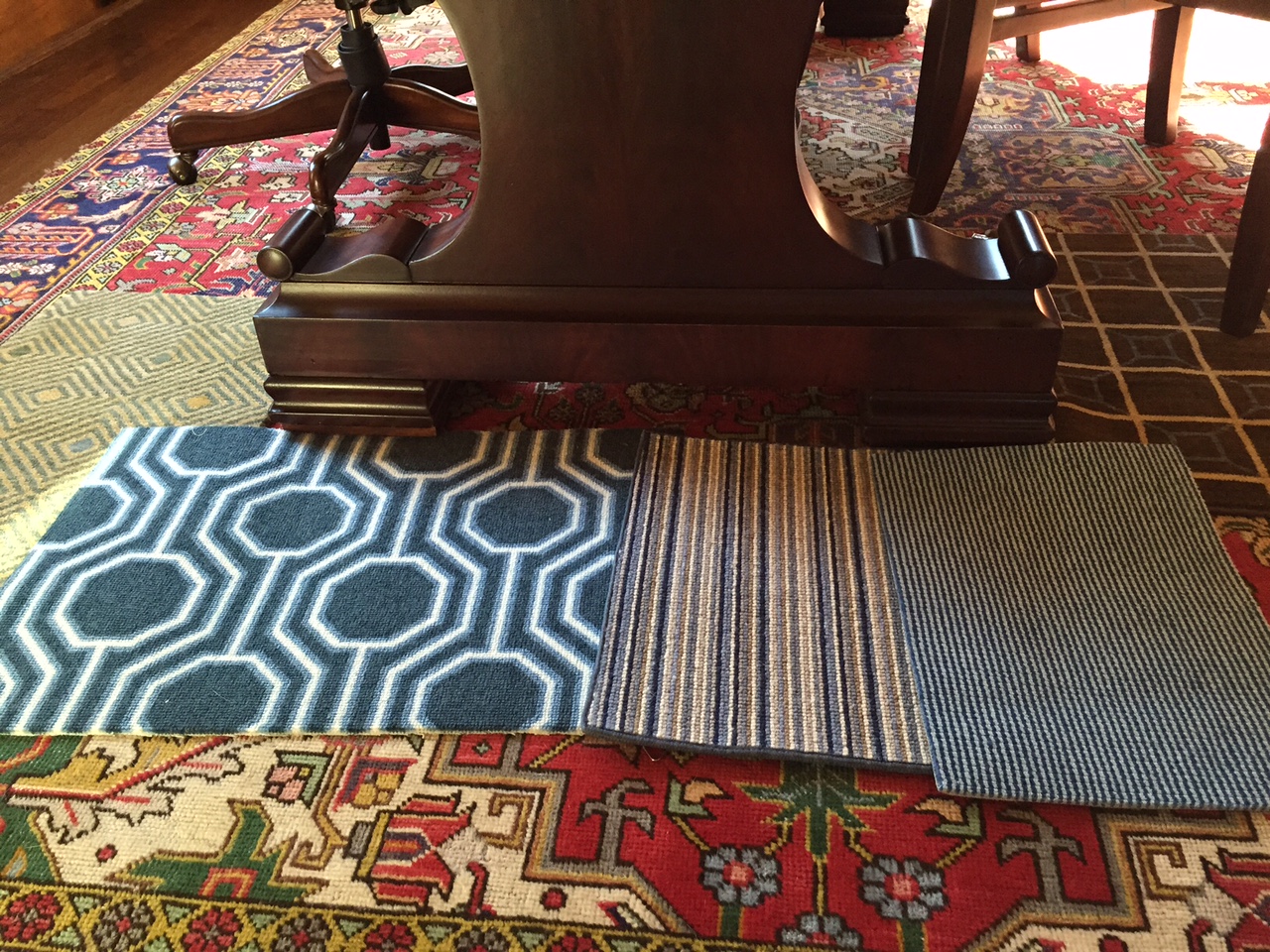 I had to order one already (six weeks, people…) – which one do you like best? Which one do you think we chose? My client and I were not in agreement on this one, at first.
I'm a bit disappointed to report that the plasterer has not yet commenced work, and that makes me, well…nervous.  Because it basically has to be DONE by this time next week, so that we can start prepping the room for painting. And then all of the other things that have to wait until that's done (for example, everything else).
I started writing this post a couple of days ago, when I had NO CLUE what to do about the lighting situation – specifically, the ceiling-mounted fixture I am replacing. And I made this for you all to vote on…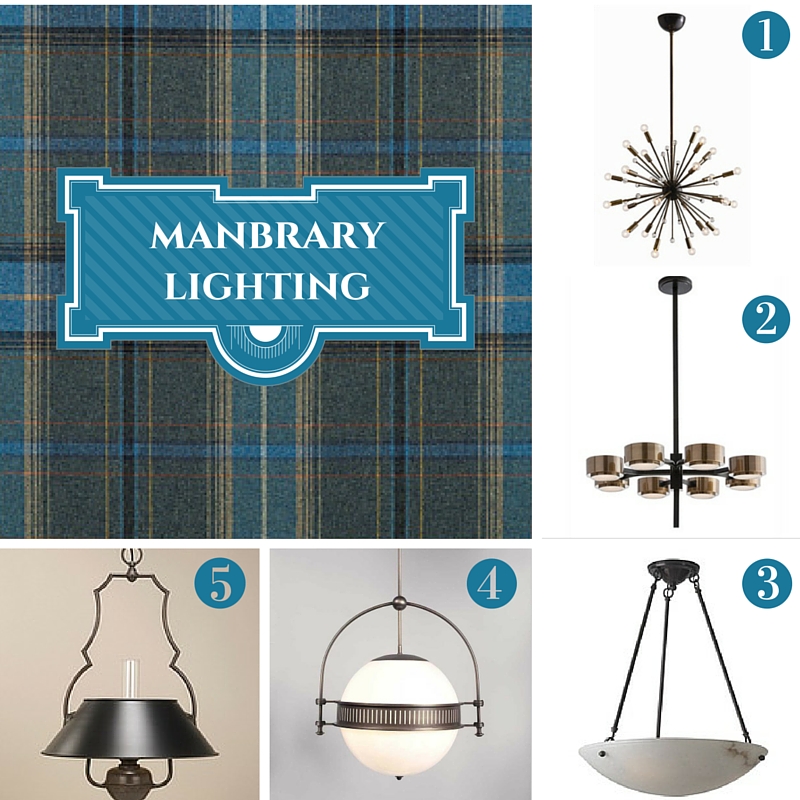 I know, I am all over the map… But these all actually have something in common, which is that they provide both up and downlighting. It is important to me to illuminate the ceiling with its decorative plasterwork (with no distracting light patterns/shadows), while also providing ambient lighting for the entire room.
Flash forward to today – I actually just pulled the trigger on one of them. Which one did I choose? It ships in 3 weeks. Wait…oh dear…I need to call my electrician!
Anyway, next week I'll tell you (and maybe even SHOW you…squeee!) how we are transforming the space with paint…and lots of it. I am very color-focused, so these were decisions I agonized over (though I make them in a snap for clients, go figure). Here's a hint: I'll be doing BOLD things with a color you probably would never think of as bold.
Now, hop on over to Calling it Home to check out both the 20 invited/sponsored participants, and the 160+ guest participants linking up each Thursday.
And follow Project Manbrary here and on…
1. Facebook (Interiors for Families)
2. Instagram (#KRIProjectManbrary, #oneroomchallenge)
See you next week!