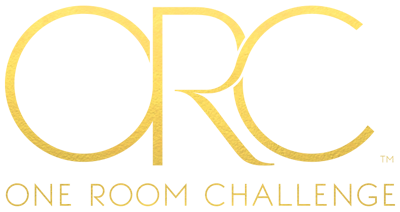 Happy week three! I am fresh off a long weekend at High Point market. Well, fresh may be overstating it a bit. I am tired, physically exhausted, and mentally drained. And I had to hit the ground running with a client meeting first thing yesterday morning, despite getting home after midnight on Monday. So let's keep it rolling into this week's update, shall we?
(If you'd like to get caught up, Week 1 and Week 2 updates are waiting for you. I'm in the throes of transforming a dear client's master bedroom into a peaceful oasis of coziness, with a little bit of 'wow.' I am calling it the Bold Serene Bedroom. Thanks for stopping by!)
First – I have a couple of updates on the two things that have been making me the most anxious – wallpaper and drapery fabric. Without either one of them, I basically have no room and wouldn't be able to reveal on time on May 9th. There was an ordering glitch with the wallpaper due to a change in systems, and it just went into production late last week. It apparently shipped yesterday, and I'm eager to get confirmation that it will arrive by the time I need it (absolutely has to be delivered by this Friday). The drapery fabric took longer to print at the mill in Austria than anticipated, and it is due to arrive today – three business days late. I'm still waiting to hear back from my workroom whether or not they can make up for the lost time (last Friday was their drop dead date for receiving it 🙁 ).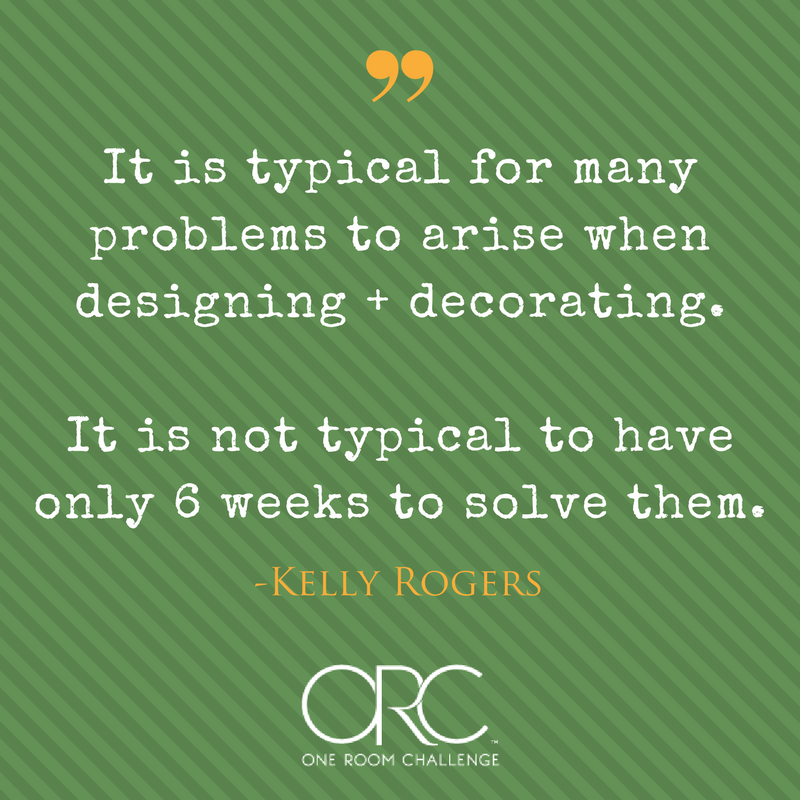 This is my little affirmation creed for this week. Feel free to repost, pin, etc. if you're a fellow ORC'er in the same boat!
Something is doing! My client's favorite painters are hard at work repainting the trim Farrow & Ball Wimborne White. This is not a radical transformation by any stretch of the imagination, but the combination of fresh trim paint and perfectly-coordinated new wallpaper (the new lighting won't hurt!) will really make their master bedroom look brand new.
Something I spent a bit of time on yesterday is making my final plans for Project Two-Sided Corner Fireplace Normalization (ha).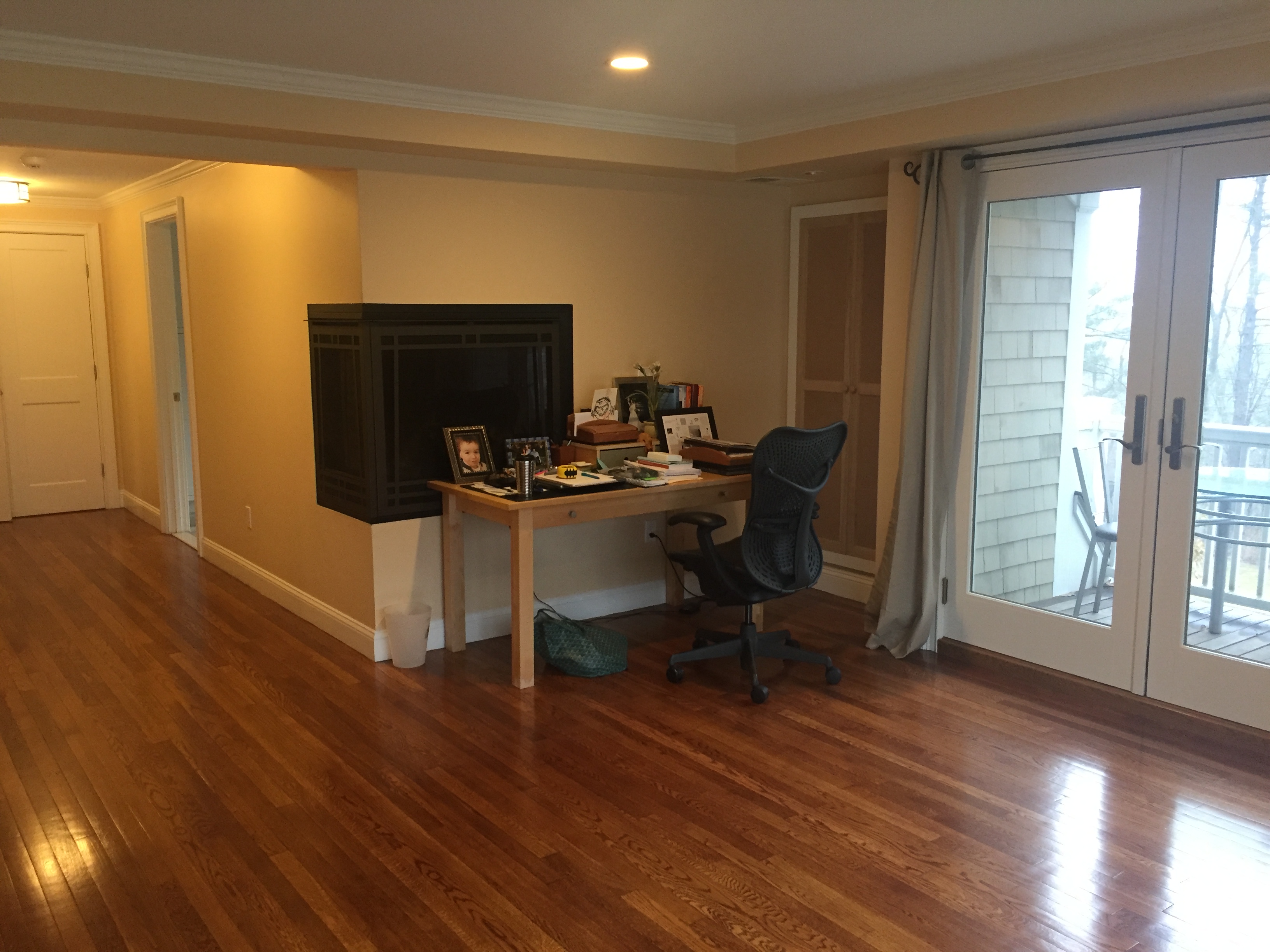 Remember?
We didn't make this spot a focal point of the room, but we did decide to add a pair of textural poufs, and 'wrap around' the corner with a gallery wall around the fireplace. I had to create an elevation sketch that showed these two planes continuously in order to plan out the pieces and sizes I would need. I'd normally use my design software for this (Chief Architect), but I couldn't figure out how to make the things placed on the wall visible in the elevation view (only in 3D could I see them, and it wasn't enough).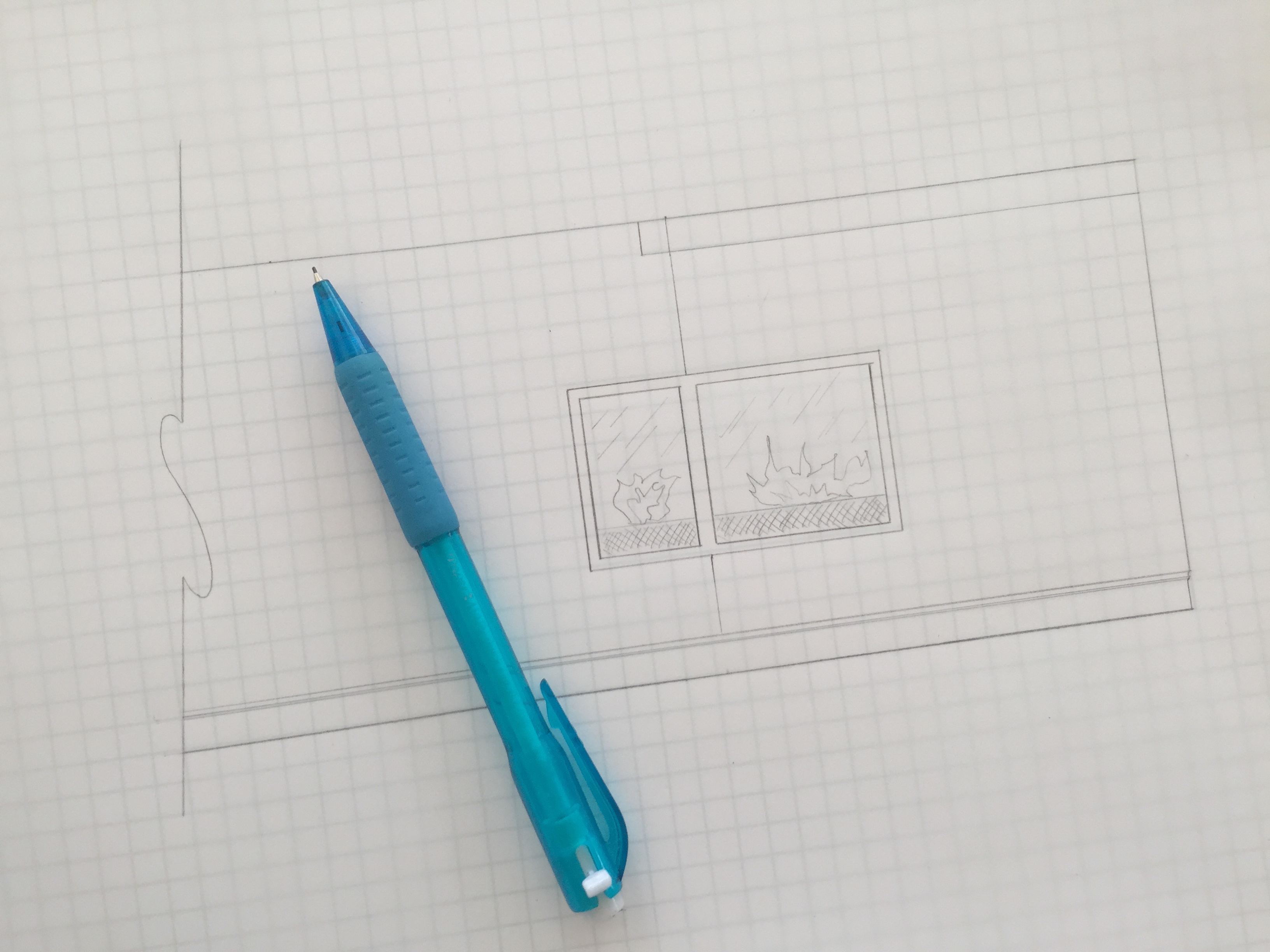 I'll be using a mix of original art (including a special piece by the client's talented son), a cool dimensional piece from Jill Rosenwald (her square Brekkie Tray in a spicy orange – I'm excited to visit Jill's studio in Boston this week, btw!),  and prints from Minted. Minted has such a great variety, and is the perfect way to supplement a big gallery wall. Did you know they now have gallery-wrapped canvases as an option, as well as limited edition art? Here is one of the pieces we will be using:
Anyway, I cut out to-scale 'art' out of my trusty graph paper, and played with the layout until I was pretty happy with it. I know there are a lot of methods out there, but since this room is not in my house and I have to order all the art well in advance, a drawing was the only way to do it.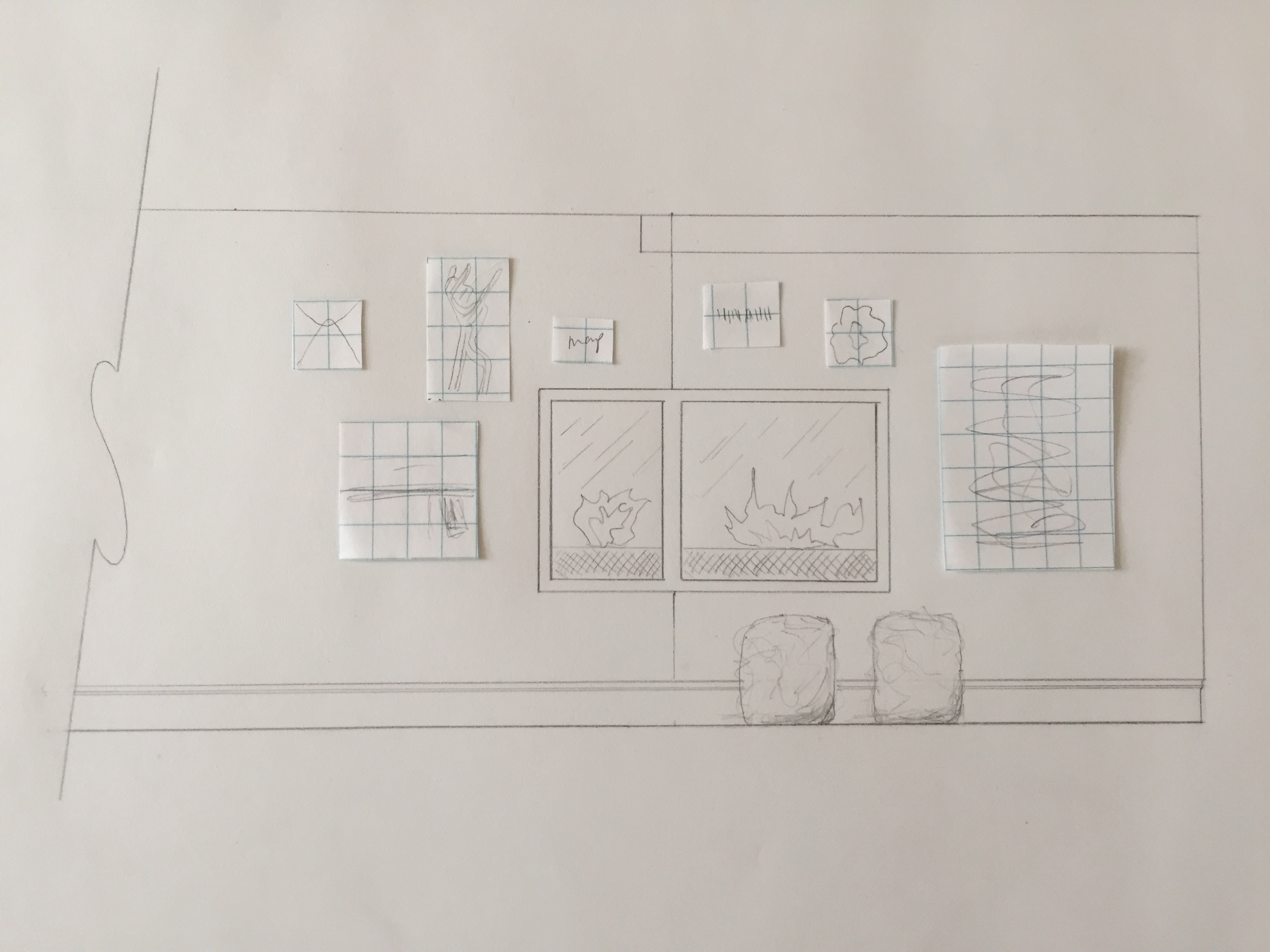 Again, this represents two perpendicular planes, but I needed to consider this as a single design 'feature' rather than two separate ones. The trick here will be to provide some counterbalancing visual weight for the fireplace, without making the whole thing look too heavy and calling even more attention to it. Frame selection is key! Since I am mixing media a bit, I decided that for the framed prints, I would frame each piece the way that looked best for that particular piece, rather than matching all my frames. Embracing the mix with an appearance of randomness (which is actually very carefully considered, of course)! I love all of the great options Minted has for framing – lots of choice, but it is well-edited, so as not to overwhelm.
Across the hallway from the fireplace, I had in mind a piece that had a large presence, but was light, and maybe a little 'different.' At the same time, my client mentioned to me that she had really enjoyed a blog post I wrote recently about coated fabrics from Marimekko. I hit up their website and found a large wool scarf we both fell in love with. It arrived while I was in High Point, and I took it to my local framer yesterday.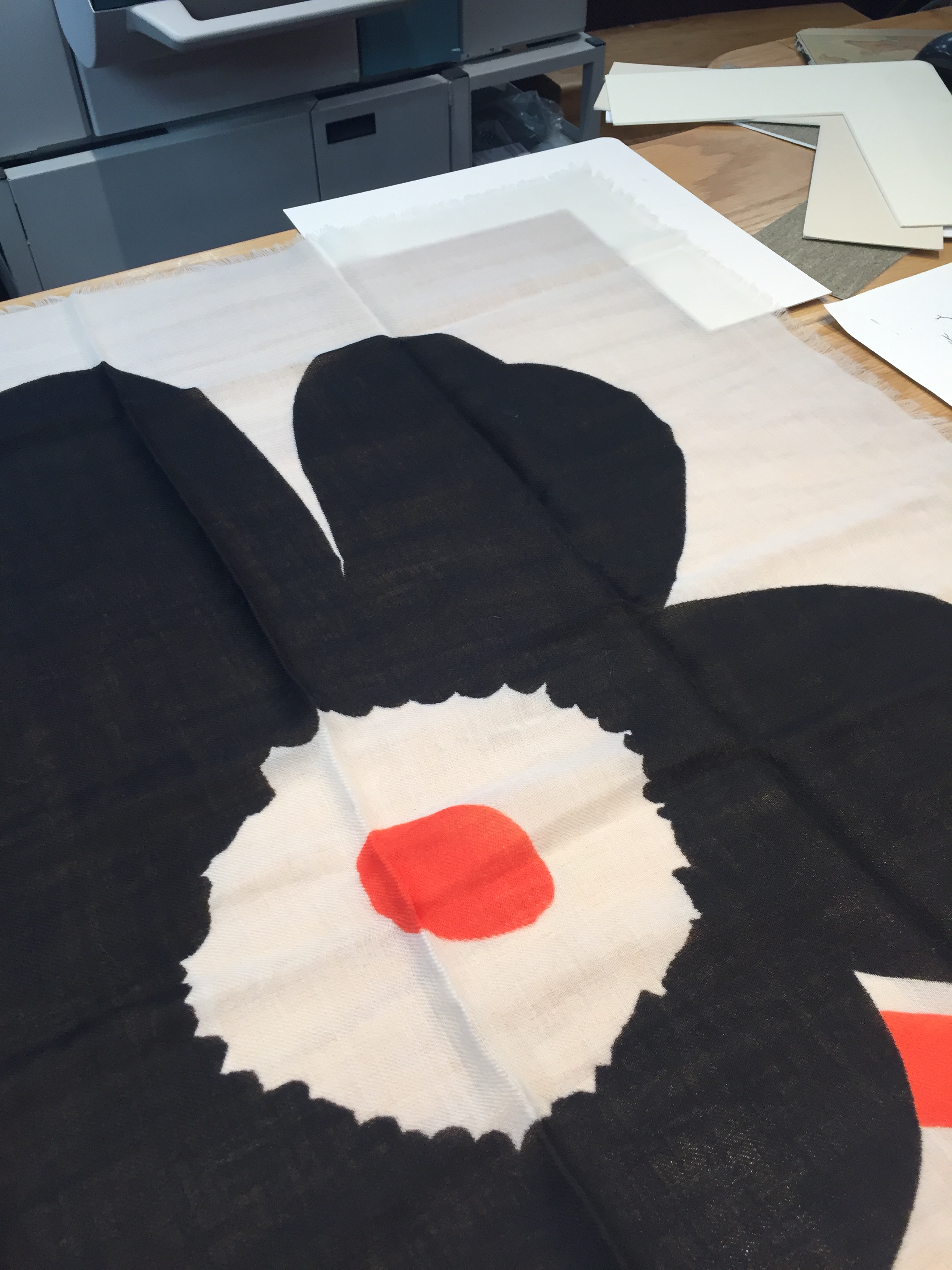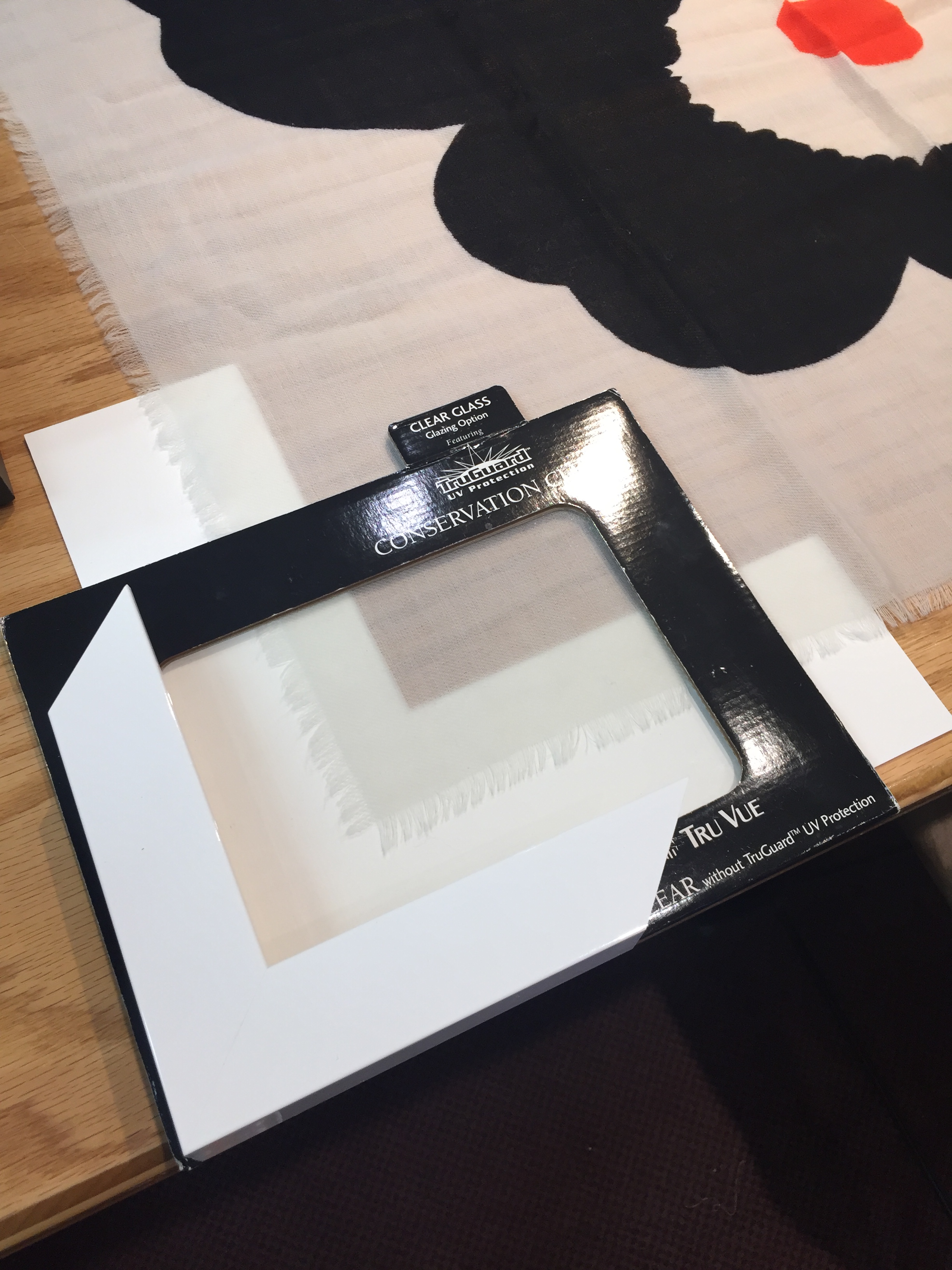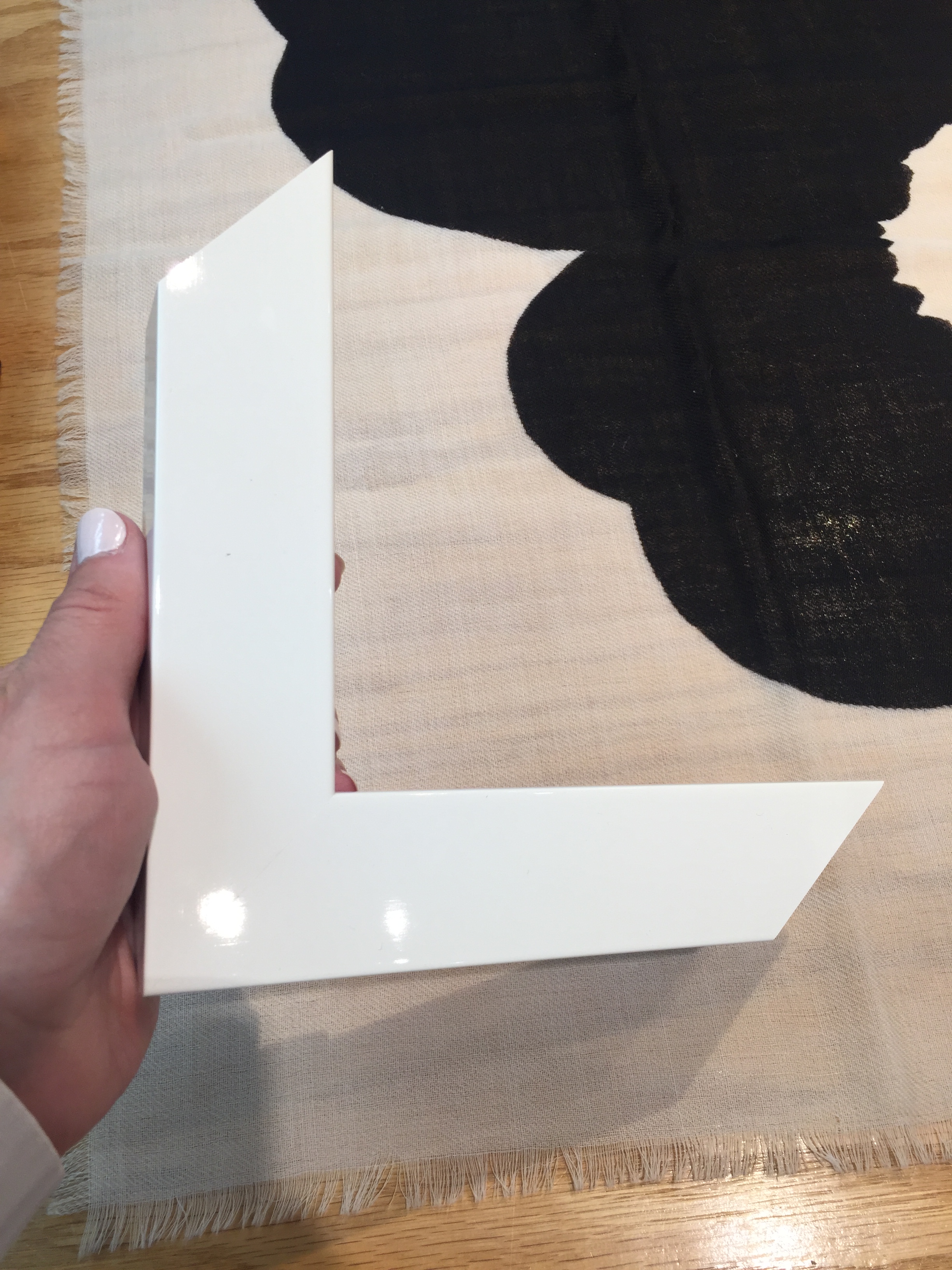 I had a definite vision for this – floating on a big matte, and framed in glossy white lacquer. It was hard to find just the right white for the matte (the scarf is very transparent so color matching was imperative), but it is going to be amazing!
So…this is a very big week! By the end, we should be complete with painting, have the new light fixtures installed, and wallpaper hung before my Week 4 update. Beyond that, I'm closely watching the calendar and monitoring a number of furniture orders (including a custom bed just getting started at my local upholsterer!!), which absolutely need to arrive by next Friday 4/27, in order to be delivered and installed on Monday 4/30.
Until then, let's see how the other 19 are faring at the halfway point.
Apartment 34 | Beginning in the Middle | Coco & Jack | The English Room | The Gold Hive
Gray Malin | Jenna Sue Design | Jojotastic | Kelly Rogers Int. | Linda Holt | Marcus Design
Michelle Gage | Natasha Habermann | The Painted House | Rambling Renovators
Sacramento Street | Shannon Claire | Sketch 42 | Stephanie Kraus | Bisou Style
Media Partner House Beautiful | TM by ORC
And I hope you'll come back next Wednesday to see how we're doing at Week 4! Remember, you can follow my progress on Instagram – #KRIProjectBSB.
Note: Farrow & Ball, Jill Rosenwald, and Minted are among the generous sponsors we are delighted to collaborate with in the Spring 2018 One Room Challenge!