It's Week 4 of the One Room Challenge – and it's been a doozy so far. Before I get into it – here is the scoop, if you're coming in cold. I'm in the throes of transforming a dear client's master bedroom into a peaceful oasis of coziness, with a little bit of 'wow,' in just six weeks. I am calling it the Bold Serene Bedroom. Thanks for stopping by!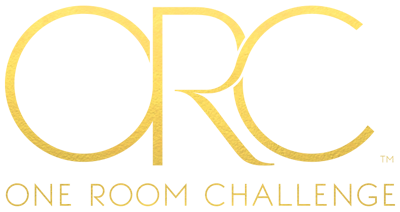 To get caught up on all the fun, you can read my Week 1, Week 2, and Week 3 posts.
As you may remember, last week I had a couple of key elements to the bedroom that were sort of hanging in the balance. One was the Farrow & Ball Drag wallpaper, and I'm happy to report that it arrived in the knick of time (on Friday!), and my paper hanger finished up her install yesterday. By the way, she leaves for Amsterdam today – we had zero margin for error on this!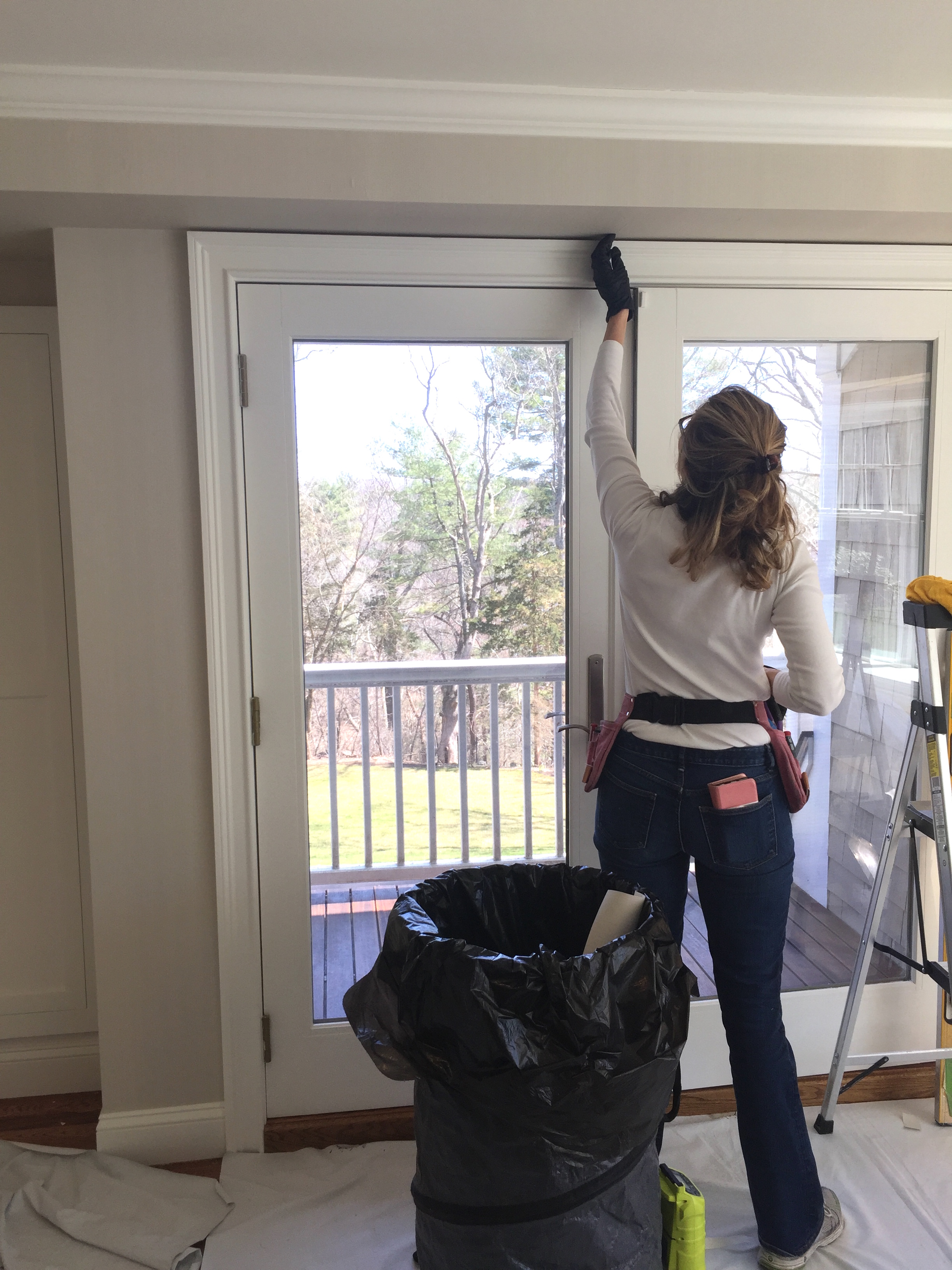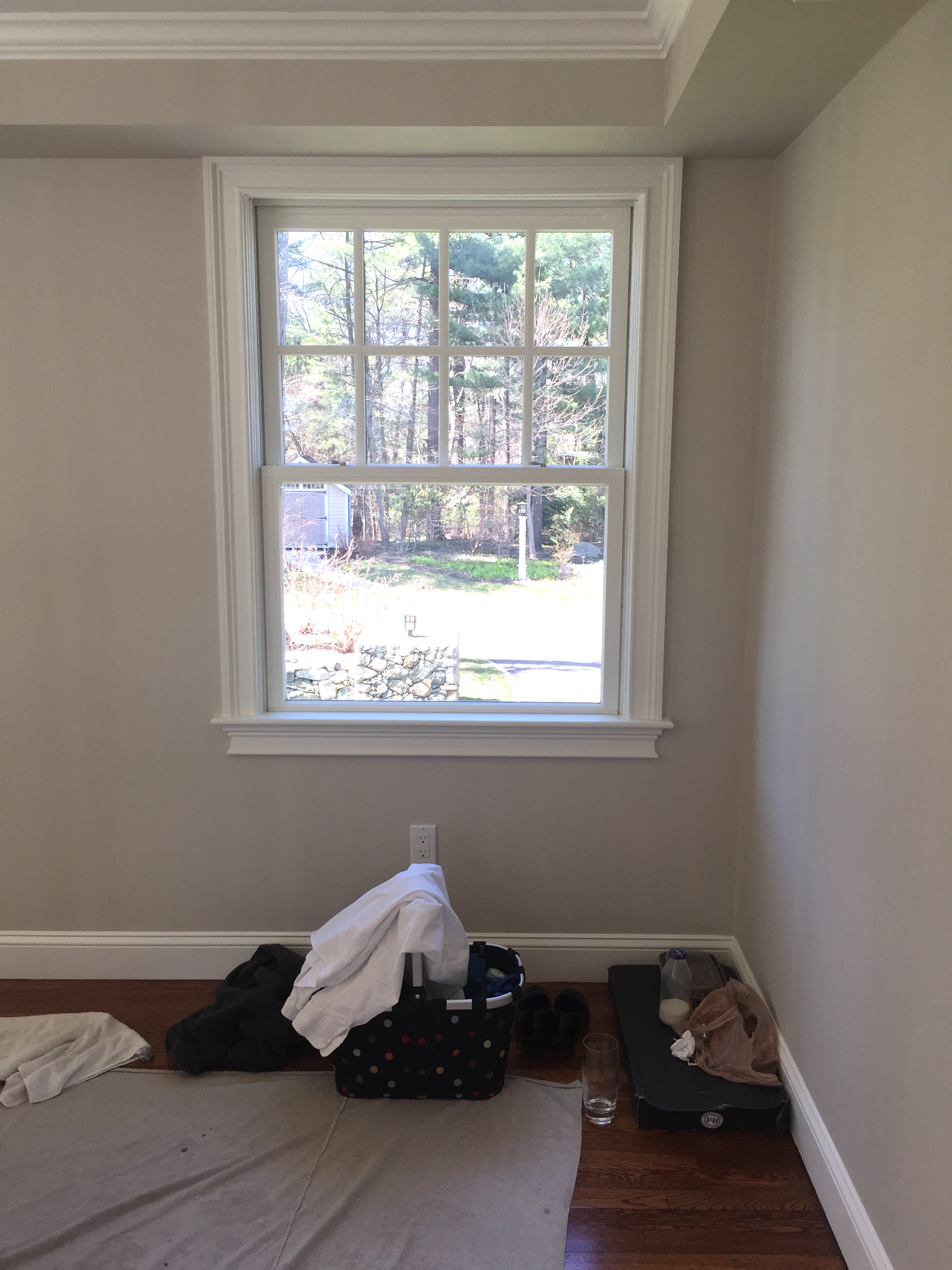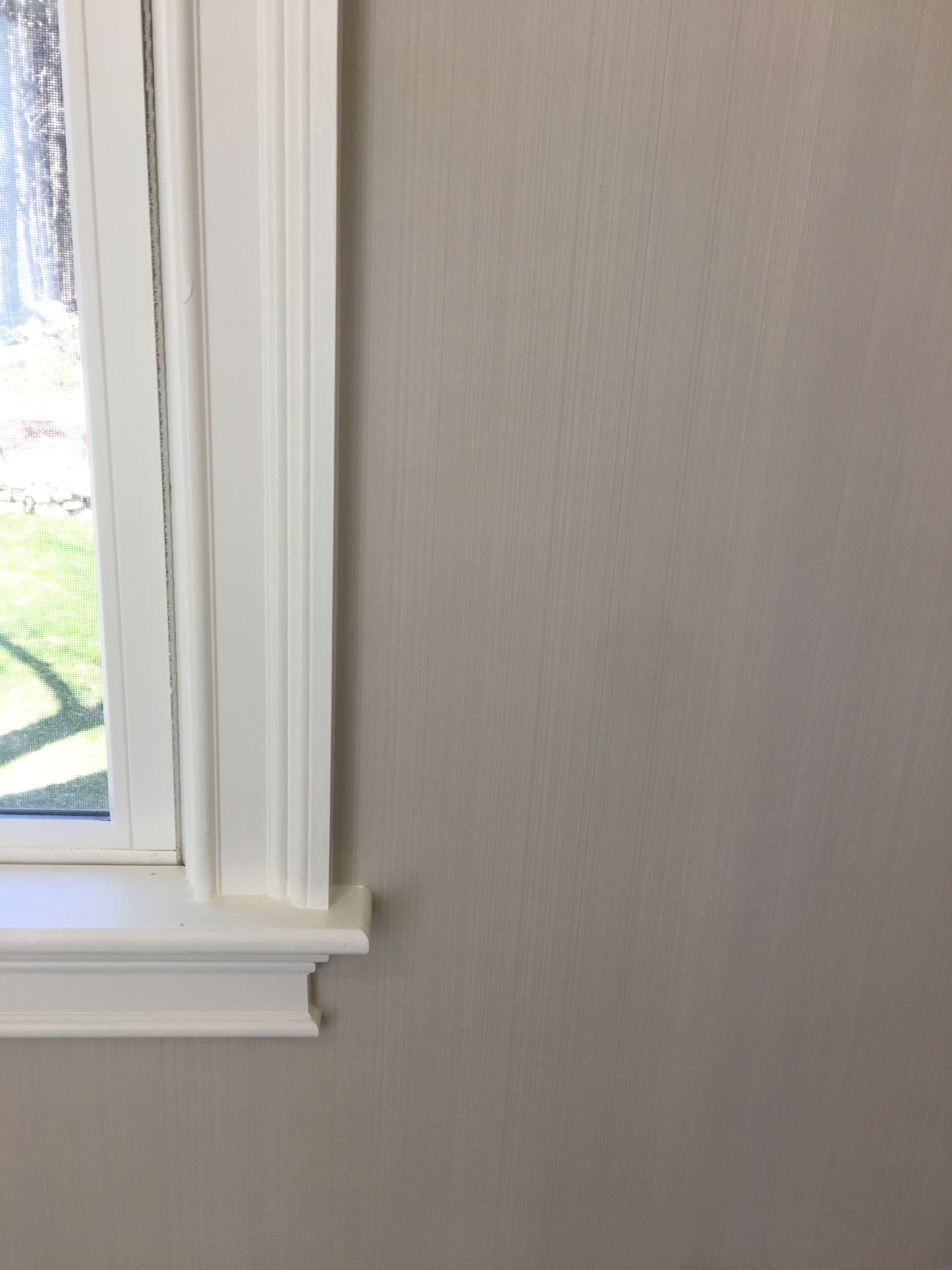 I know this is not the best quality picture or angle, but I had to show you a close-up of the paper – and how amazing it looks with the freshly-painted Wimborne White on the trim. My client is loving it already! Drag is a gorgeous strie wallpaper with a subtle, and in my opinion totally magical effect. If you like the idea of wallpaper but have a hard time committing to a pattern, Drag is for you! It's made with actual Farrow & Ball paint, and comes in SO many colors, too.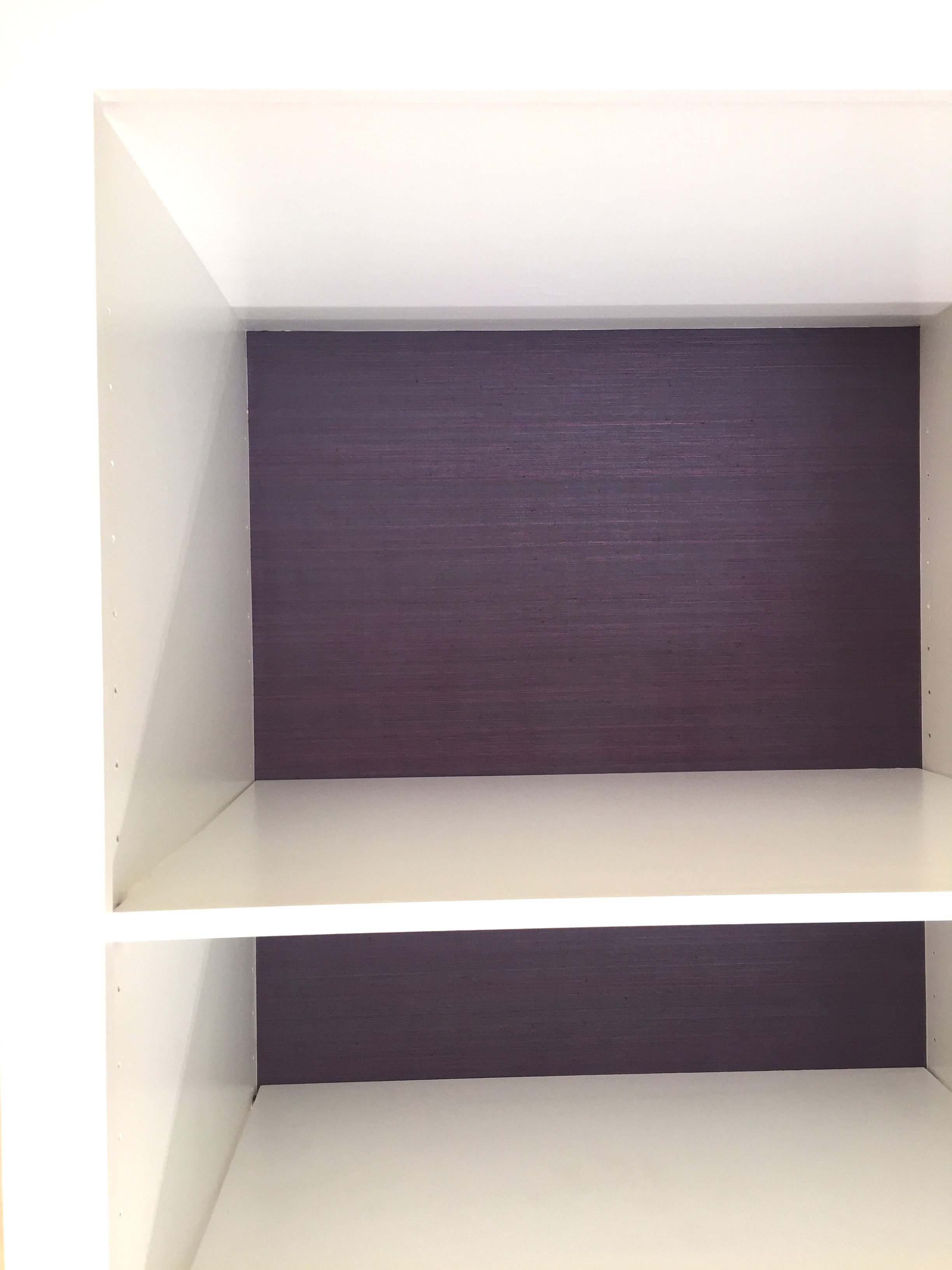 Did someone say COLOR? I had to share a little peek into the built-in bookcase with its divine purple Stroheim grasscloth backdrop!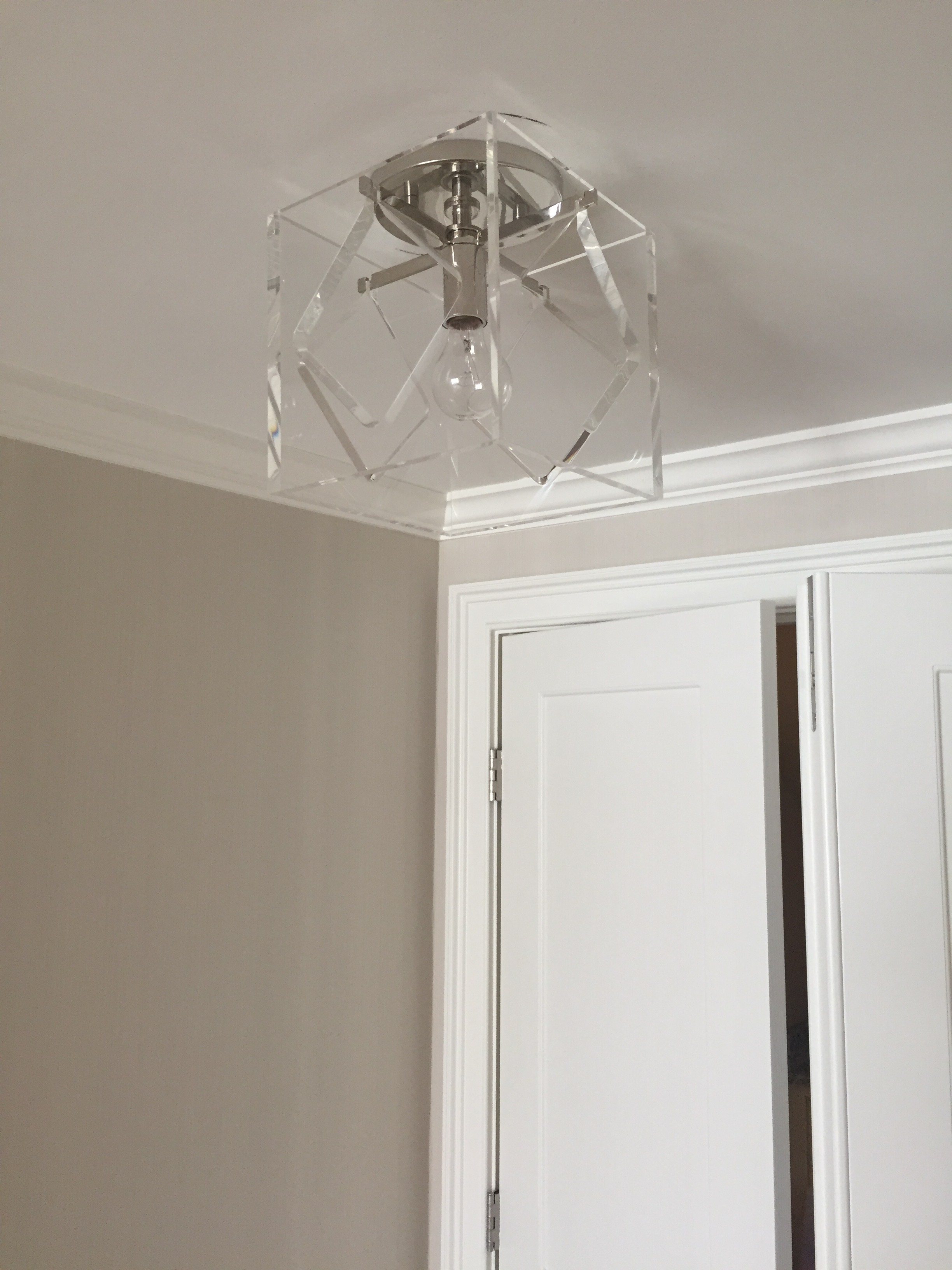 My client installed the new light fixtures (well, these Hudson Valley Lighting Travis flush mounts from Lamps Plus, at least…light bulb is a placeholder) last Friday, and we realized we had a little issue. The old fixtures had a wider canopy, and left unsightly black marks on the ceiling. This was definitely a good news/bad news scenario. We hadn't planned on painting the ceiling at all – it is 'ceiling white' which I never use. I always specify a color for the ceiling if we are painting it, even if it is a white (especially!!). Farrow & Ball rushed us a couple of gallons of Wimborne White in the Estate Emulsion finish, which is quite flat, and will contrast nicely with the trim in Modern Eggshell, similar to a semi-gloss. The painter is slated to come back today to paint the ceiling. It's going to look even better now!
The next worrisome item was the drapery fabric (all 57 yards of it), which you may recall had shipped later than expected from the mill in Austria, and was slated to arrive at my workroom last Wednesday – three days after our 'drop dead.' It did arrive that day, fully intact, and correct (unlike some random table lamps that were delivered over the weekend). All seems to be going well – I don't have any progress pics on that to share at this time, but we are reportedly on track for our Friday morning install.
OK, onto the big disappointment that completely caught me off-guard yesterday, when I was on my way back from my client's home (elated by the wallpaper preview as I was). If you have been following, you might recall that this bedroom is HUGE and has a separate seating area, which I had planned to outfit with two generous lounge chairs, a round leather ottoman, two side tables, and two super-cool floor lamps from Lamps Plus.
Anyway, the lounge chairs were a slam dunk – we ordered from a 'Quick Ship' upholstery program, and even paid extra for expedited shipping to make sure they would meet the deadline. From the time we ordered, they were guaranteed to be completed in just four weeks, plus shipping time (~three days for the fast freight). We made sure our fabric was in stock. We followed up weekly. We did everything we were supposed to. We started to get a little nervous when the ship date came and went and the factory didn't respond. I trusted that the guarantee meant it would get there on time. Then I got the call from my showroom rep. Not only did the chairs not ship, but they wouldn't ship for another three weeks. THREE WEEKS. I'm not very good with math, but Week 4 + 3 more weeks = One Room Challenge Fail :(. 
While this is beyond frustrating and disappointing, there is really nothing I can do (short of scaring up a matching pair of 'perfect' chairs between now and next Wednesday morning, which is the photo shoot). I know this is not the end of the world, and it certainly qualifies as a 'first world problem' to put into proper perspective. Thankfully, it's not the bed or something on/near it that will not make it in time for the photo shoot.
(Speaking of which, my night stands are going to be cutting it very close…I'm only losing years off my life here…don't mind me…)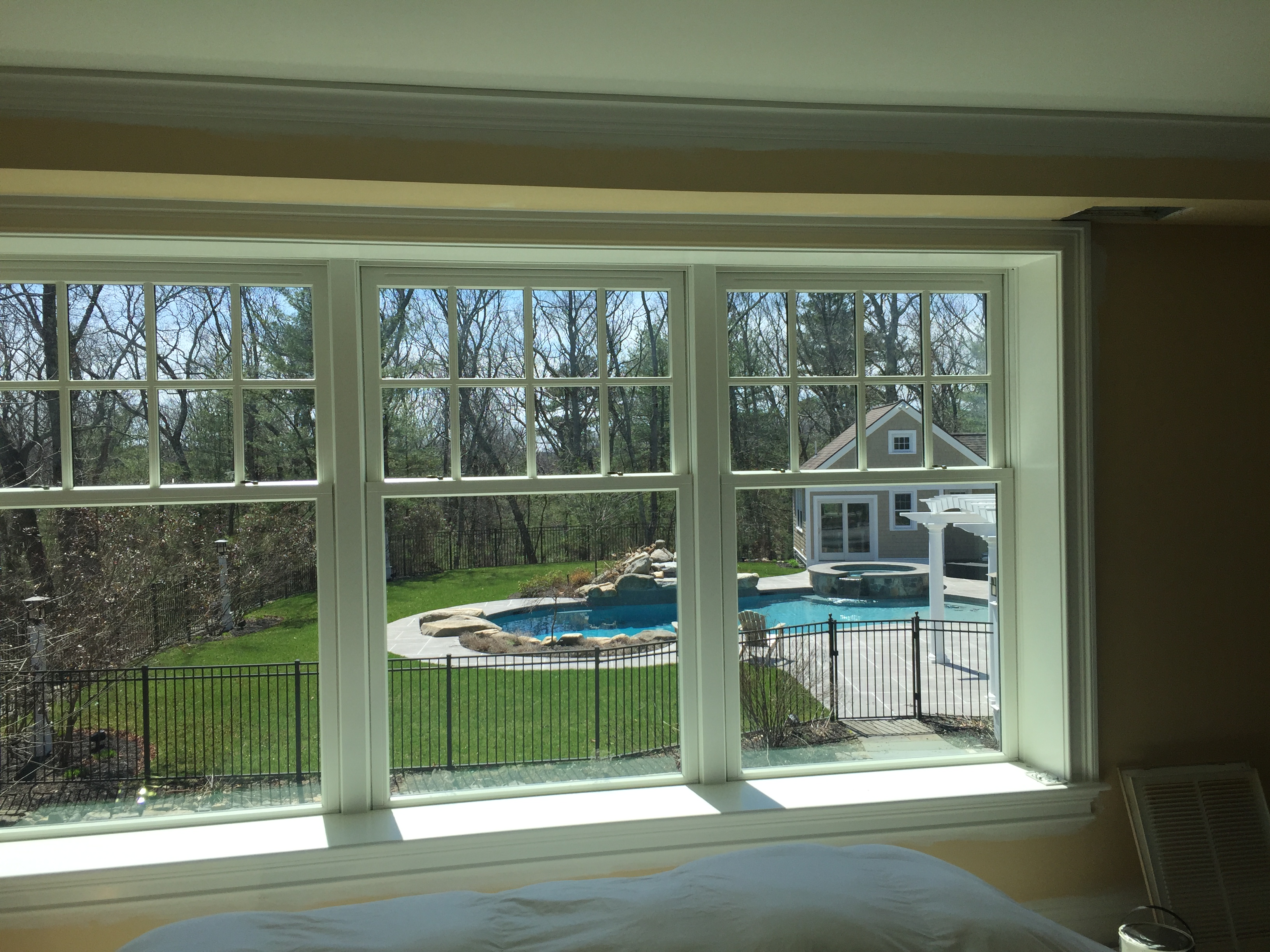 I will be back at this client's home sometime this summer to photograph the pool house and pool deck I worked on last year, so we will plan to sneak back into the Bold Serene Bedroom to photograph the seating vignette. It's going to be pretty spectacular; I won't let it get left behind.
That spectacular pool was being filled up yesterday, believe it or not. After a seemingly endless winter, summer suddenly seems right around the corner here in Massachusetts! And I'm so glad we decided to go ahead and refresh their mini porch/balcony with new furniture, too.
I am thinking that my clients are totally going to celebrate the completion of their new master bedroom with a cocktail on the balcony, whilst enjoying their new outdoor furniture from Stori Modern. The Journal Dining Arm Chair and Dining Table are the perfect scale for this diminutive space, and are a significant, stylish improvement over what they have right now.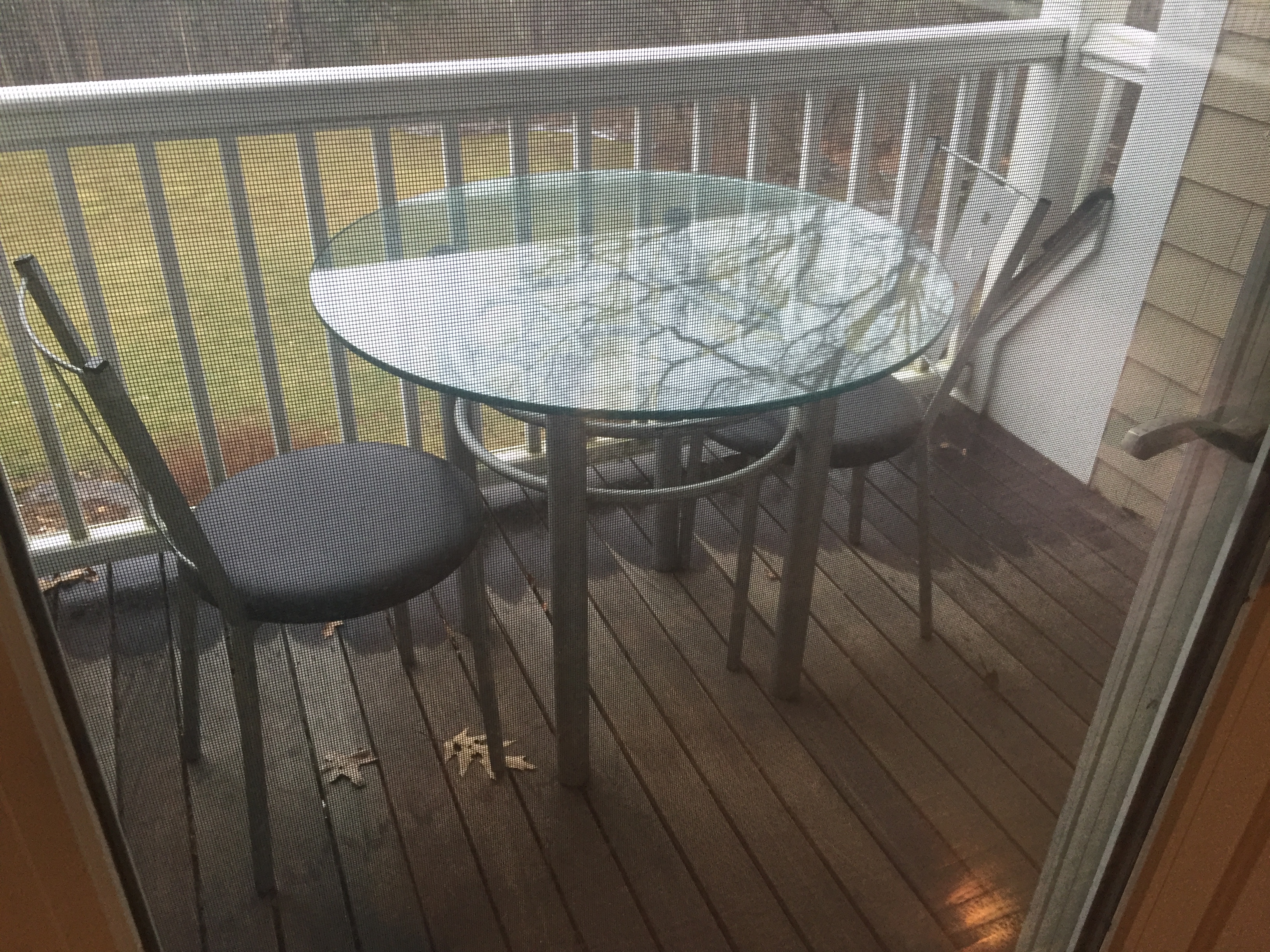 I think these new pieces were actually the very first things for the bedroom to be delivered to my receiver, where they've been stored for weeks now (peace of mind, there's nothing like it). I'm just dying to see them! It has not been on my priority list yet, but I'd also really like to get a cute outdoor rug to put under the furniture.
With one week to go until my photo shoot, here is the checklist of things that still need to happen in order to get this bedroom buttoned-up and ready for its close-up next week:
Paint ceiling.
Install all ceiling fixtures
Install new door and cabinet hardware from Emtek (check my IG Stories highlights for a really fun unboxing and reveal of what I'm using!)
Shop for accessories…and maybe a small outdoor rug?
Pour one out for the Quick Ship chairs. Maybe next time.
Install drapery hardware and draperies (Friday 4/27)
Move-in all furnishings, install mirror and artwork, accessorize, and scout with my photographer, Michael J. Lee (Monday 4/30)
Shop for flowers, pick up any last-minute styling items for the shoot (Tuesday 5/1)
Photo shoot day (Wednesday 5/2 – aka 'Week 5')
If you are wondering where I'll be on Thursday 5/3, you might find me curled up in the fetal position on my kitchen floor (it's much nicer than my bathroom), rocking back and forth, mumbling obscure Beatles lyrics, and possibly sipping red wine through a straw.
Until then, let's see how everyone else is faring and cheer them on to the finish! Also, don't forget to return on Thursday for the ~240 guest participants' entries!
Apartment 34 | Beginning in the Middle | Coco & Jack | The English Room | The Gold Hive
Gray Malin | Jenna Sue Design | Jojotastic | Linda Holt | Marcus Design
Michelle Gage | Natasha Habermann | The Painted House | Rambling Renovators
Sacramento Street | Shannon Claire | Sketch 42 | Stephanie Kraus | Bisou Style
Media Partner House Beautiful | TM by ORC
Note: Farrow & Ball, Stroheim, Lamps Plus, Stori Modern, and Emtek are among the generous sponsors we are delighted to collaborate with in the Spring 2018 One Room Challenge!