Welcome to Week 5 of the One Room Challenge! The penultimate post. I've just transformed (OMG – past tense!) a dear client's master bedroom into a peaceful oasis of coziness, with a little bit of 'wow,' while documenting it here on my blog over the course of six weeks, with the big reveal happening next Wednesday, Week 6. I am calling it the Bold Serene Bedroom. Thanks for stopping by!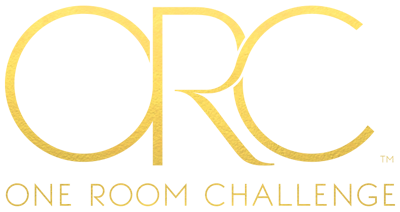 To get caught up on all the fun, you can read my Week 1, Week 2, Week 3, and Week 4 posts.
As of last Thursday, the bedroom was still just a shell of fresh paint and wallpaper. Friday ushered in the installation phase, with the Stroheim Anise / Sugar Plum draperies being hung. My workroom just made it, squeezing us in right before shutting down for a week's vacation.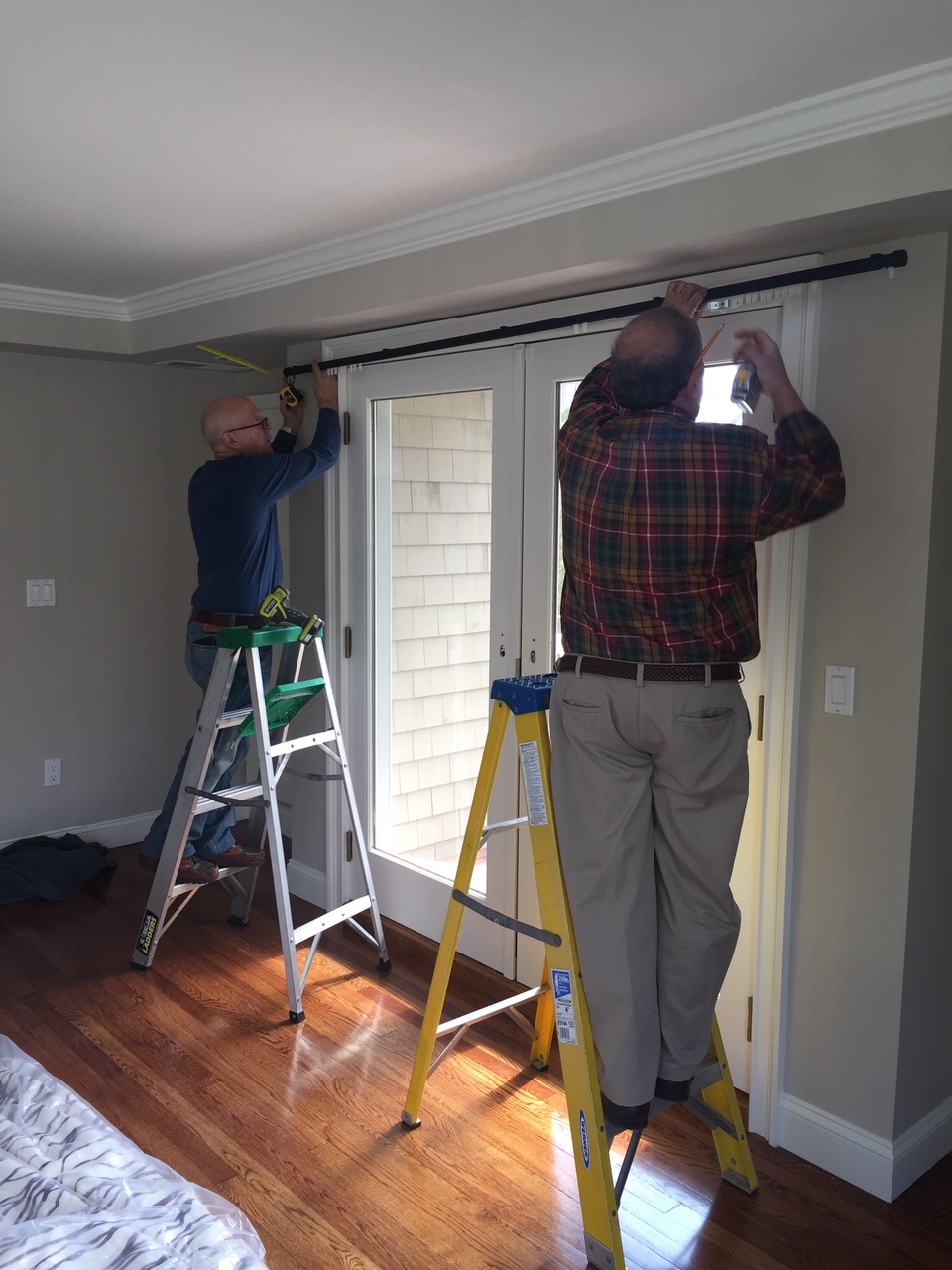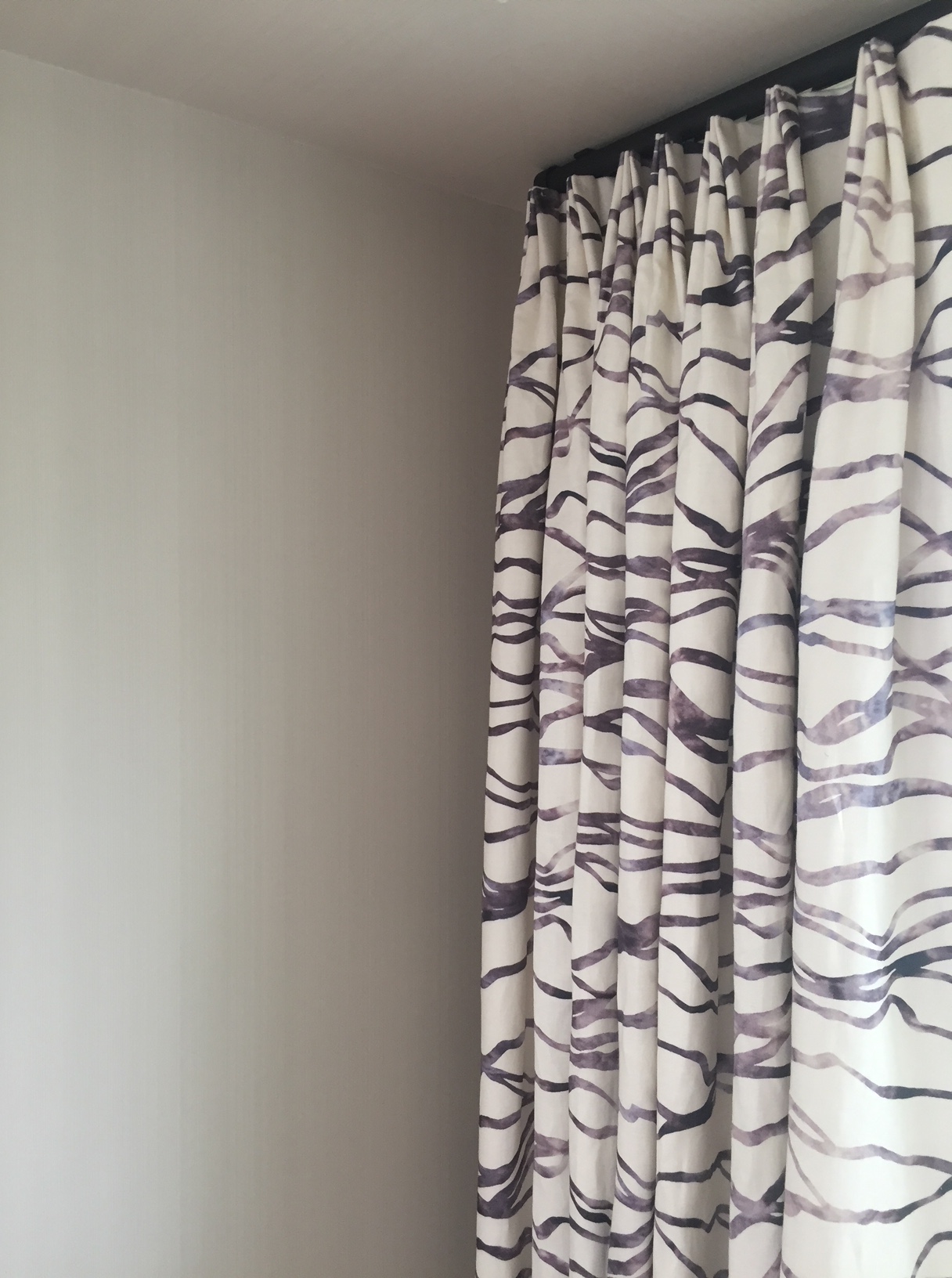 They look SOOOO rich with the Farrow & Ball Drag wallpaper! And believe it or not, as pretty as they are, the draperies also super functional. We had them blackout lined, and hung on hand-traverse hardware. The panels hang on glides that, well, glide easily open and closed. I am so glad we were able to mount the hardware on the ceiling – it's actually a soffit, all the way around the room. The ceiling height is pretty low, and the window casing dies right into the soffit. This way, we didn't have to mount on the casing (tricky at best), and we maxed out on height, which gives the impression of a taller room. It really makes a difference!
The rest of the day Friday and over the weekend, I was running around buying accessories and light bulbs (always a fun challenge these days!), picking up the hallway runner, and a variety of other things to prepare for install phase two. On Sunday evening, I realized I had forgotten to buy a plate hanger for our Project Two-Sided Corner Fireplace Normalization gallery wall. Right after we put the boys to bed, I drove to Michael's, where I knew they had one…and arrived right as they were locking the doors for the night. I begged the employee to let me in to buy the ONE item I needed. She eventually relented, and I got what I needed. Skin of my teeth. On this project, I wouldn't expect anything less.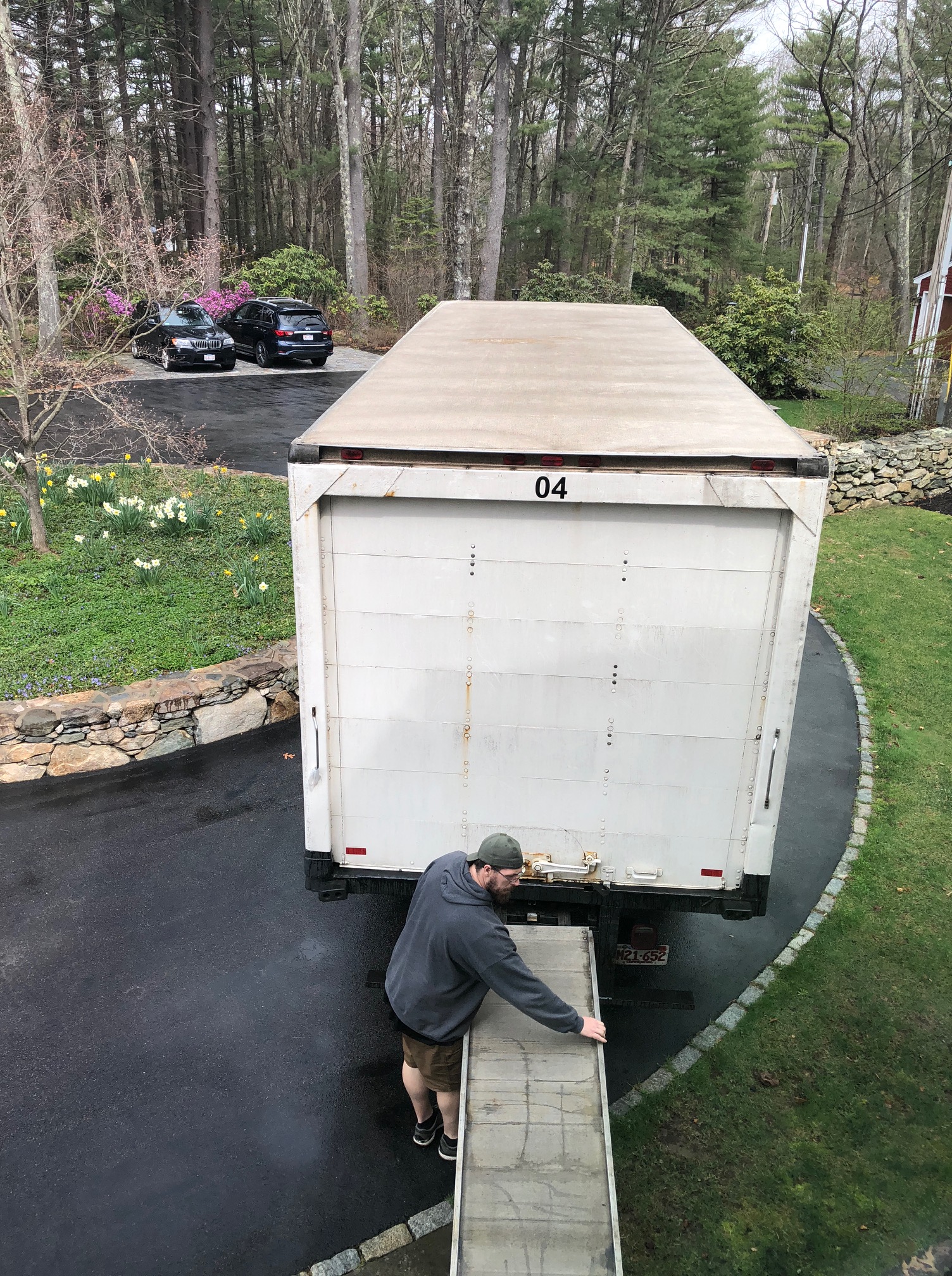 On Monday, I packed my car full and made the half-hour drive to my client's home. Late morning, all the furnishings moved in. It is always exciting to see in person – all at once and together for the first time – the things you ordered weeks earlier.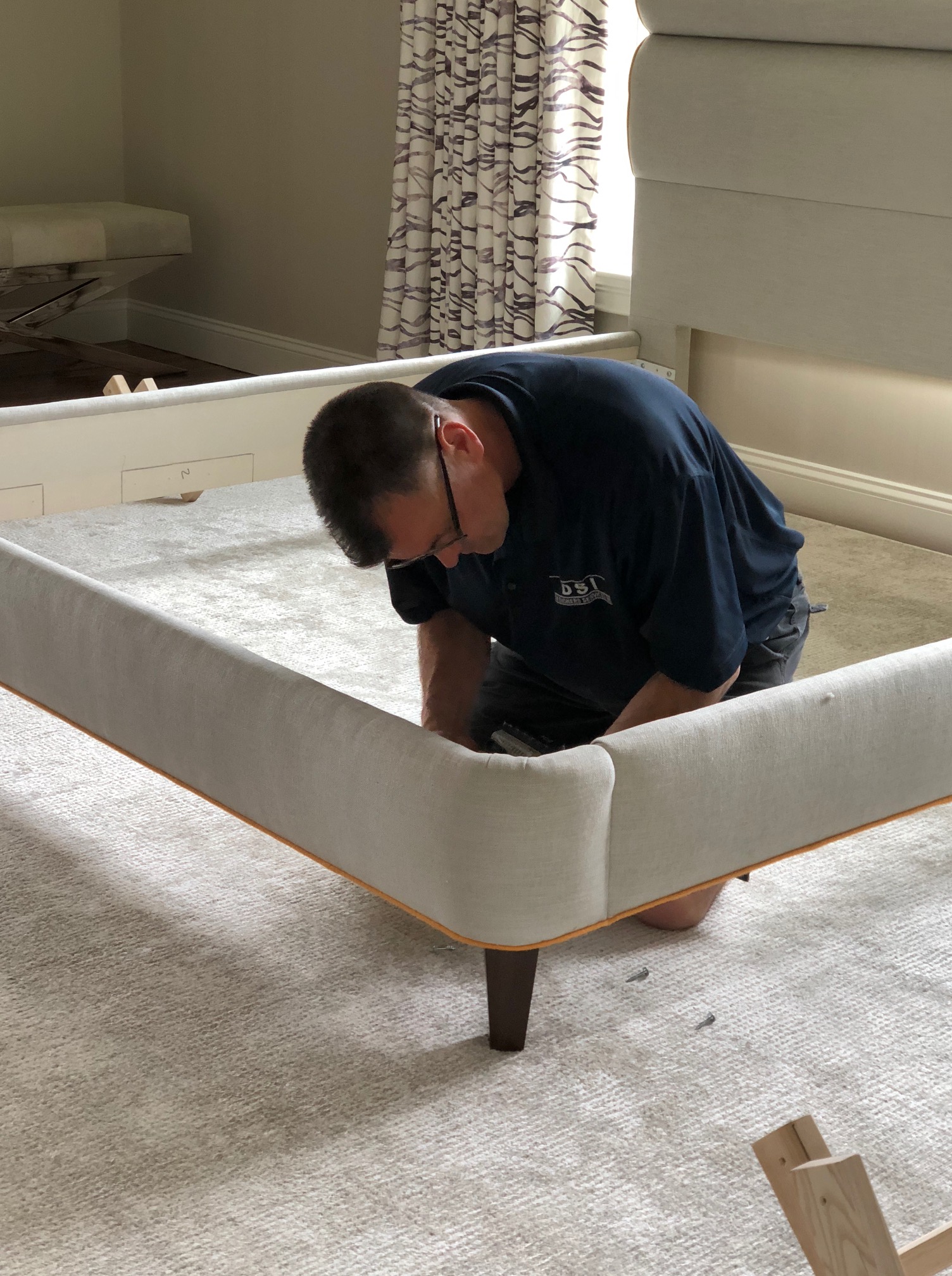 The custom king-sized bed was whipped up in a hurry by my upholsterer, and it is perfection! We used one of my favorite upholstery fabrics – Fabricut's Zenith. This is the Silver colorway. You'll get to see the whole thing next week!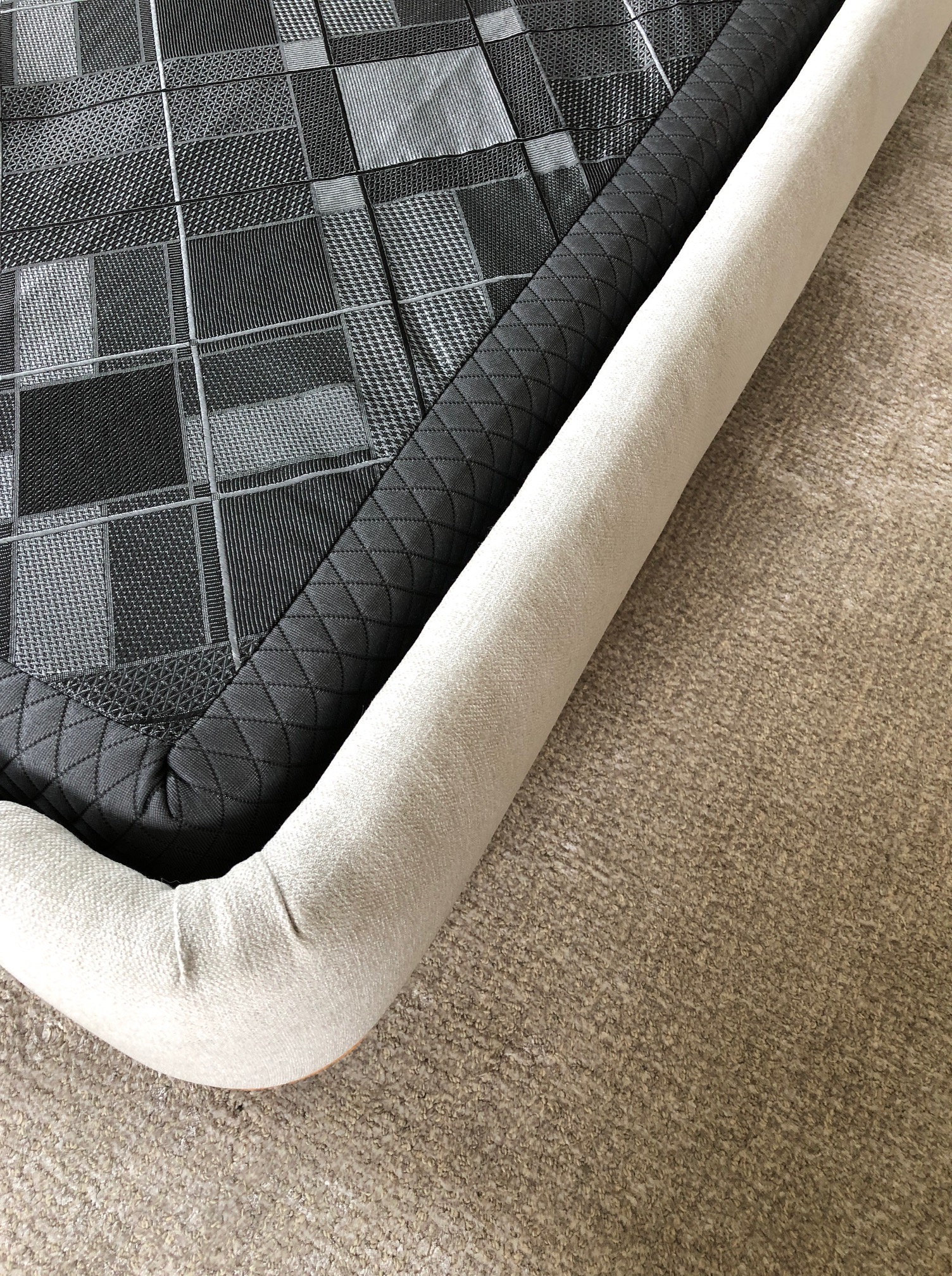 When you go custom, you can be sure that everything will fit like a glove. The whole bed was designed around the client's new mattress and low-profile box spring, right down to the radius corners. Then the nightstands and table lamps were carefully chosen to line up with the top of the mattress and the top of the headboard, respectively. I swear, decorating is basically math in disguise! Thankfully, calculus is not typically required :).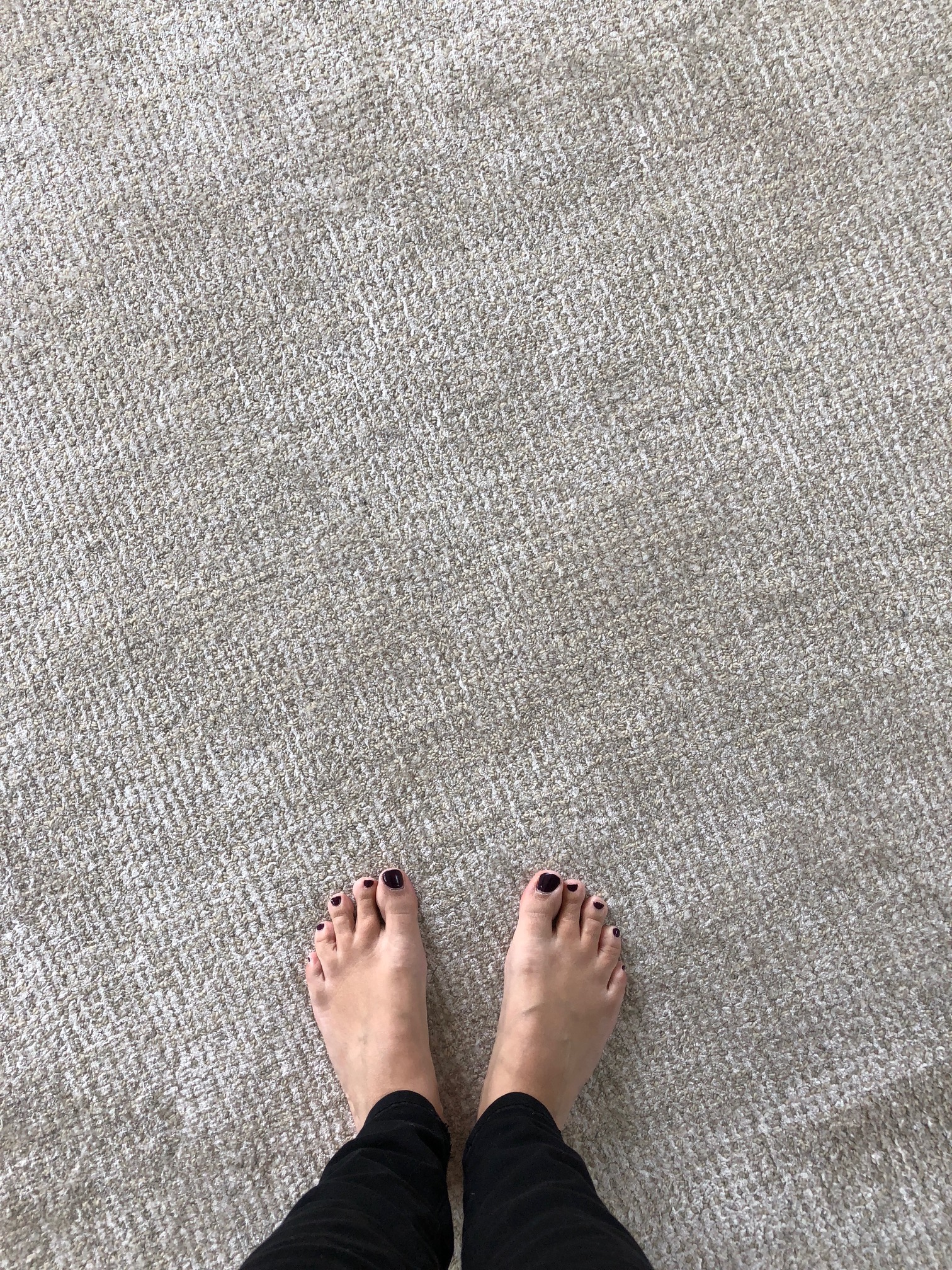 The area rug is the softest thing ever – the perfect bedroom rug with just a little shimmer. We had it cut and serged from broadloom carpet, which I often do when a more 'plain' rug is called for, and a non-standard size works best.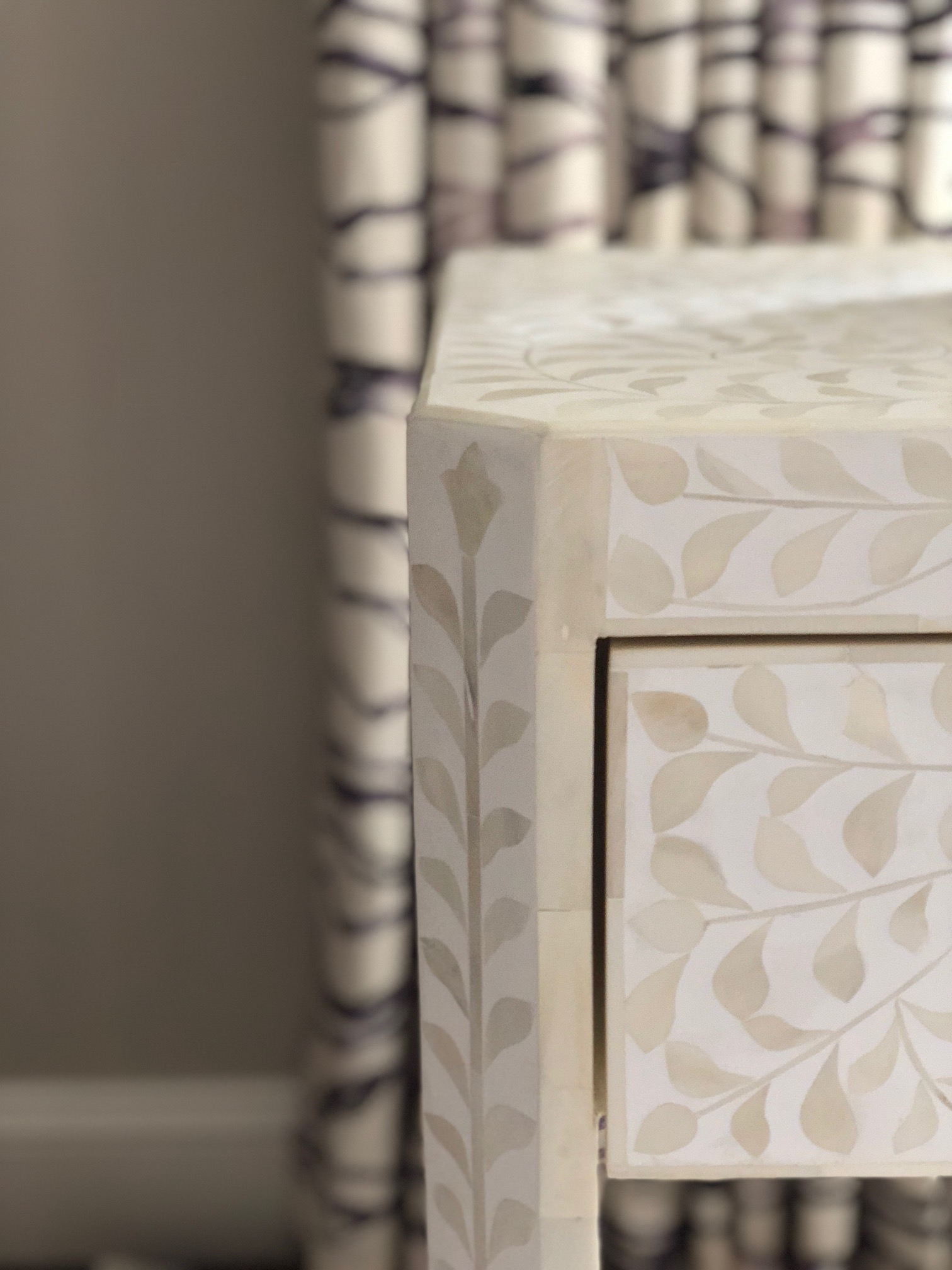 The nightstands made it (albeit in a separate trip later on Monday), and I love the visual interest and subtly exotic vibe they add to the room.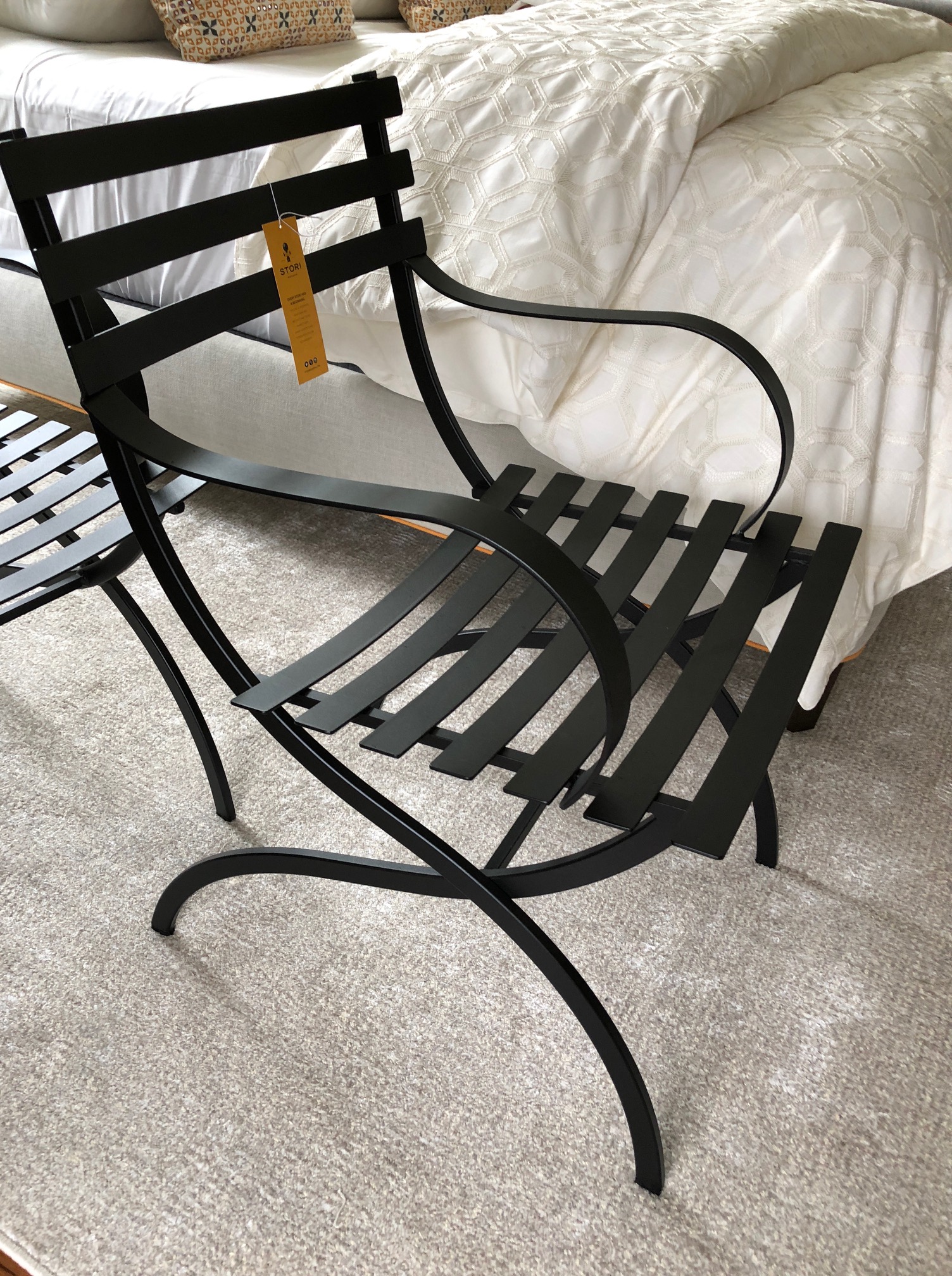 The Journal Arm Chairs from Stori Modern could have easily stayed inside the room; they're substantial looking and feeling, and gorgeous! But they look graphic and fab on the little balcony, as well!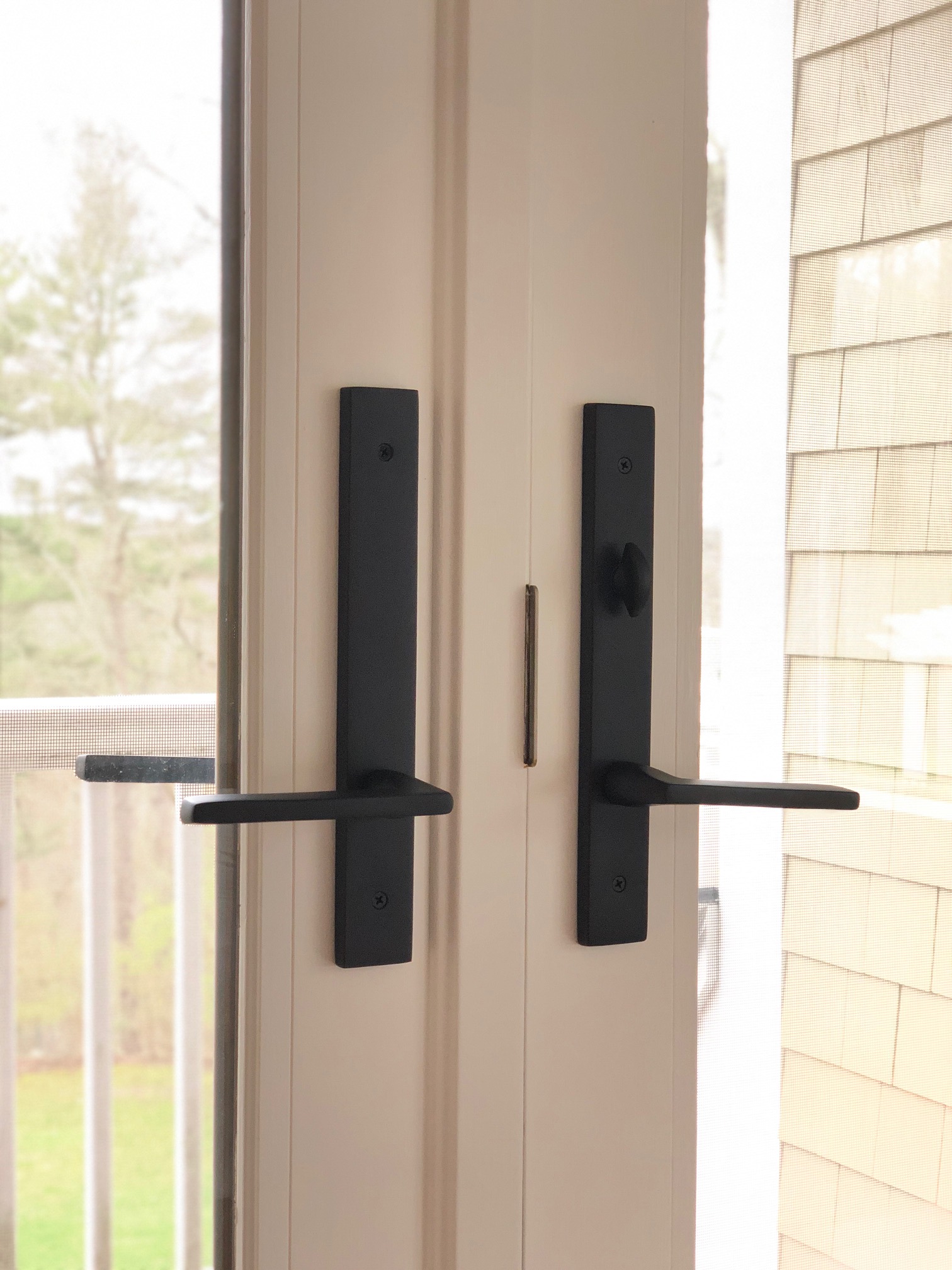 Speaking of graphic and black…I was excited to see this update on install day! My client was a HUGE help on this project – the husband installed all the new door and cabinet hardware (and the light fixtures, too!). Emtek provided the gorgeous multi-point lock trim for the French doors leading out to the little balcony. This is their Helios Lever with the 'Modern' style backplate – solid brass with a flat black finish.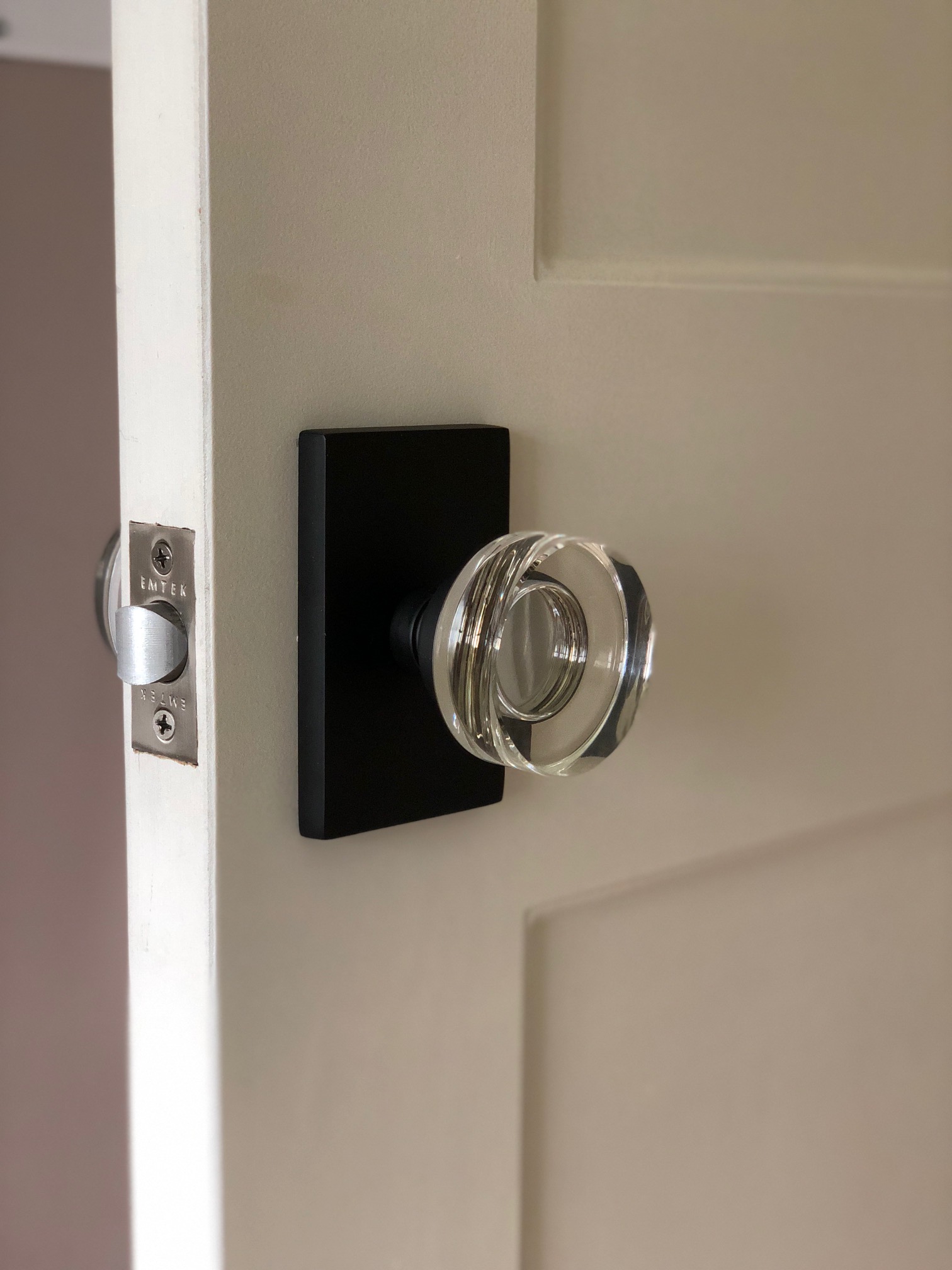 Emtek's Modern Disc Crystal Knob and Modern Rectangular Backplate looks amazing on the doors. Flat Black again for the win. Making this change may seem small, but it makes a huge impact. Even my client was surprised by how it instantly updated the room – and now wants to do the entire house! This is why I'm a huge advocate for replacing outdated or cheap door and cabinet hardware. Emtek has been my go-to brand for years (and will continue to be!). Boston/MetroWest area people can see the product and order where I specify and buy Emtek – at Needham Decorative Hardware, which is near the Newton/Needham line off of Highland Ave.
Back to Project Two-Sided Corner Fireplace Normalization gallery wall! I did a sketch in Week 3 to lay out the gallery wall so I knew what sizes of our favorite pieces from Minted to order. Before we started, this was the situation: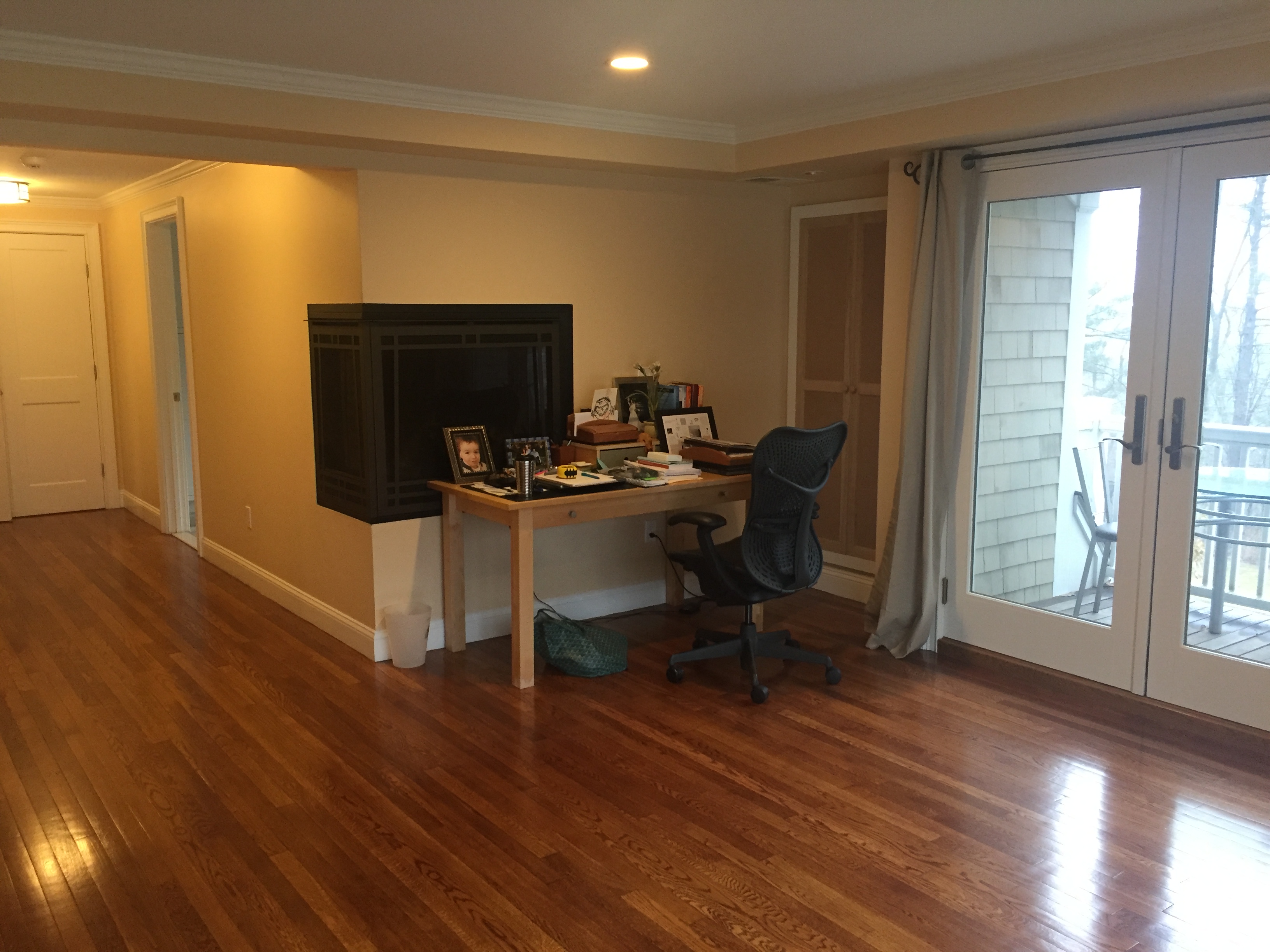 The desk and everything on it concealed an electrical switch to the right of the fireplace that I did not account for in my drawing. I realized this during the drapery install. Doh. I made one call and found THE perfect piece to fill this space and restore the art layout to a balanced state.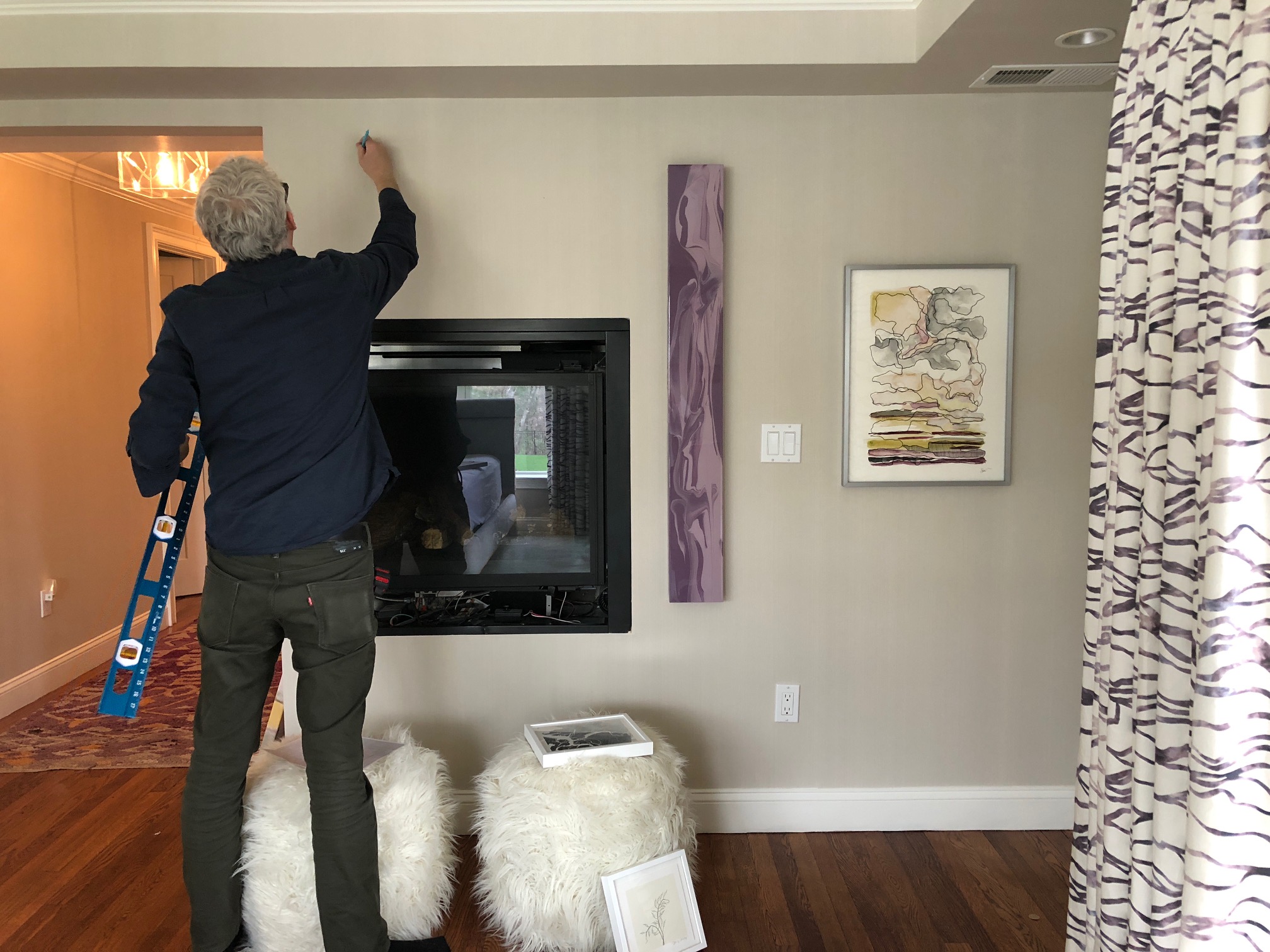 Boom.
We used my sketch as a guide, but we also gave each piece an eyeball and reality check before popping a nail through the new wallpaper. Whenever possible, it is good for this process to be a team effort! I almost always use a professional art installer for these types of installations.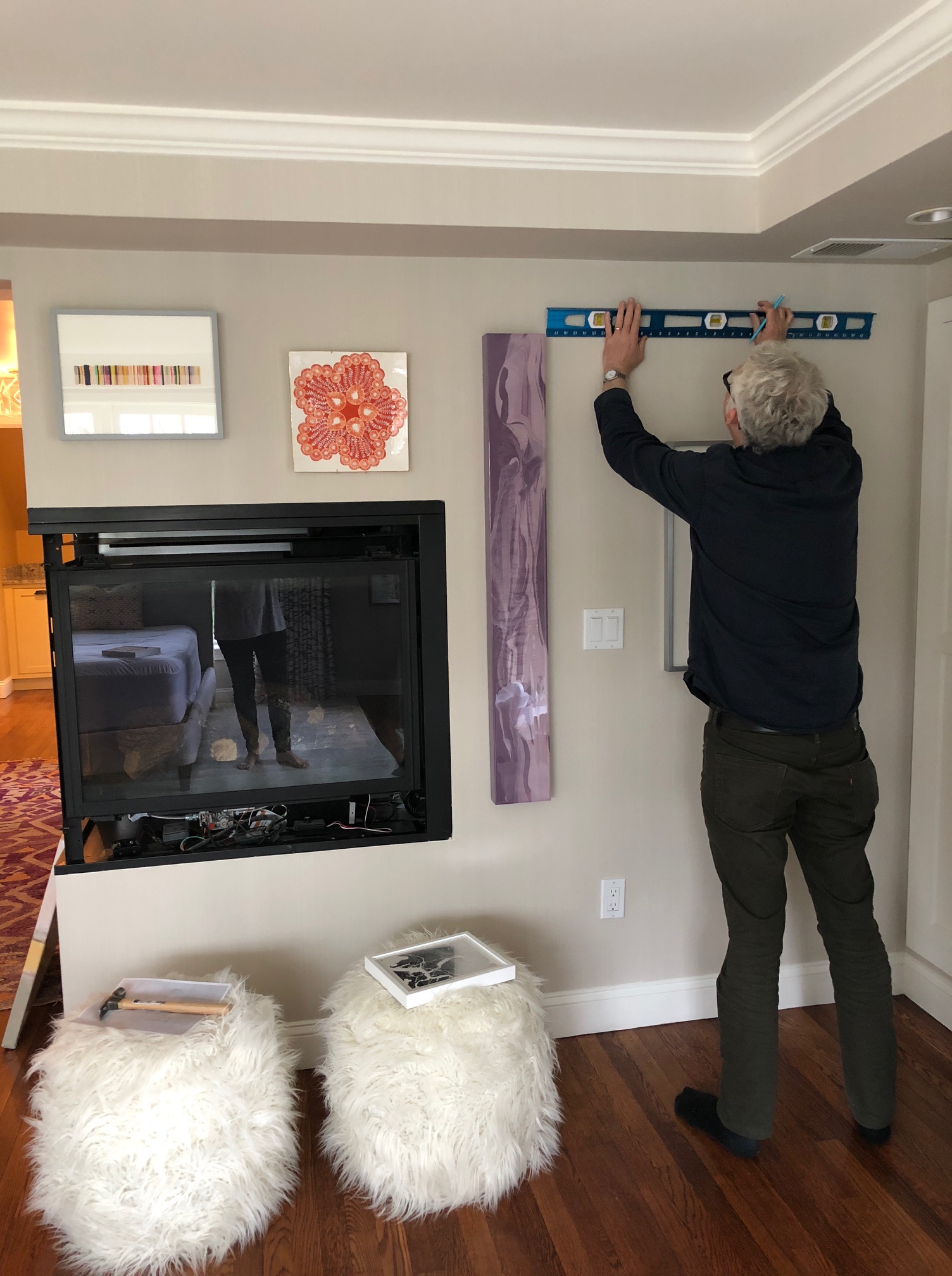 That pretty orange flower is the piece that required a plate hanger – a Hi-Five Brekkie Tray from Jill Rosenwald. Totally worth the begging and pleading with the lady at Michael's who was very eager to go home!
So what's next? Today is photo shoot day! Which means that as I write this, my One Room Challenge is basically done, save for the reveal post. I do have quite a bit of styling to do before my photographer arrives this morning, so I suppose it is not 'done done.' I am really looking forward to revealing this room! I'm also excited to see where the other 19 designer/bloggers are at, and how they are faring as we enter the homestretch.
Apartment 34 | Beginning in the Middle | Coco & Jack | The English Room | The Gold Hive
Gray Malin | Jenna Sue Design | Jojotastic | Linda Holt | Marcus Design
Michelle Gage | Natasha Habermann | The Painted House | Rambling Renovators
Sacramento Street | Shannon Claire | Sketch 42 | Stephanie Kraus | Bisou Style
Media Partner House Beautiful | TM by ORC
I'd be honored if you came back next Wednesday for the final reveal! I do have a few surprises up my sleeve :).
Note: Stroheim / Fabricut, Farrow & Ball, Stori Modern, Emtek, Minted, and Jill Rosenwald are among the generous sponsors we are delighted to collaborate with in the Spring 2018 One Room Challenge!