Note: Some of the links below are affiliate links, which means if you click through and make a purchase, at no additional cost to you, I will earn a small commission.
Today is a big day. Today, twenty designers and design bloggers across North America are breathing a huge sigh of relief (and, if they're anything like me, simultaneously holding their breath, a bundle of nerves). Why? Because today is reveal day for the Spring 2018 One Room Challenge! And I'm so glad you stopped by to check mine out.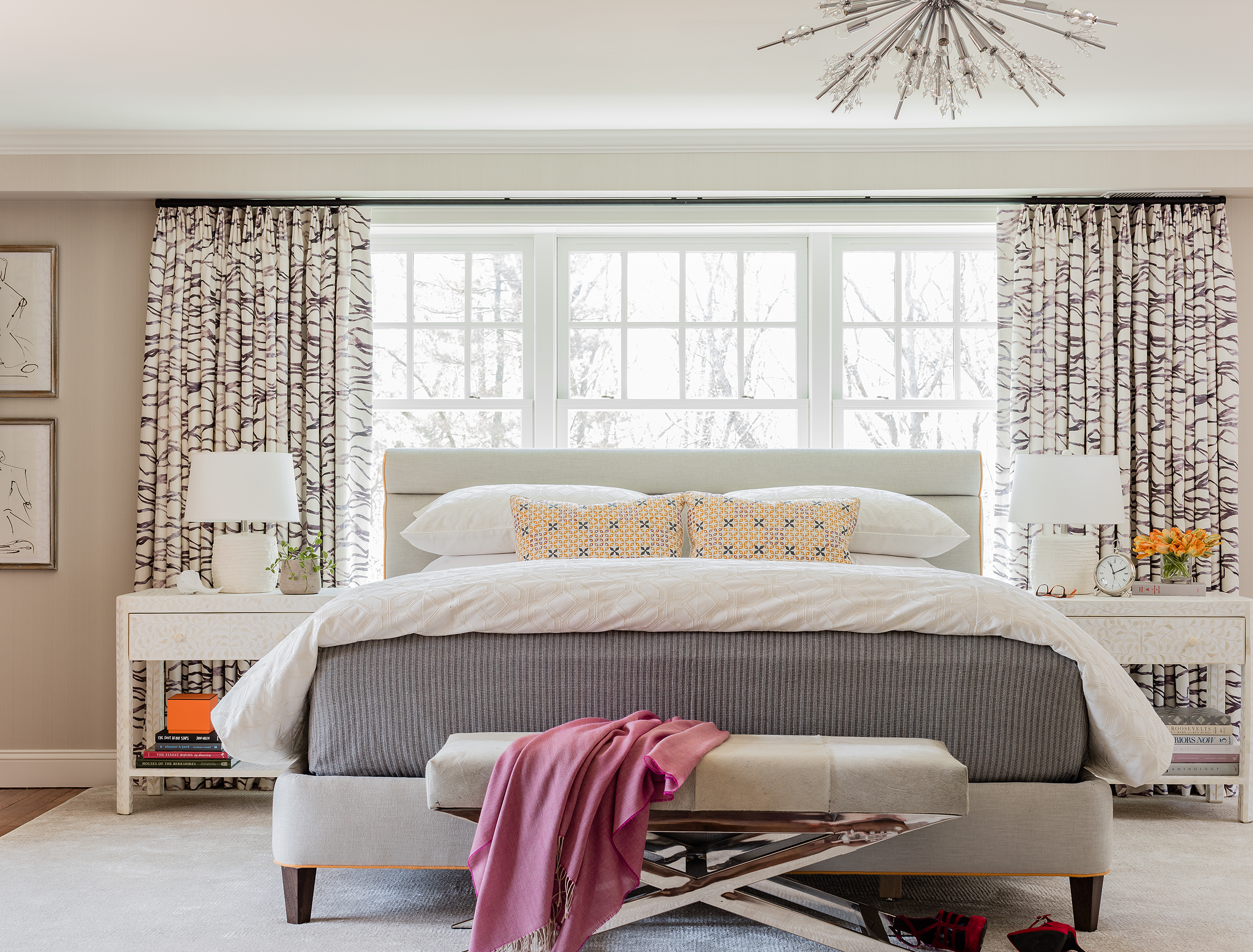 My client's Bold Serene Bedroom is complete, and ready for your before-and-after viewing pleasure!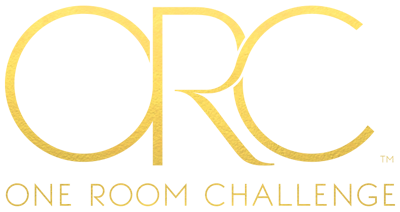 I wanted to do a mini introduction before getting down to it, as I suspect many of you are brand-new to me and this blog – thanks so much for visiting!! I am a Boston-area designer and blogger specializing in family-friendly interiors with fabulous style. I started my blog and business in 2012. This is my fifth (!) ORC, and my first as a featured designer. And…it's my third project with these clients, who have become dear friends, and have been an absolute delight to work with. Embarking upon this journey requires a high degree of trust, a leap of faith and the ability to make very quick decisions (for all involved parties!).
Catch-up links:
Week 1 | Week 2 | Week 3 | Week 4 | Week 5
I don't want to bog us down too much with before pictures, but I do want to quickly show-slash-remind you where we started – because some of the subtleties of the design belie the extreme transformation that just took place. And we only redecorated. Decorating is POWERFUL, make no mistake about it! As you will see, we adopted a scorched earth policy here; everything had to go, including the furniture layout.
BEFORE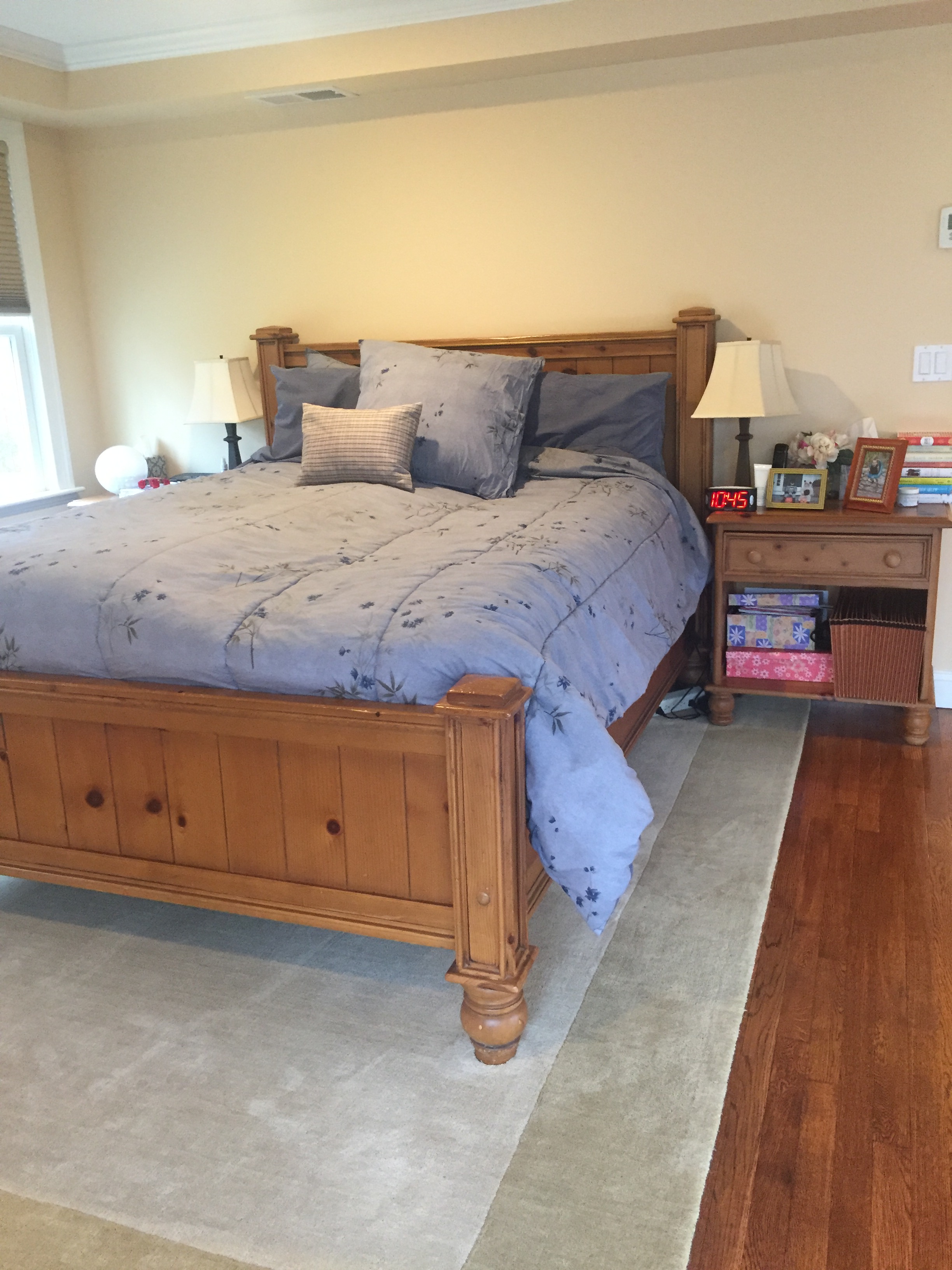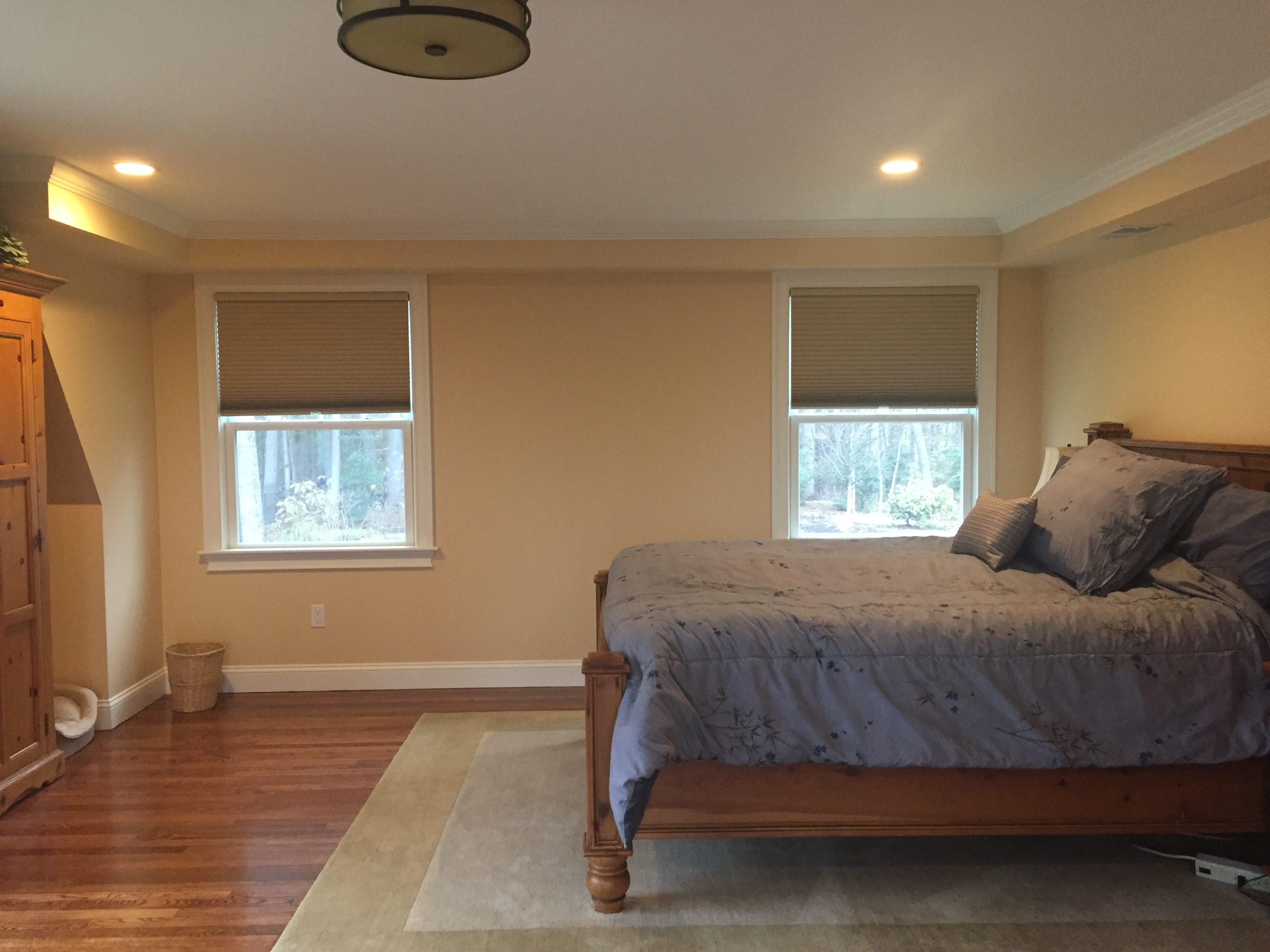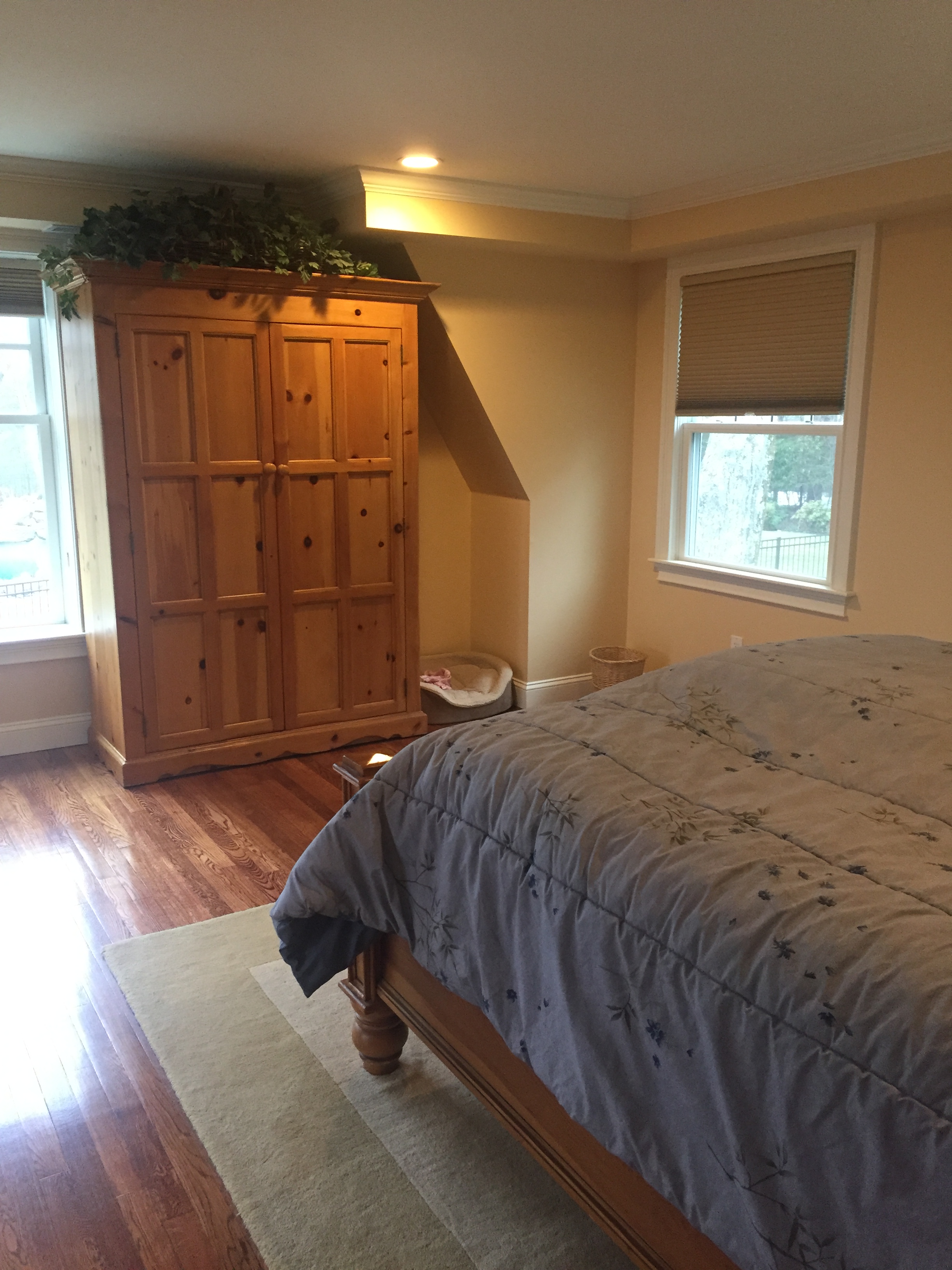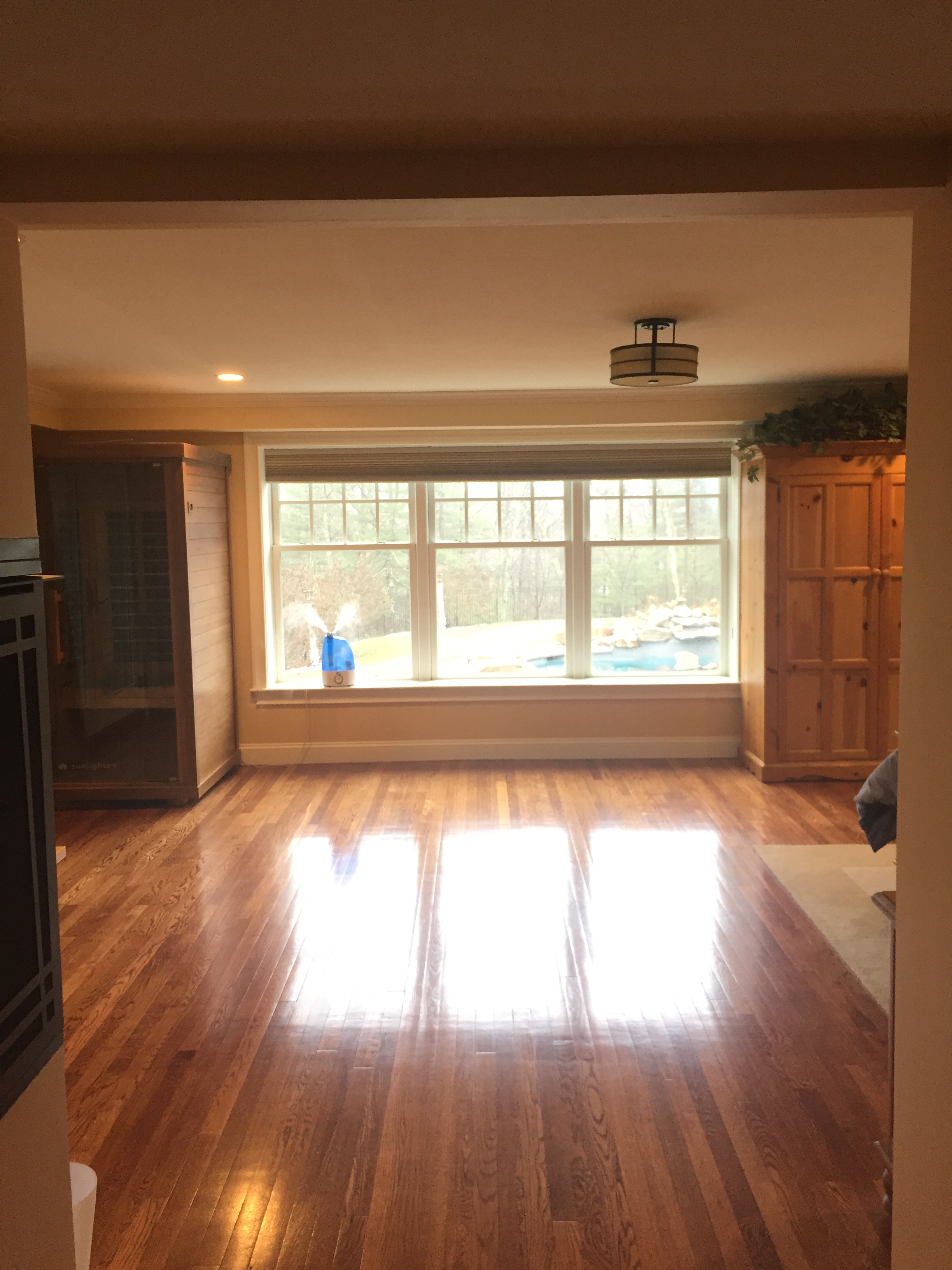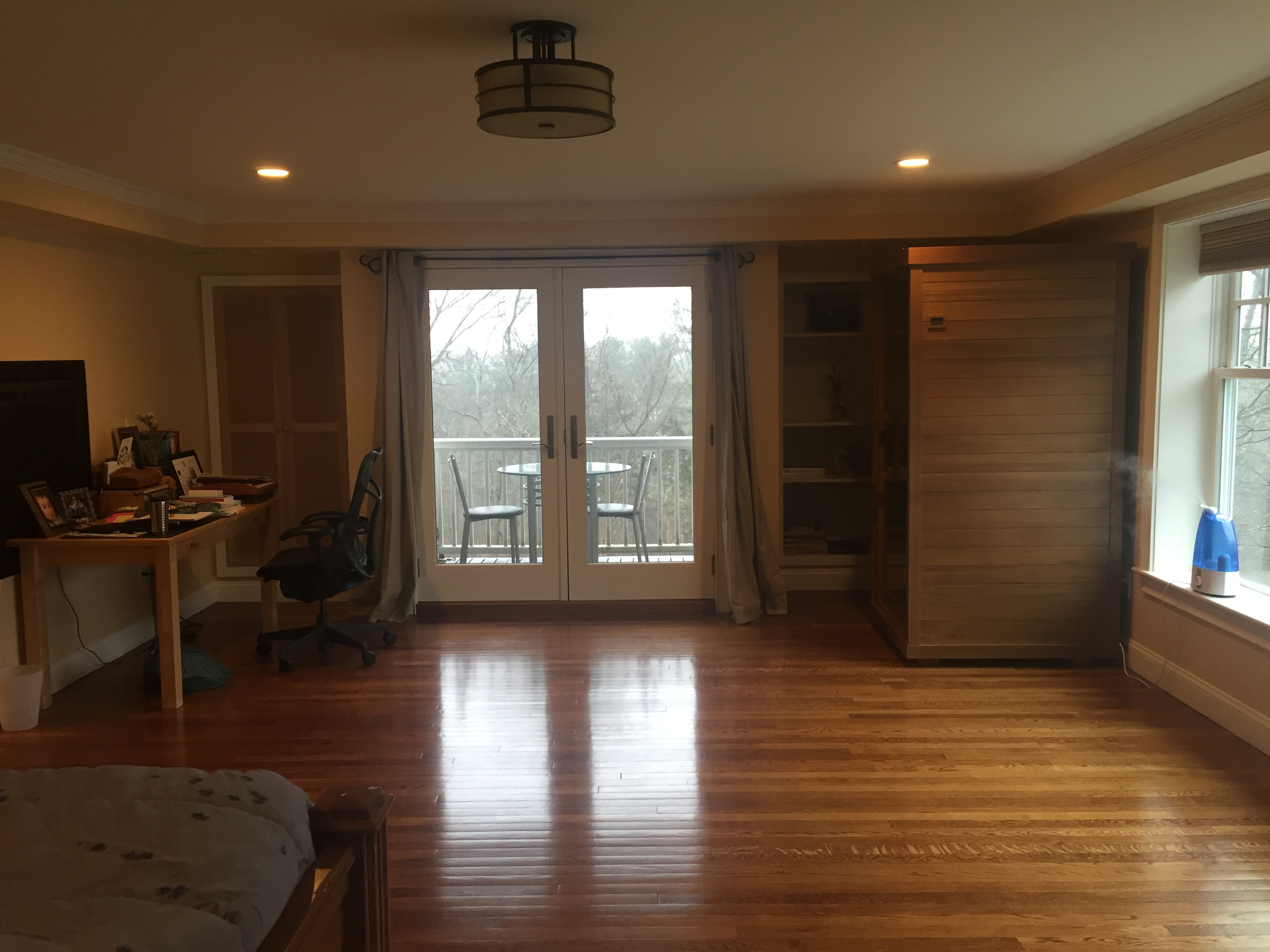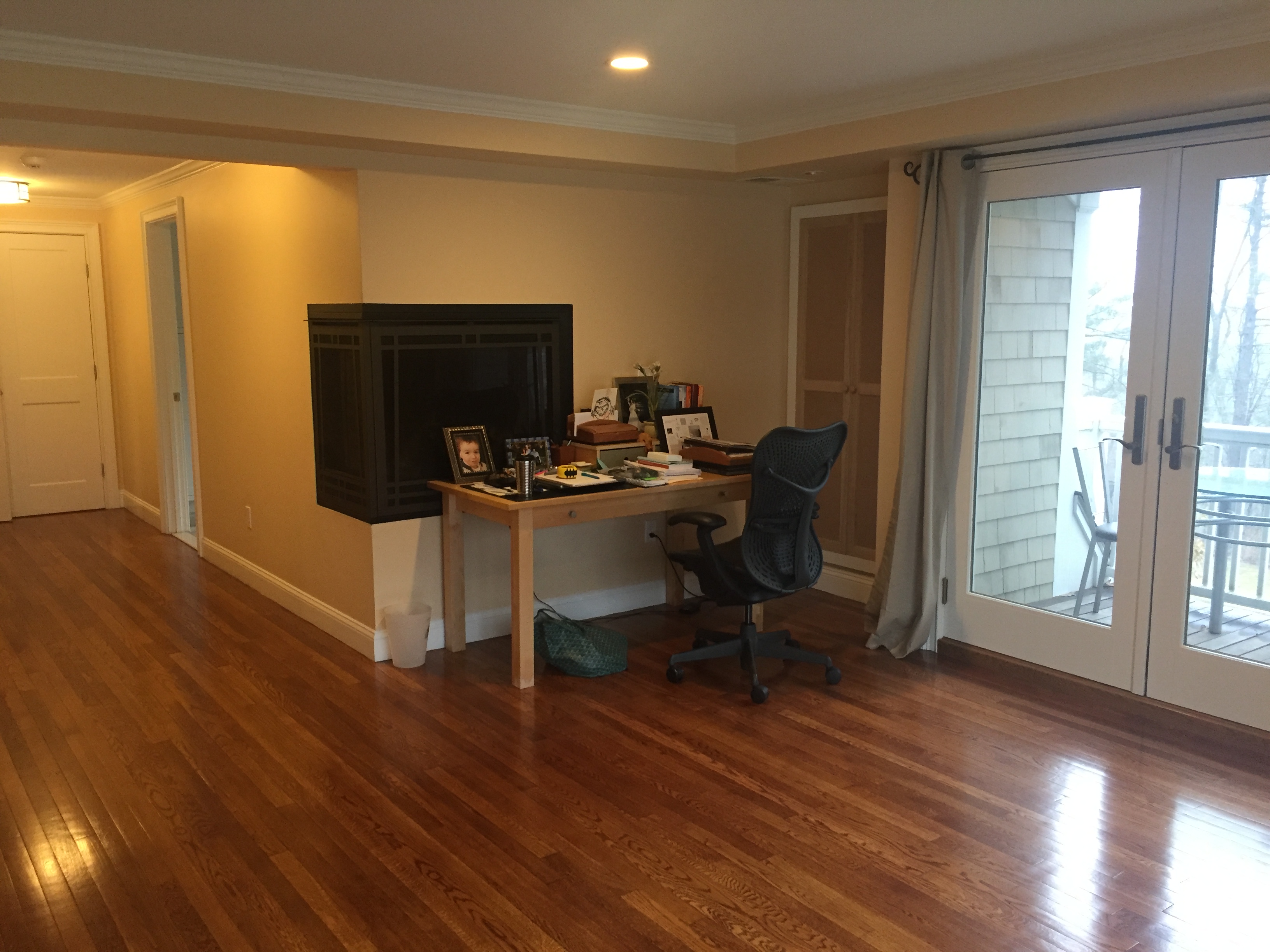 P.S. This is my client who is super stylish, prefers modern design, and does not like the color blue. Design intervention now complete! Let's see the results, shall we?
AFTER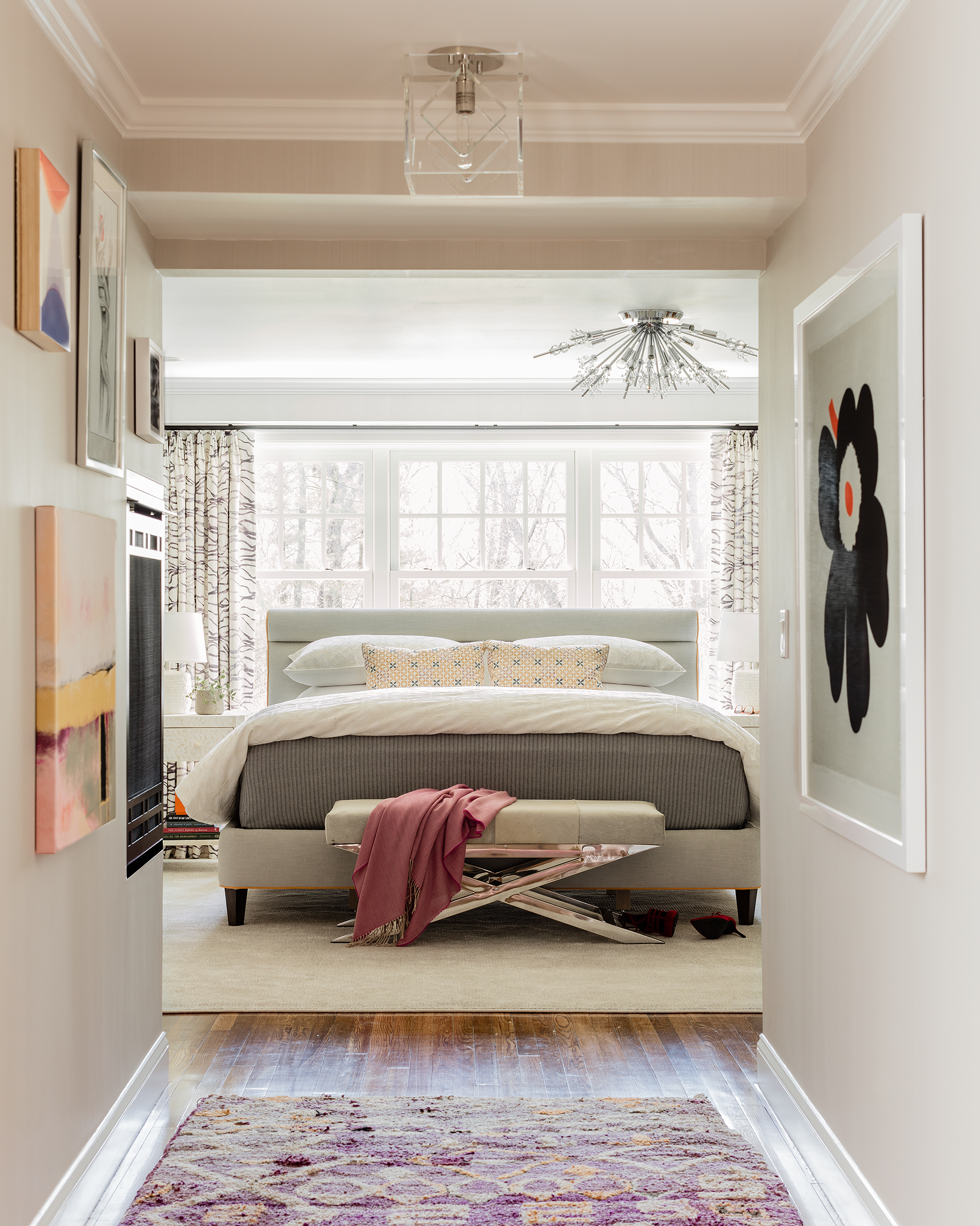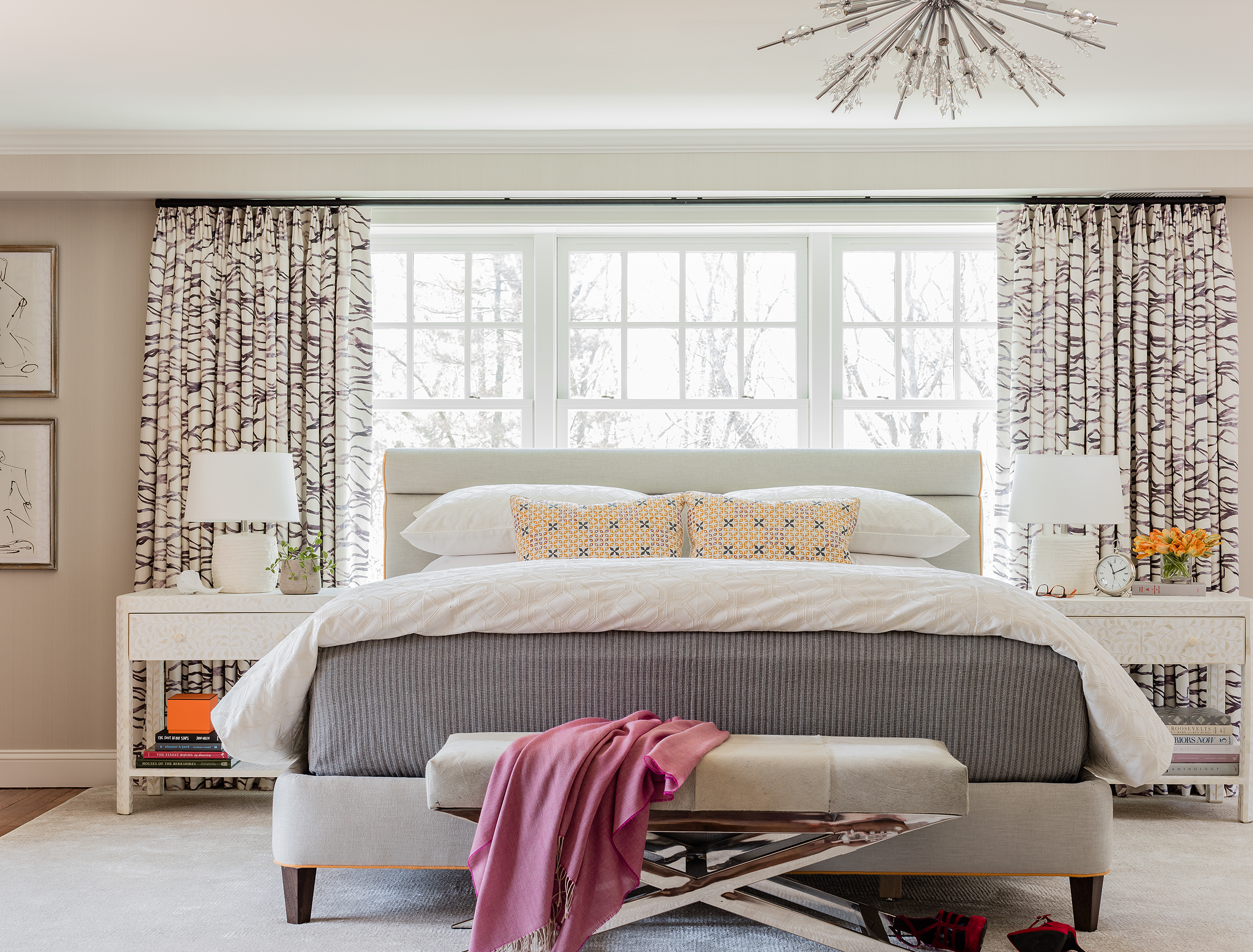 I am so pleased by how this 'grand entrance' to the master suite turned out. Whether or not you agree with putting a bed in front of a window in principle, it is really the best layout for this room. What a view when you walk in! The painterly draperies are everything – it took a big effort by a lot of people at Stroheim to get us this fabric (over 50 yards!!), and my client and I are eternally grateful. And the vintage Moroccan hall runner (which we had cut down from a larger area rug) and cut-and-serged broadloom rug under the bed are both heavenly under foot. A big 'ahhh' and an invitation to bliss out.
Drapery Fabric: Stroheim 'Anise / Sugar Plum' |  Bed: Custom by Kelly Rogers Interiors with Fabricut Zenith / Silver fabric and orange cashmere welt | Light Fixture (Bedroom): Elk Lighting Starburst 12-Light Polished Chrome Semi-Flush Ceiling Light via Bellacor (discontinued – smaller size still available) | Light Fixtures (Hall): Hudson Valley Lighting Travis 9″ Polished Nickel Ceiling Light via Lamps Plus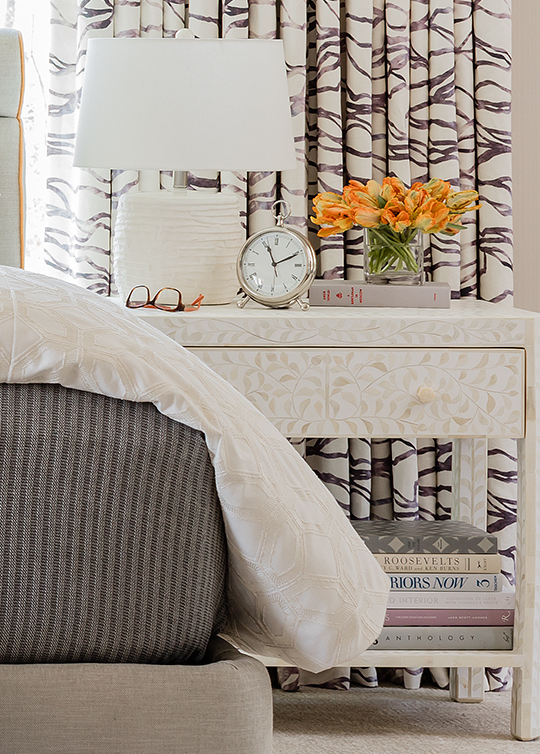 The bone inlay nightstands were one of the last things we chose for the space, and they're one of my favorite things, too.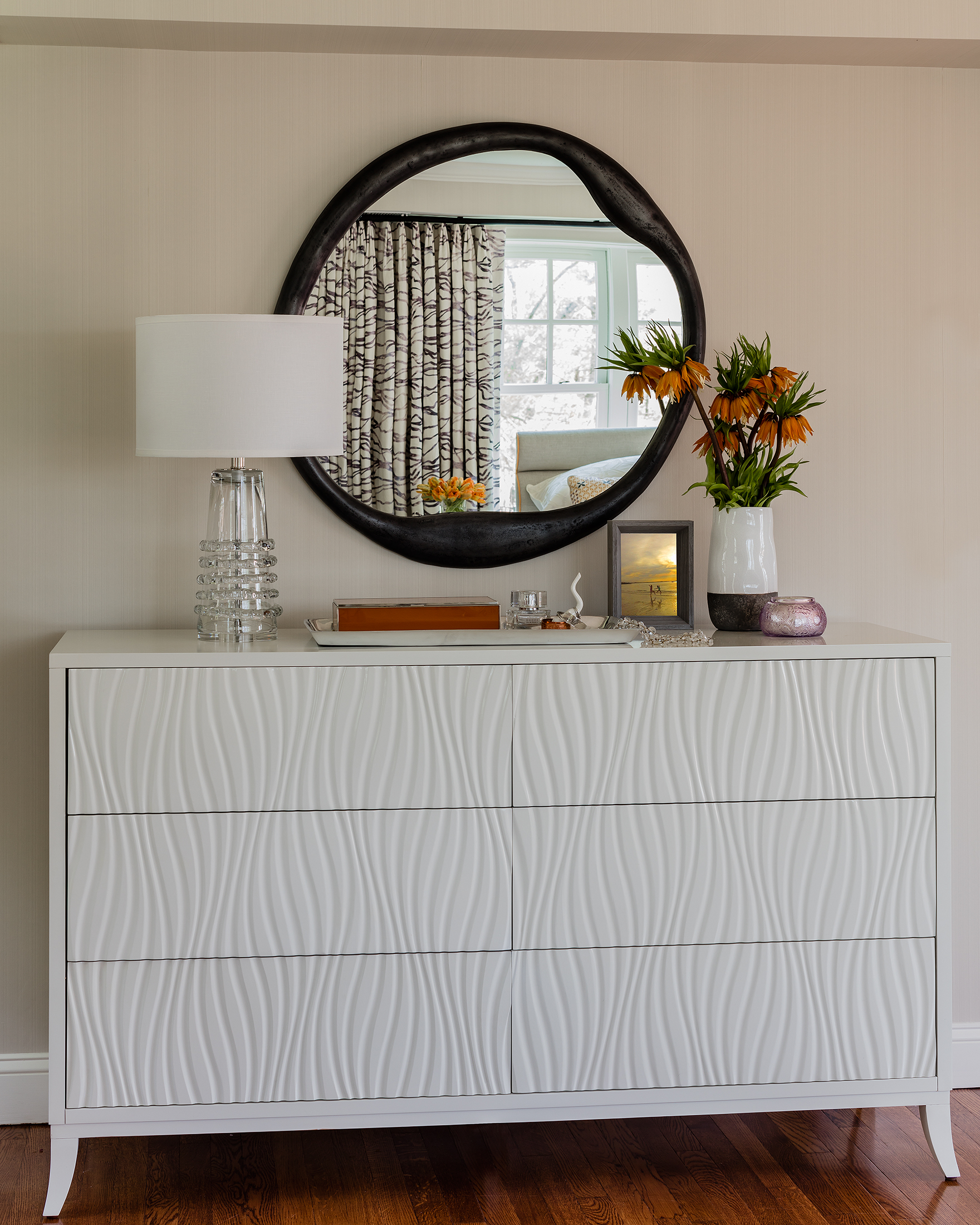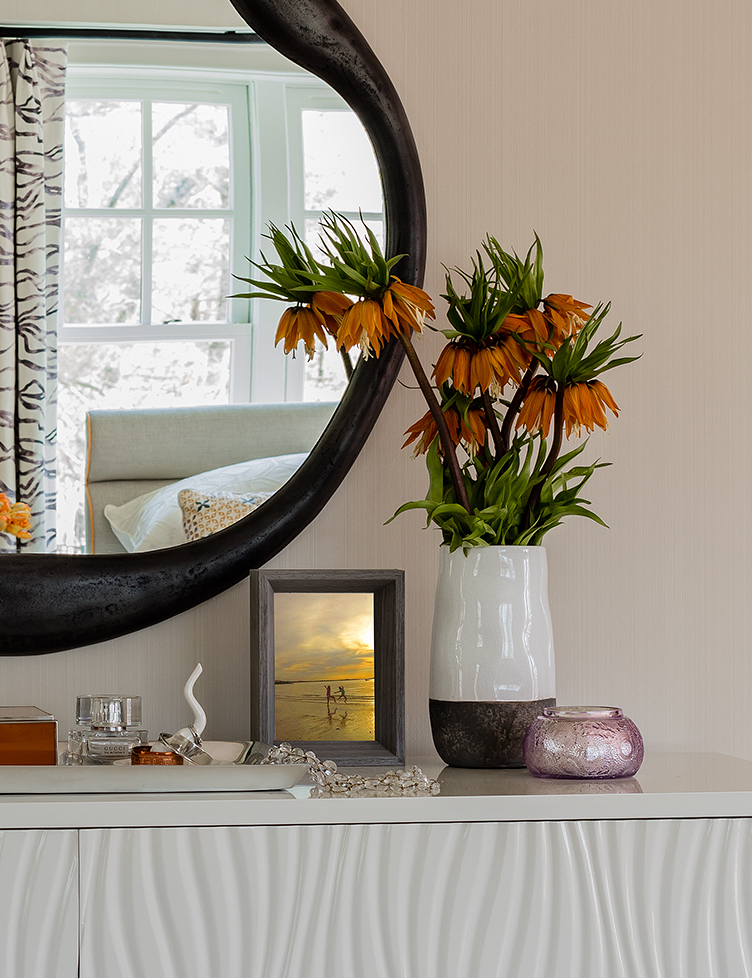 I love how the dresser echoes the wavy, organic quality of the draperies, and the mirror punctuates the serene scene with an organic, amorphous punch (and who doesn't love a good mirror shot?). But the real, unsung star here that elevates everything else is the wallpaper. I seriously want to use this now on every project instead of paint. The richness and depth is difficult to capture on camera. Side note: While these flowers – Frittilaria imperialis – are really fun and kind of Seussian, I do NOT recommend them. They are super stinky, and did not make me very popular on shoot day!
Wallpaper: Farrow & Ball Drag DR1275 (archived colorway – special order)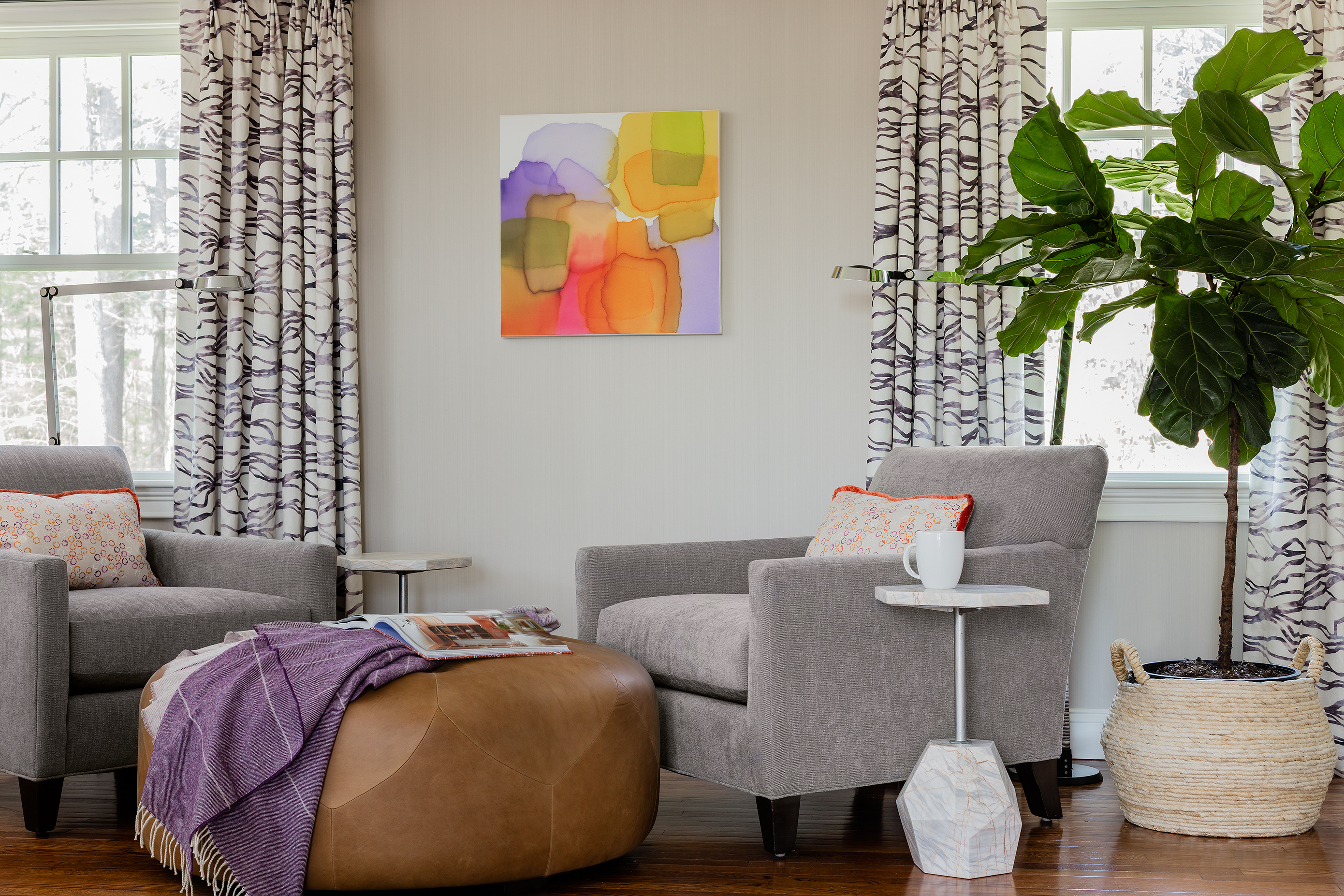 WHOA, stop right there!
If you've been following along, you know that I found out in Week 4  that the 'quick ship' lounge chairs we ordered would not make it in time for our photo shoot. So what gives? Well, Rachel and Gary at the Robert Allen and Duralee showrooms, respectively, at the Boston Design Center got wind of my tale of woe, and offered me anything off the showroom floor to borrow for the photo shoot. I did find a pretty good chair, not quite the right color,  and only one. But I knew that in the hands of my photographer, Michael J. Lee, that would be no problem. Want to see how we did it?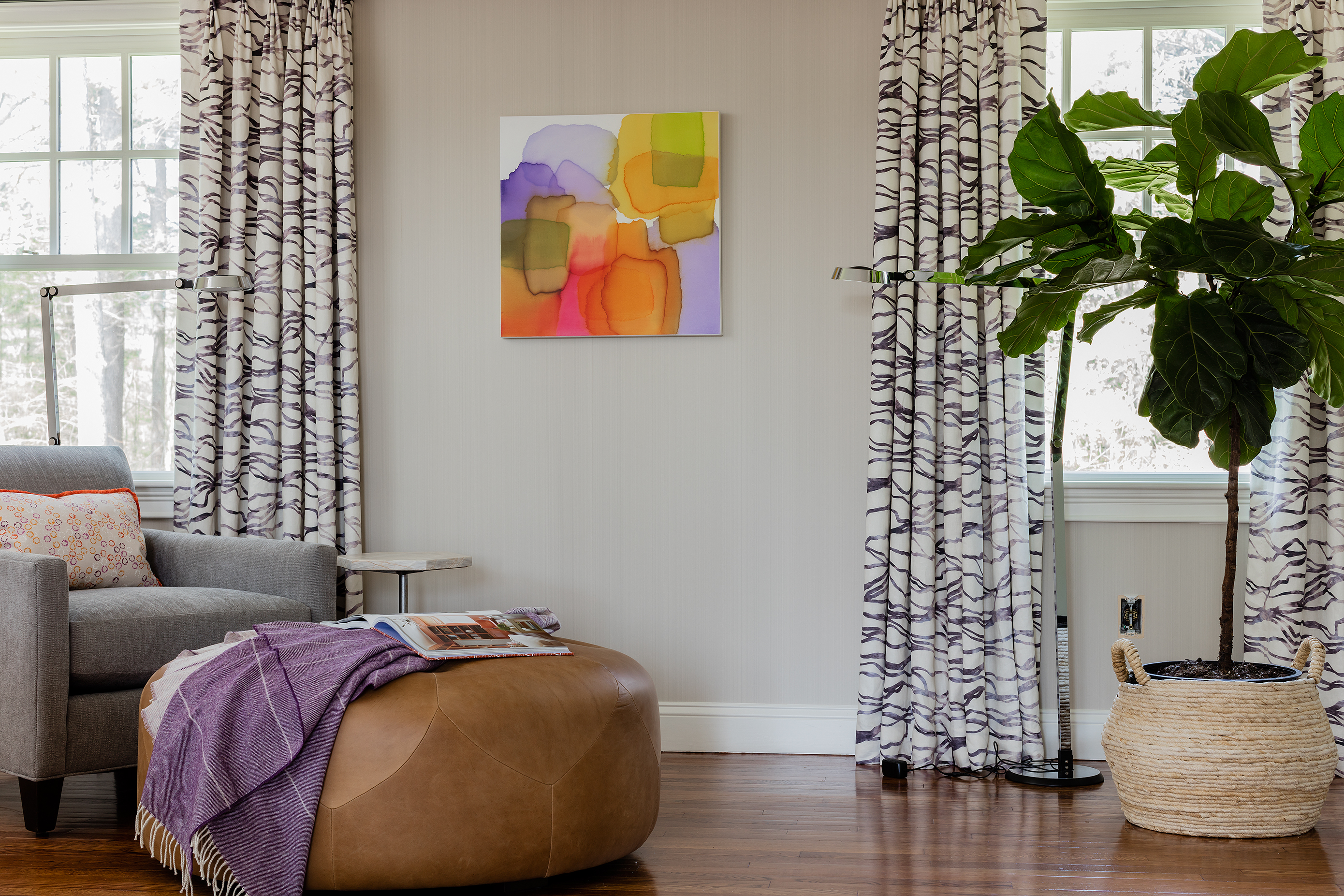 Step 1 – We had to get everything in position (including the camera), exactly where we wanted it, and snap a pic. Then NOTHING could move a millimeter – except the chair!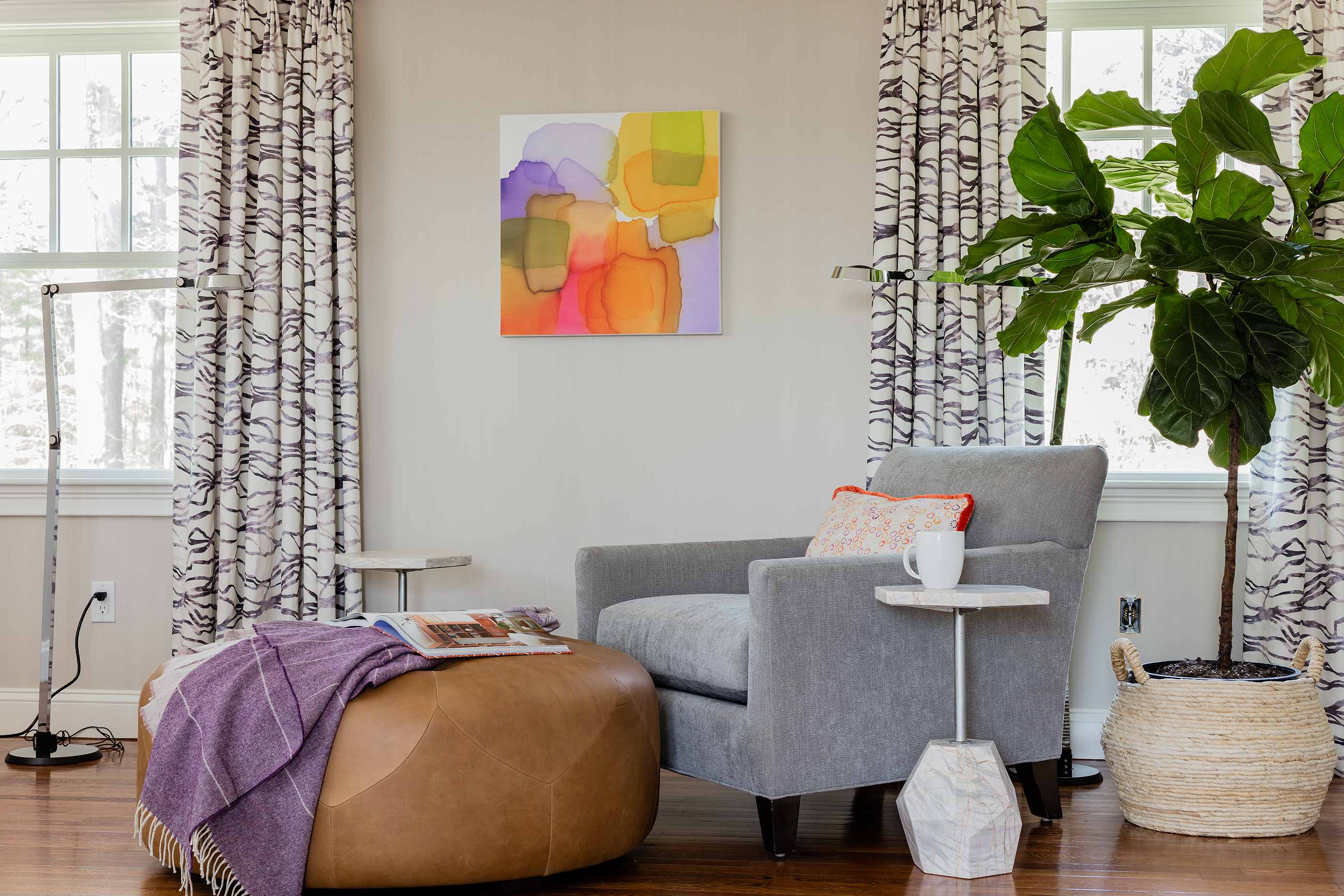 Step 2 – Take the picture (actually, a few exposures, both times) with the chair in the other position. In post-production (aka Photoshop), the images were stitched together, and the color tone of the chair fabric was adjusted to be more similar to the one on the chairs we ordered, and are still waiting to arrive. And, that hole in the wall (where the outlet literally crumbled apart in my hands when I unplugged the floor lamp during the photo shoot) was made to disappear.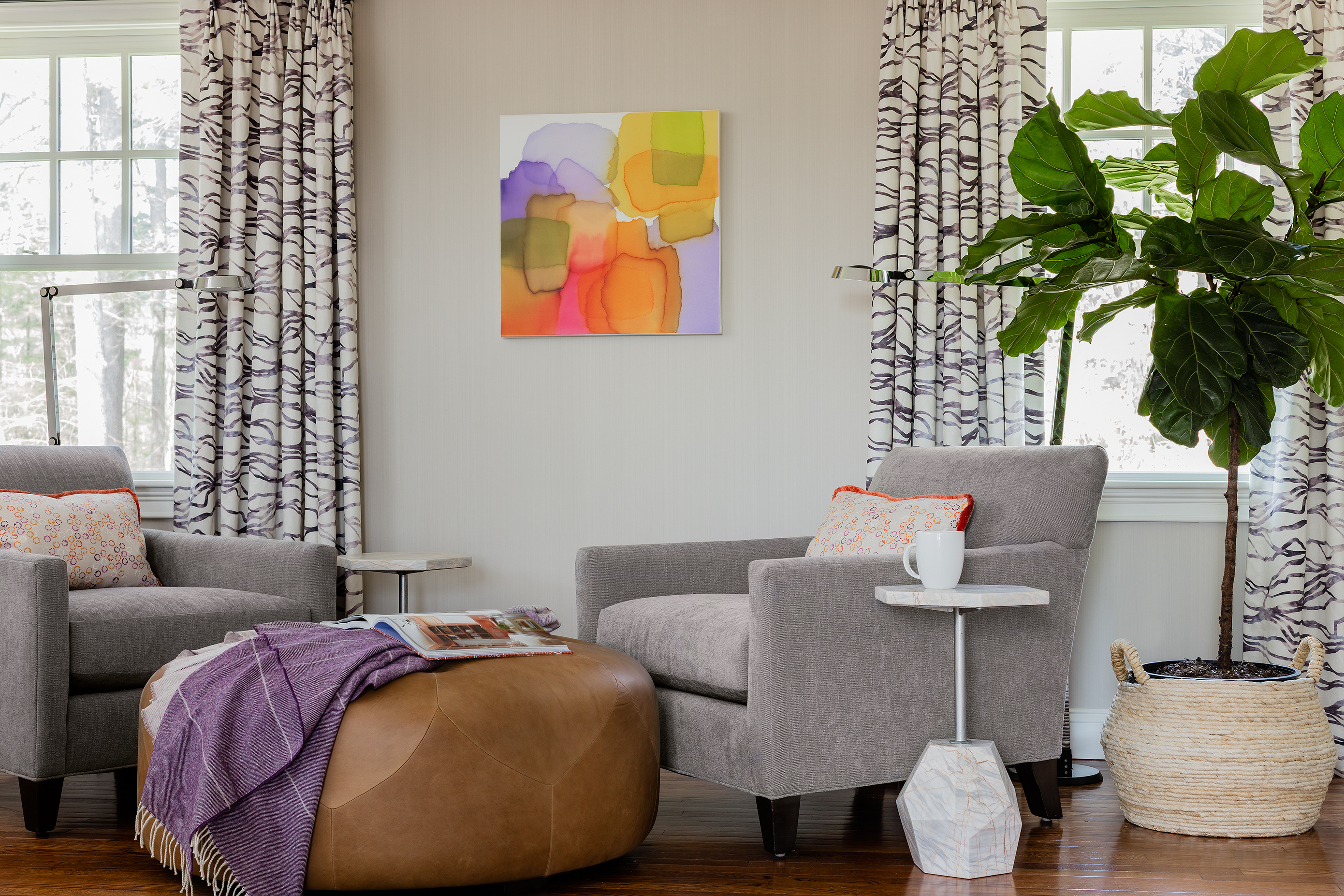 Voila! Photoshop magic. I wanted to share the behind-the-scenes process, because it's a good reminder of how the images we see on the Internet and in magazines can be manipulated. I obviously had no nefarious or deceptive intent (I'm dishing, after all!), and simply wanted to be able to salvage and capture my complete room design that I worked very hard to bring to bear in time for the reveal. Just remember – you can't always believe what you see!
But…my clients will see quite well with their sleek new LED floor lamps. They are unobtrusive, adjustable, and can be turned on and off right above the light 'disc' with the mere touch of a finger; no need to reach for a switch or find a pedal on the floor.
Floor Lamps: Dimond Modern Disc Chrome & Black Metal LED Floor Lamp via Lamps Plus. Commissioned art: Charlie Bluett
Moving on…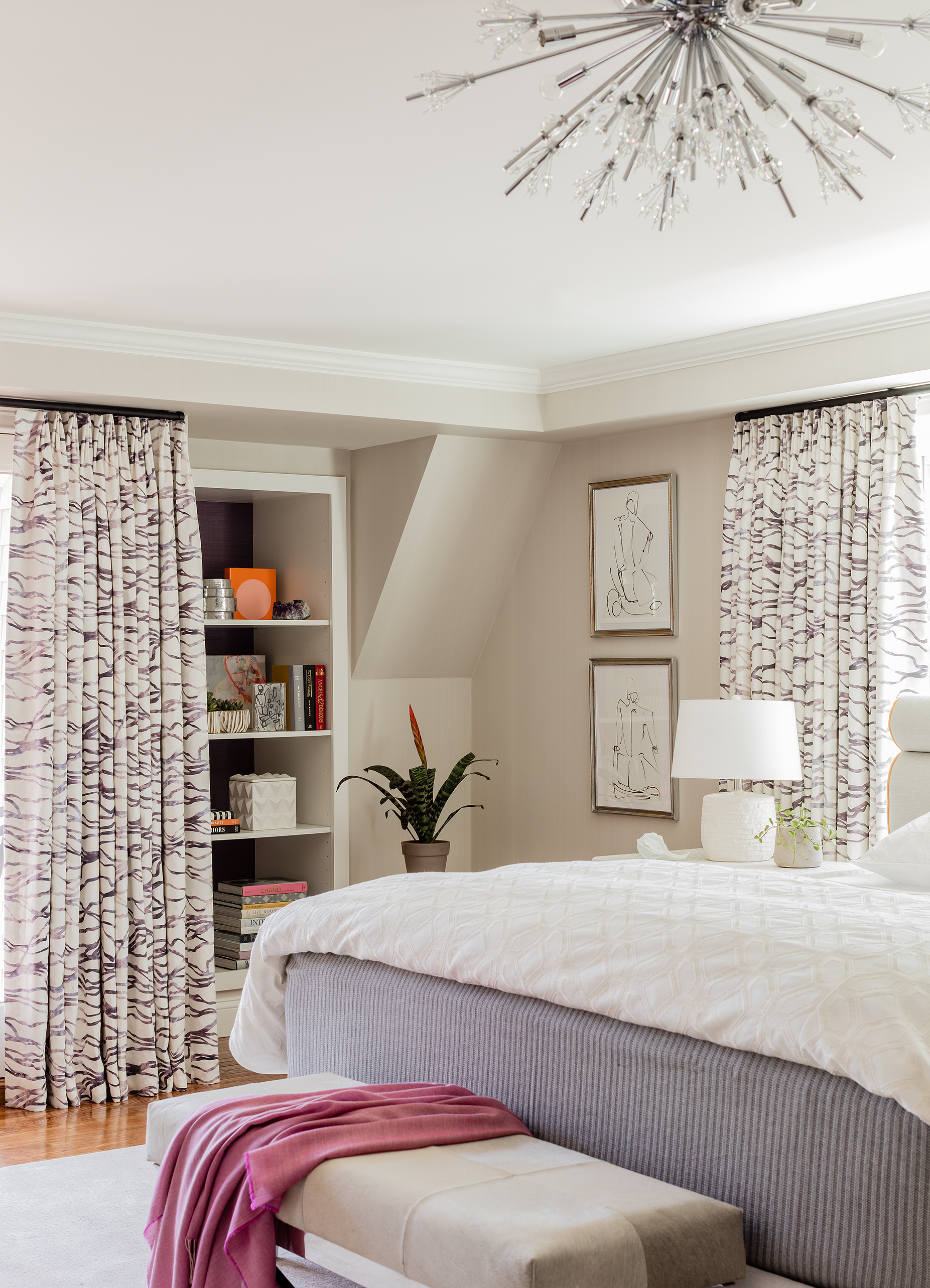 Adding purple grasscloth to the back of this existing built-in bookcase didn't require much in the way of labor or materials, but it made a big impact. We loaded it up with artwork, including one of the several pieces we sourced from Minted.
Gallery-wrapped canvas inside built-in shelves, lower: Minted 'Red Loops' Limited Edition Print by Kirsty Niemi Benedetti | Orange resin 'Dot': Stephanie Henderson | Figurals in lucite block: Haley Mathewes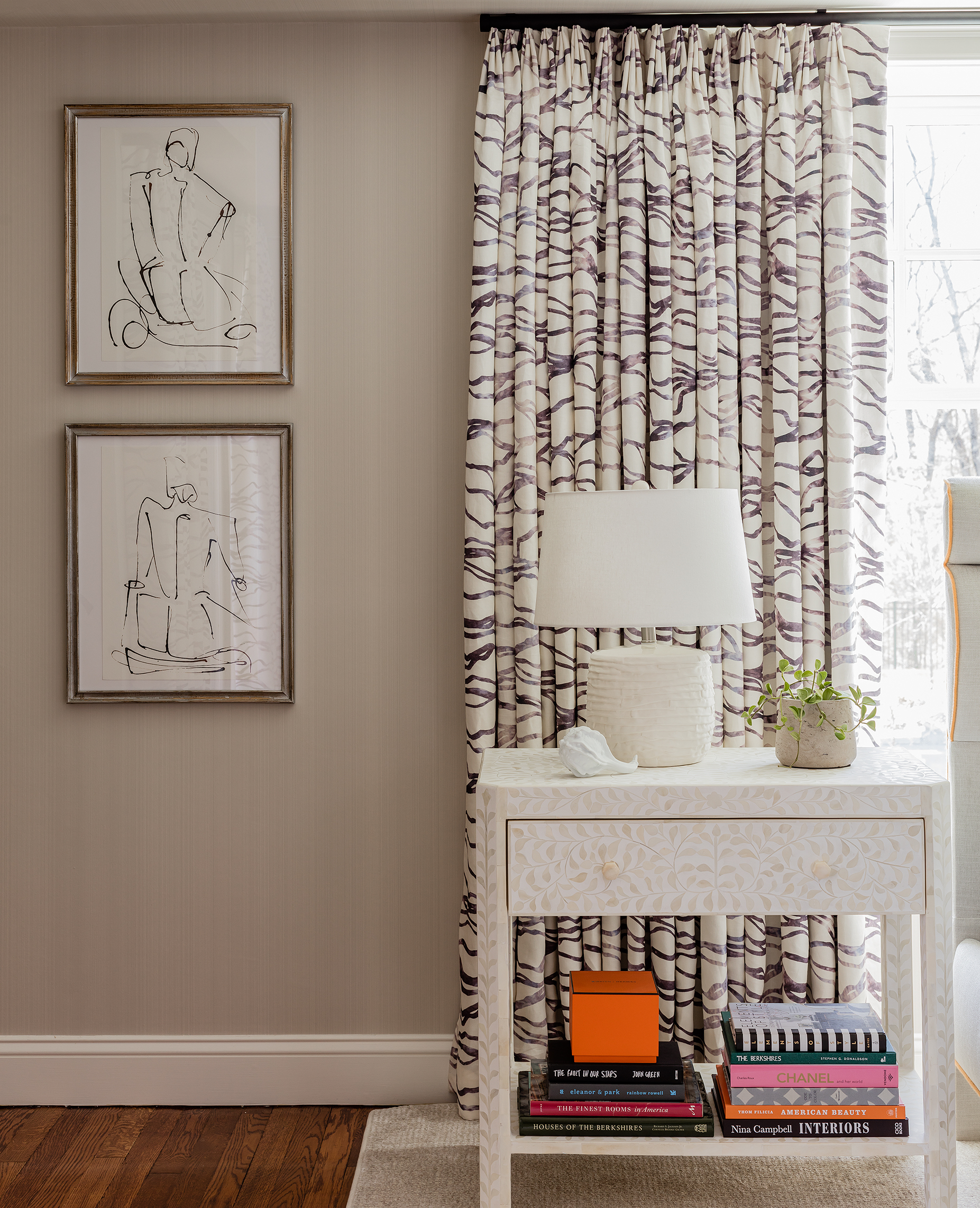 Framed figurals: Haley Mathewes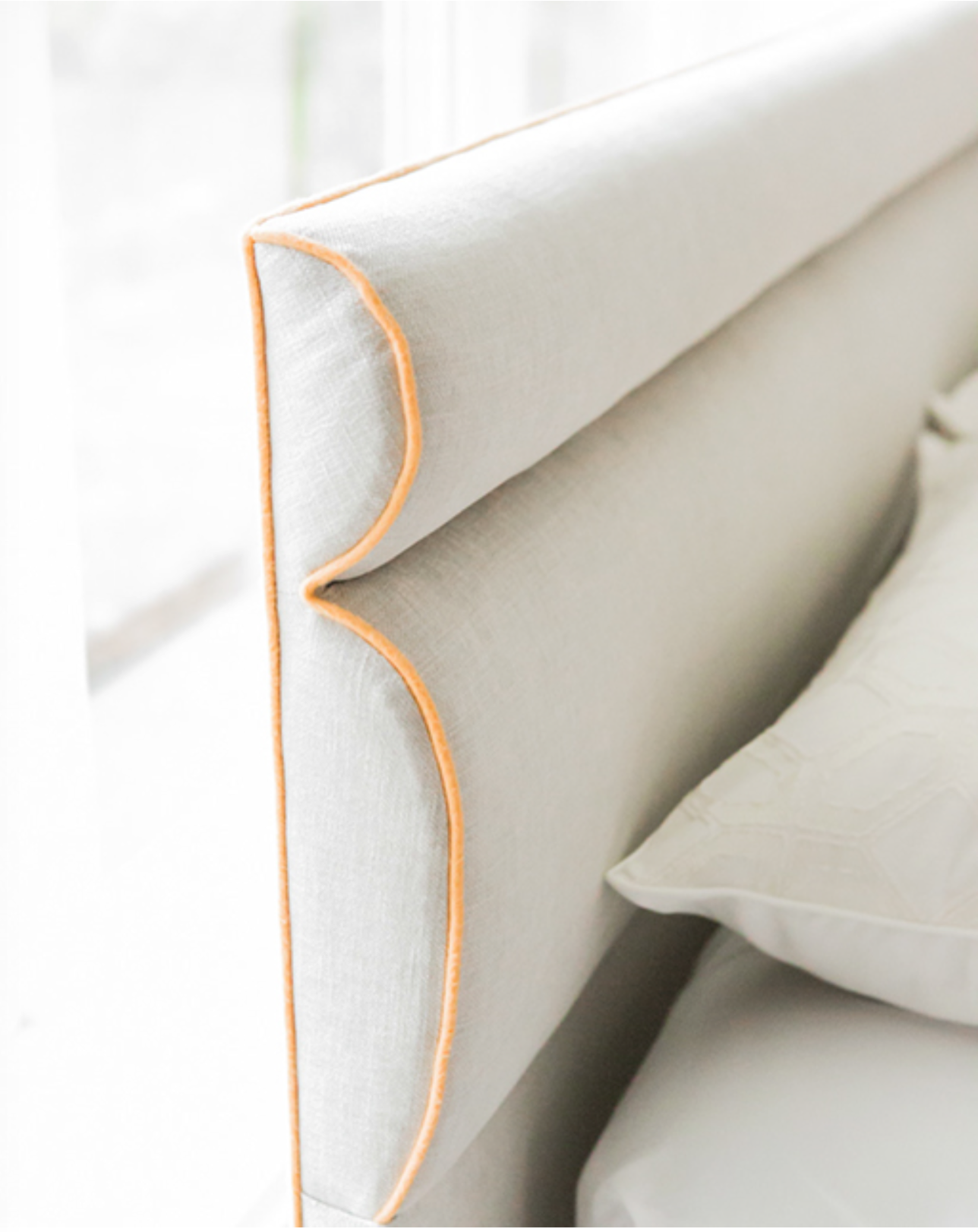 I can't stop staring at the profile of this bed! I liked the idea of a channel back, but since the bed is in front of a window, we wanted to keep it low (about 47″ high). So I designed it with just one channel. We were originally planning to do orange contrast stitching, but it didn't show up enough on the light gray fabric, so we shifted gears and incorporated an orange welt instead.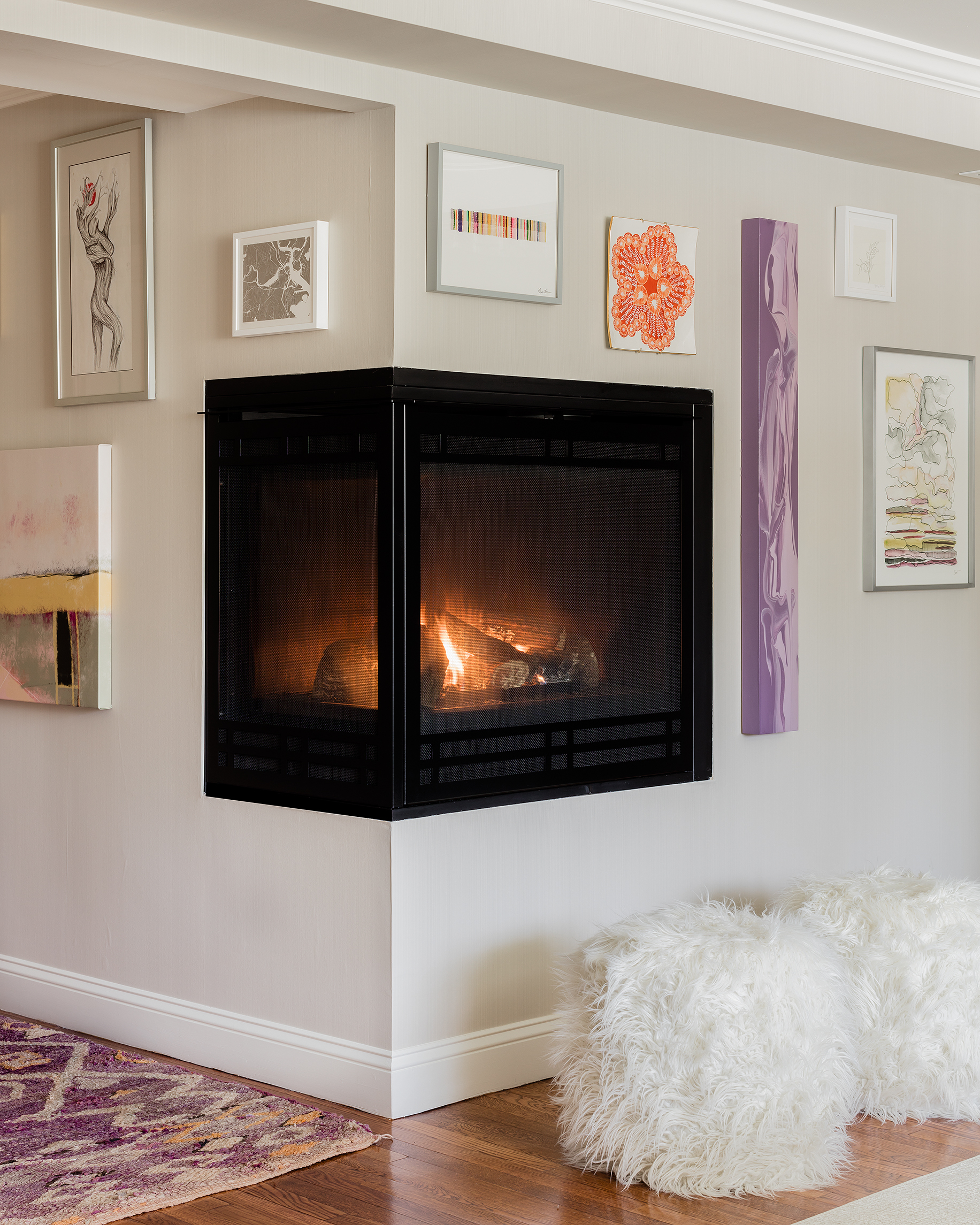 The fireplace! I have to admit, when we got started with this project, I contemplated just ignoring this corner. However, I soon realized how important it was to address it – no unfinished business! I devised a wrap-around art wall to visually incorporate and balance it. The fireplace is no longer random and lonely. And now, it's directly across from the bed, so it can actually be used and enjoyed! Well, maybe when the weather cools again.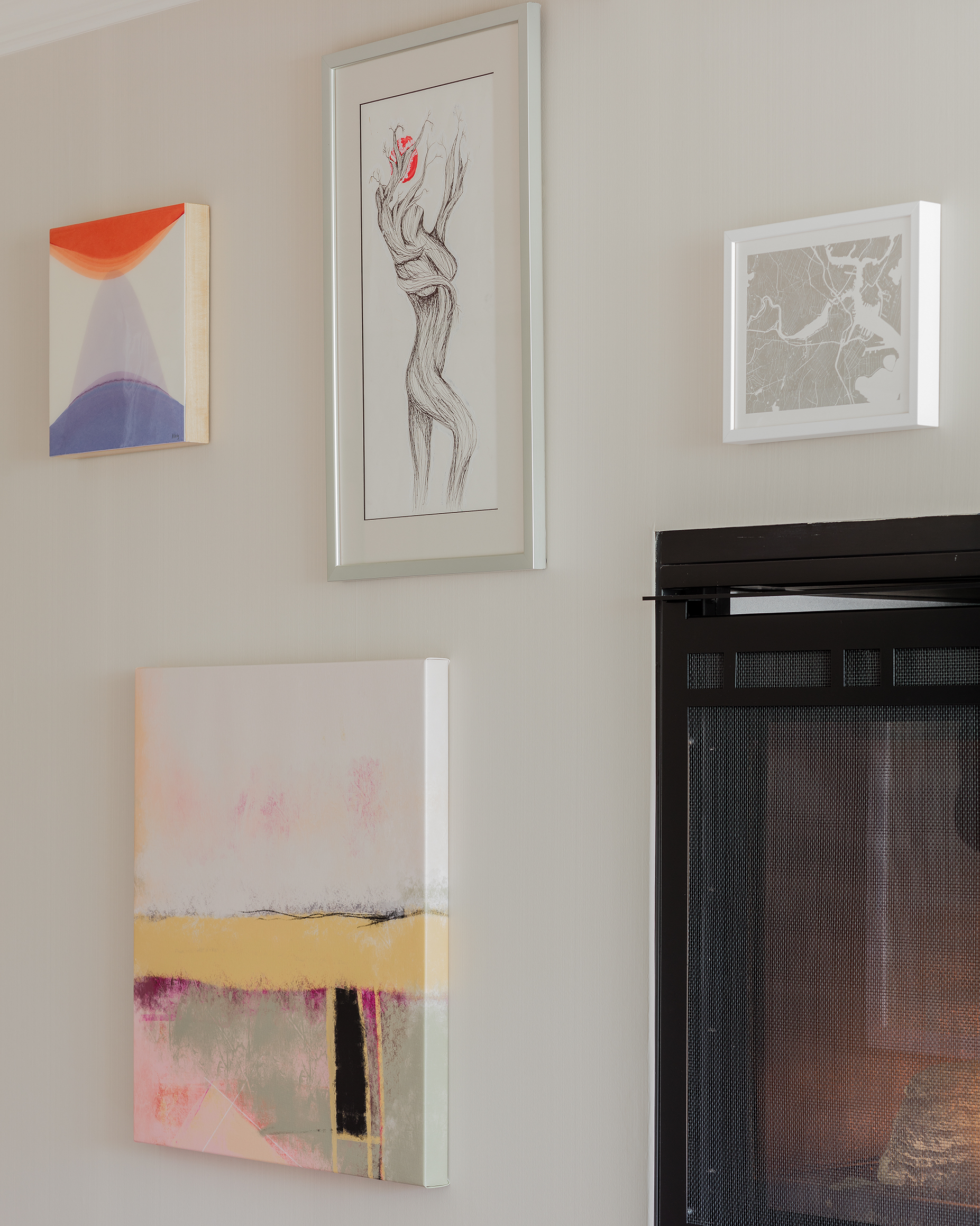 From left to right: Dip-dyed, resin-coated paper on panel, Wendy Briggs Powell | Minted 'More Than This' Limited Edition Print by Amy Moen | Untitled pen and ink drawing by my client's talented son | Minted 'Boston Map' Foil-Pressed Art Print by Alex Elko Design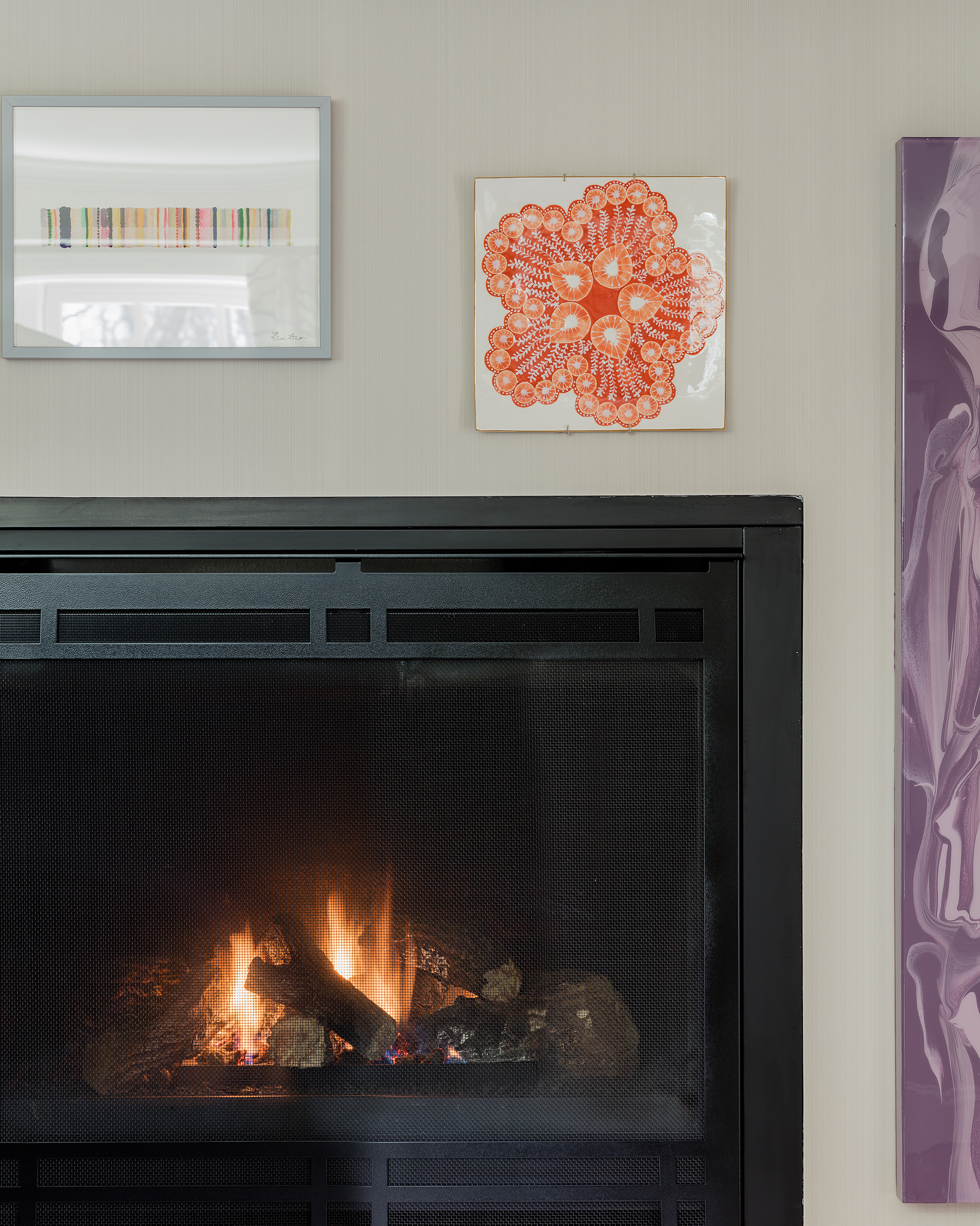 From left to right: Minted 'Your Element' Limited Edition Print by Kristi Kohut | Jill Rosenwald Hi-Five Brekkie Tray, custom in Pepper color | Panel with paint and resin: Karole Moe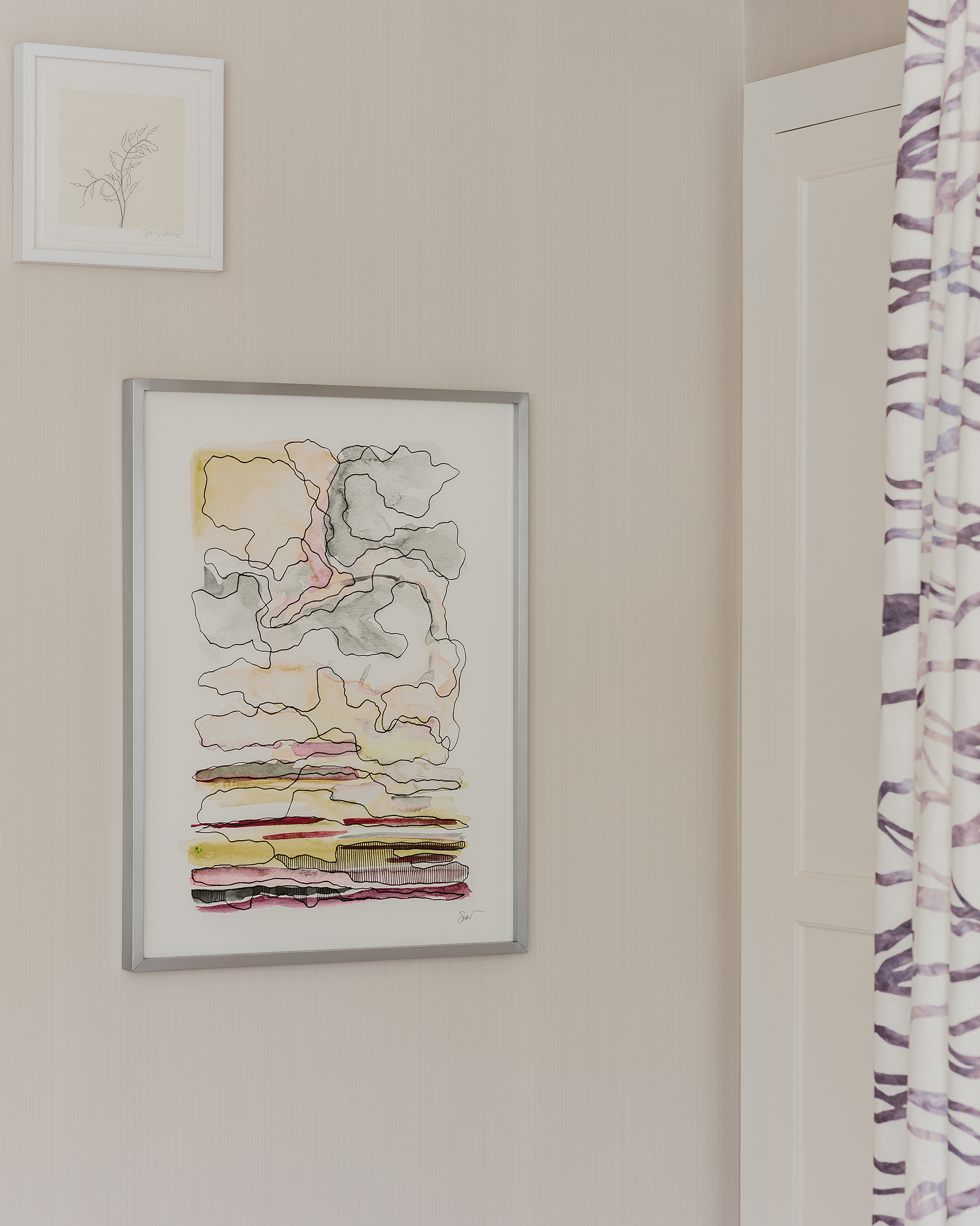 From left to right: Minted 'Wild Radish' Limited Edition Print by Jorey Hurley | Minted 'Kansas' Limited Edition Print by Stephanie Nowotarski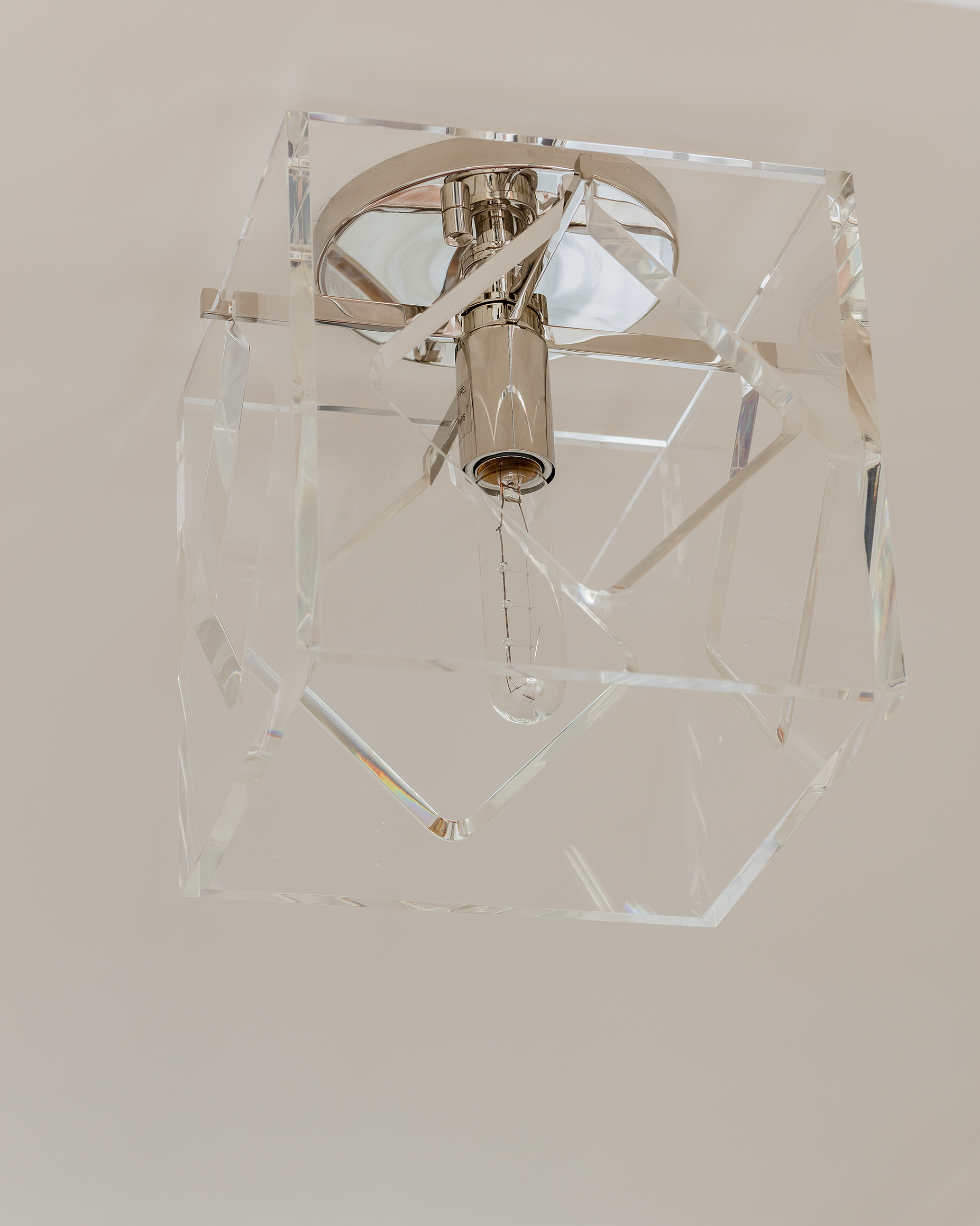 Hudson Valley Lighting Travis 9″ Polished Nickel Ceiling Light via Lamps Plus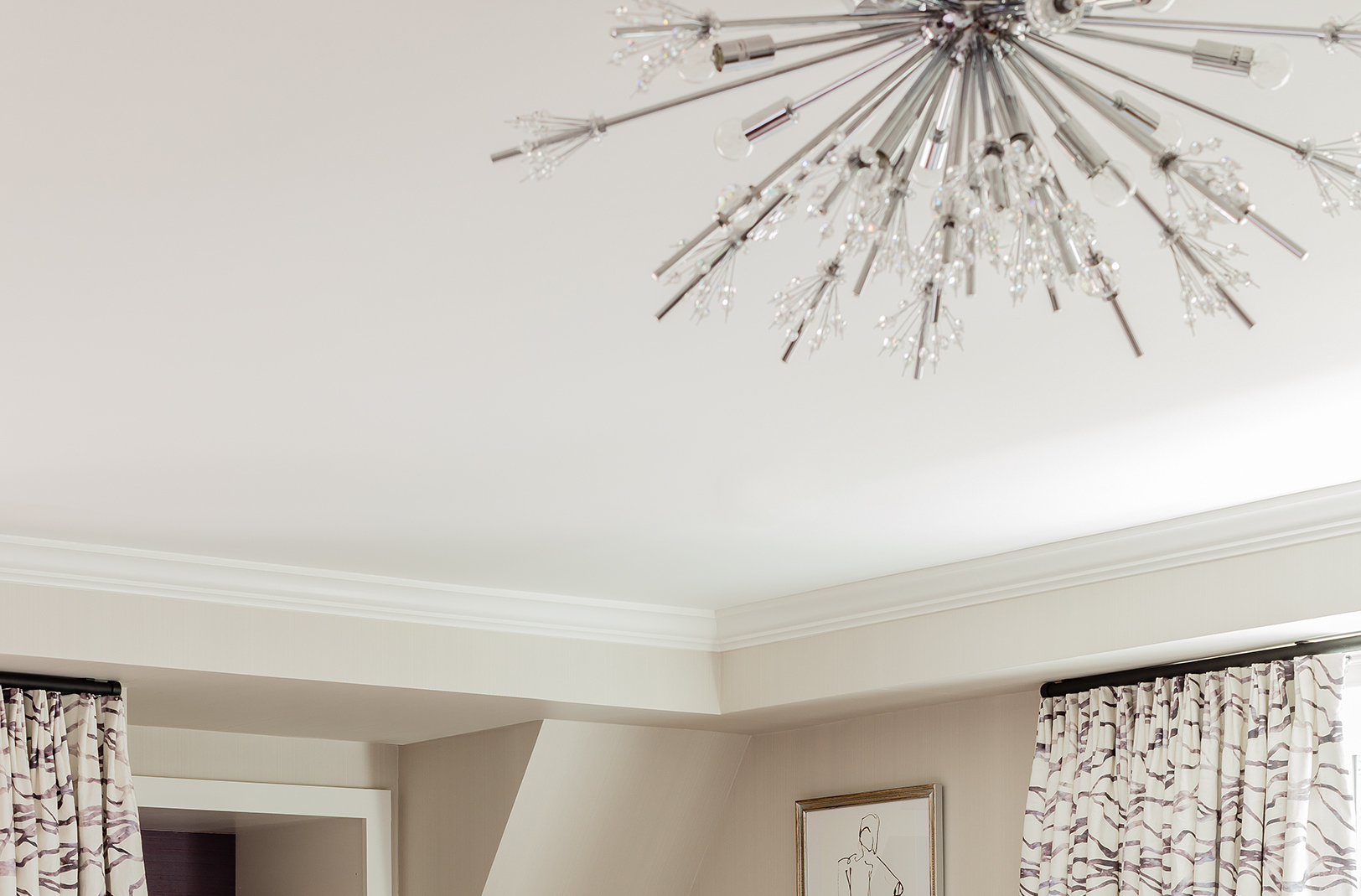 This room is not blessed with high ceilings (only about 7 1/2′), so we were limited to flush mounts and semi-flush mounts. But I didn't want to settle for boring. I searched high and low for the most interesting surface-mounted lighting and I think we hit the jackpot!
Elk Lighting Starburst 12-Light Polished Chrome Semi-Flush Ceiling Light via Bellacor (discontinued – smaller size still available)
The hardware upgrades in the Bold Serene Bedroom are epic, and allowed us to pull off an authentically modern look. (By the way, before we started, this little cabinet closet sported unfinished wood doors and knobs to match!)
Cabinet Hardware: Emtek Grayson Crystal Knob | Trim/Ceiling Paint: Farrow & Ball Wimborne White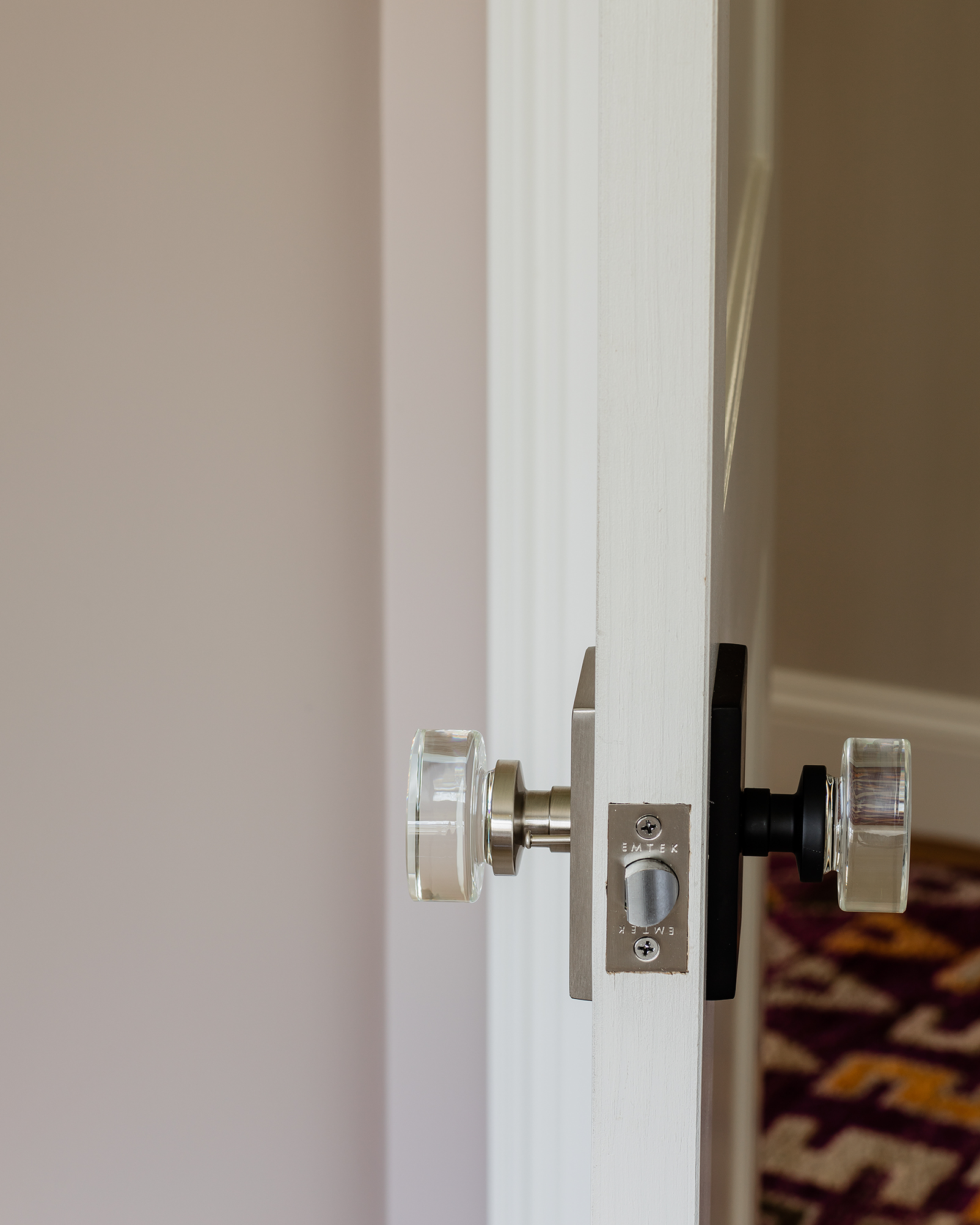 The master bathroom and the rest of the house have a satin nickel door hardware finish, but we wanted to go with black in the bedroom. Mixing and matching finishes on a door is no problem!
Door Hardware: Emtek Modern Disc Crystal Knob with Modern Rectangular Rosette, Flat Black finish inside room, Satin Nickel finish outside room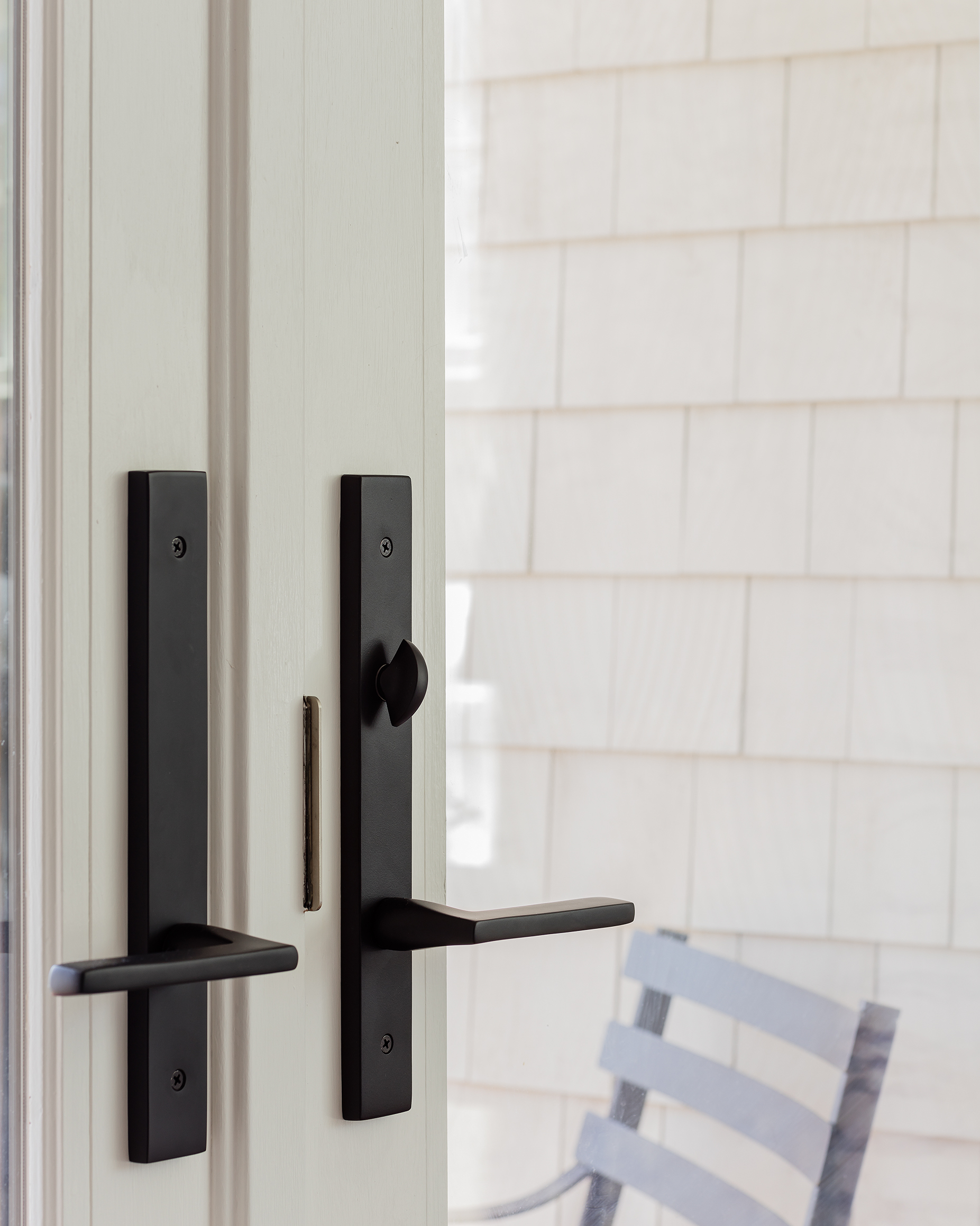 The two-sided fireplace isn't the only rarely-used area of the master bedroom that just got a new lease on life. These French doors lead to a cozy balcony overlooking my client's backyard, which abuts a densely wooded area.
French Door Hardware: Emtek Multi Point Lock Trim with Helios Lever and Modern Backplate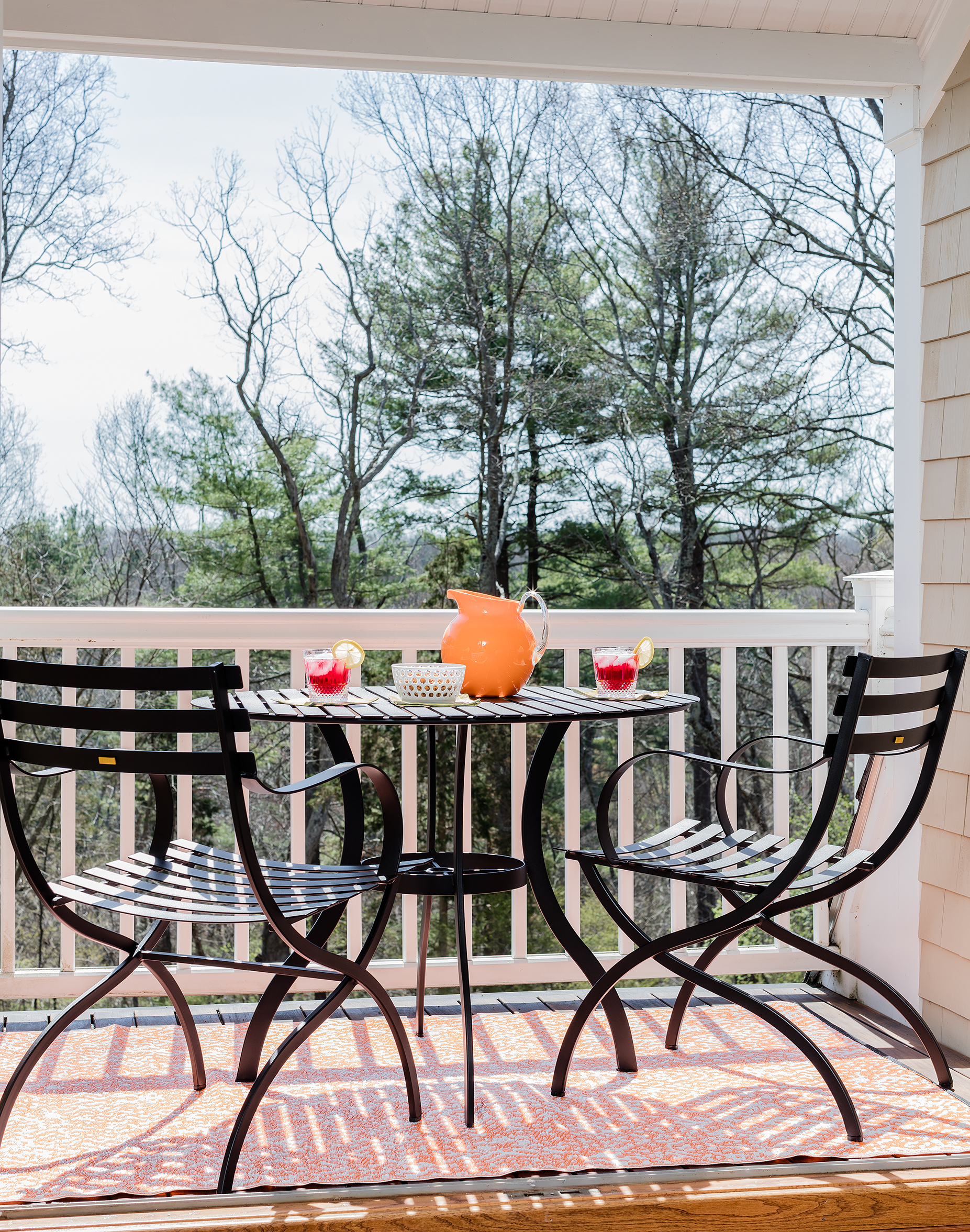 Sunny summer cocktails, anyone? I'm so ready for one.
Outdoor Furniture: Stori Modern Journal Arm Chair and Journal Dining Table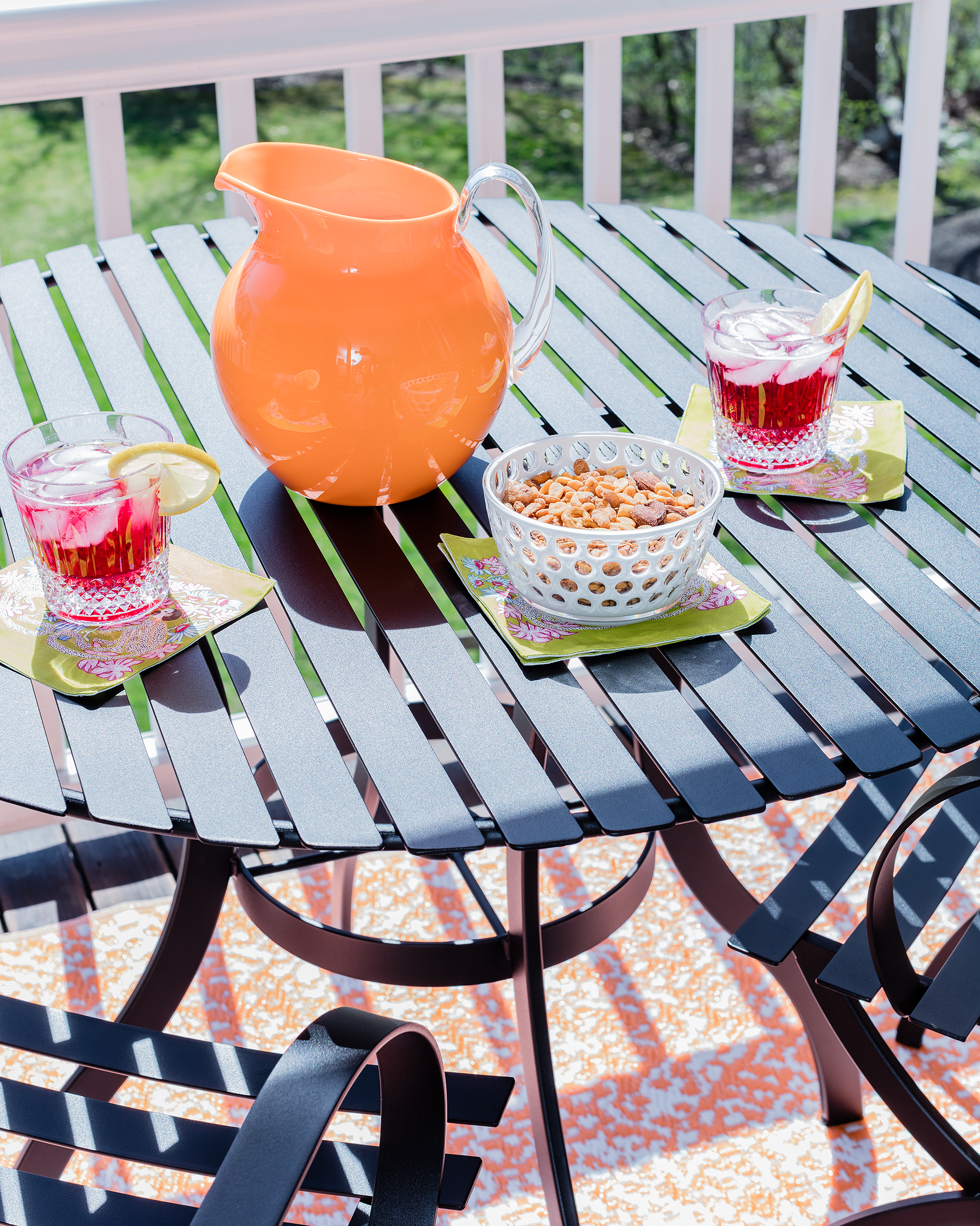 Can you believe everything on this table (except the cocktail napkins) is made of acrylic and is 100% outdoor safe? It looks just like fancy glass and crystal barware. Seriously, I'm ready for that drinky now. Please.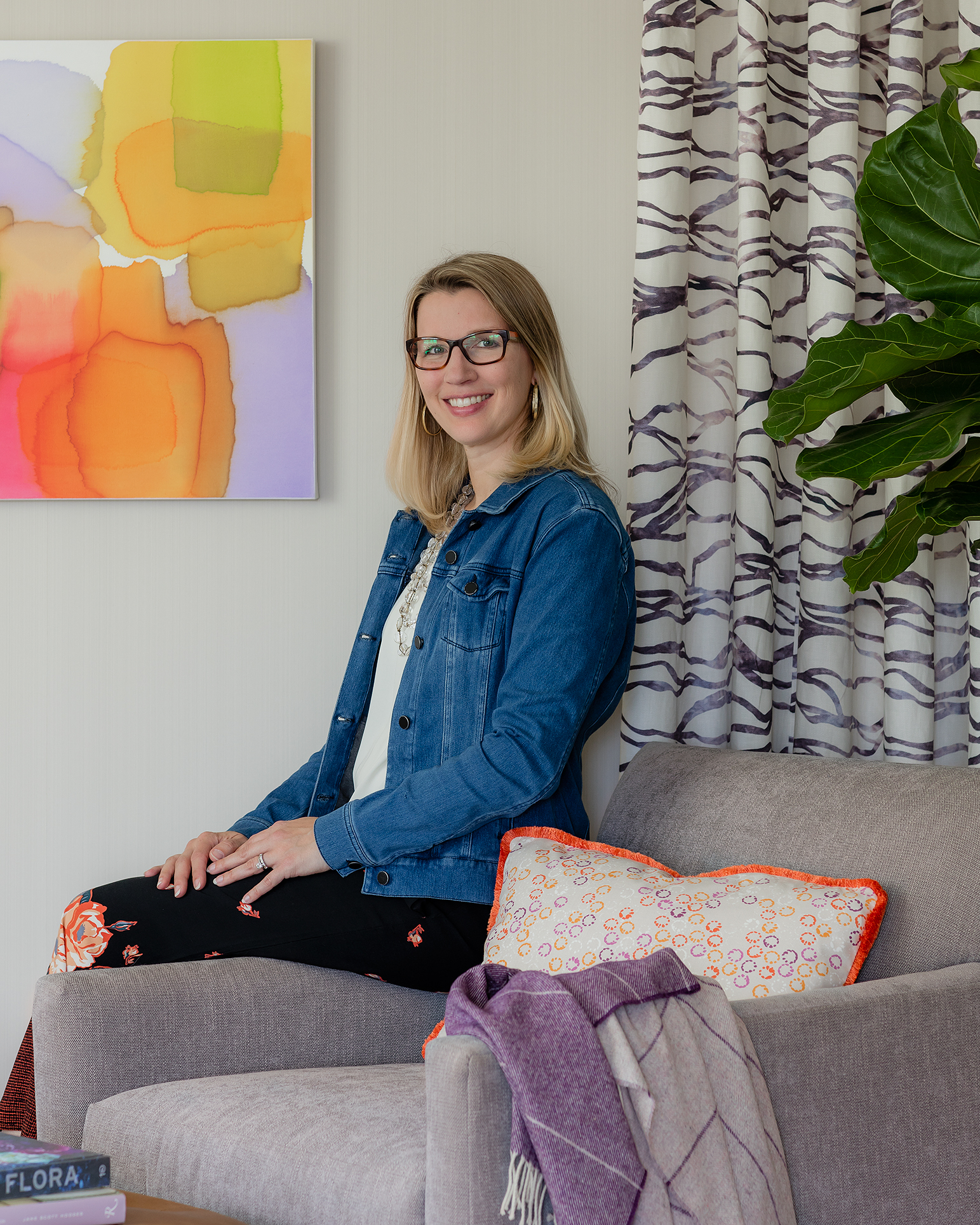 And scene!
All 'AFTER' photography by Michael J. Lee.
A few of my trades/partners really stepped it up so we could meet our challenging deadline, and I owe them many thanks!
Alan Babitts Workroom (draperies)
Partners in Design (bed, pillows)
Melanie Harvey Interiors (paper hanger)
Libby Silvia Artstyle (art consulting)
Designer Services, Inc. (receiver/delivery)
My client coordinated the painters, but also were very hands on throughout the process themselves, replacing all the door and cabinet hardware, switching out the light fixtures, and even modifying the fireplace surround grilles to look a bit less craftsman-like. My heroes!
We owe a huge debt of gratitude to our product sponsors: Fabricut / Stroheim, Farrow & Ball, Emtek, Lamps Plus, Stori Modern, Bellacor, Jill Rosenwald, and Minted.
Big thanks also go out to valued partners Giardini di Sole and Elizabeth Home Decor, which have been invaluable resources for me, for beautiful, unique accessories and tableware.
Shout out to House Beautiful, Media Sponsor of ORC!
And thanks to YOU for coming along for all or part of our six-week whirlwind journey!
I am SO excited to check out all the other reveals! Don't forget to come back to tomorrow, too, for well over 200 inspirational room transformations by guest participants!
Apartment 34 | Beginning in the Middle | Coco & Jack | The English Room | The Gold Hive
Gray Malin | Jenna Sue Design | Jojotastic | Linda Holt | Marcus Design
Michelle Gage | Natasha Habermann | The Painted House | Rambling Renovators
Sacramento Street | Shannon Claire | Sketch 42 | Stephanie Kraus | Bisou Style
Media Partner House Beautiful | TM by ORC
Lastly but certainly not leastly, thank you to Linda, the creator and owner of One Room Challenge, for providing us all with this amazing opportunity, and for being our constant champion and cheerleader!
xoxo Kelly