I recently had the opportunity to work with a great couple who I learned (after our first meeting!) was expecting their first child – a boy. I helped with a few decisions for the nursery and other areas, but mostly my focus was decorating their master bedroom in a new construction home in Wellesley. They had lived there for a few years, but hadn't got around to finishing the rooms above the first floor.
As the mother of two young boys, I knew that my sweet clients had no idea the kind of change that was about to take place in their lives. Sure, they did know a baby was on the way – along with more than a few sleepless nights, endless feedings, and the diaper changes that inevitably follow said feedings. But what I mean is that your life inevitably becomes all about your children, and less about you as a couple. I knew this was a project that was more important than even my clients realized. I had to deliver a bedroom that would serve as a comfortable, peaceful oasis for them for many years to come.
BEFORE: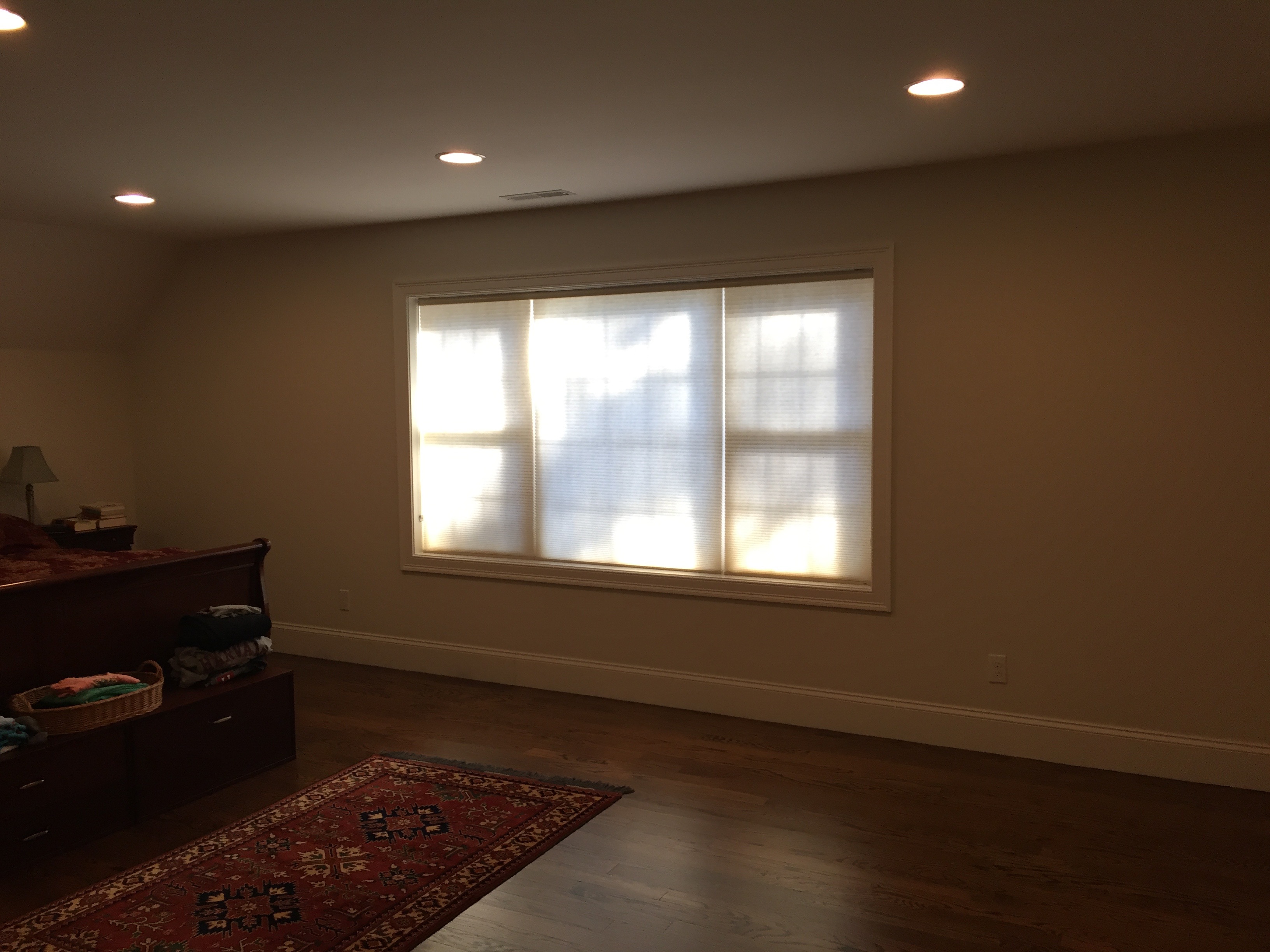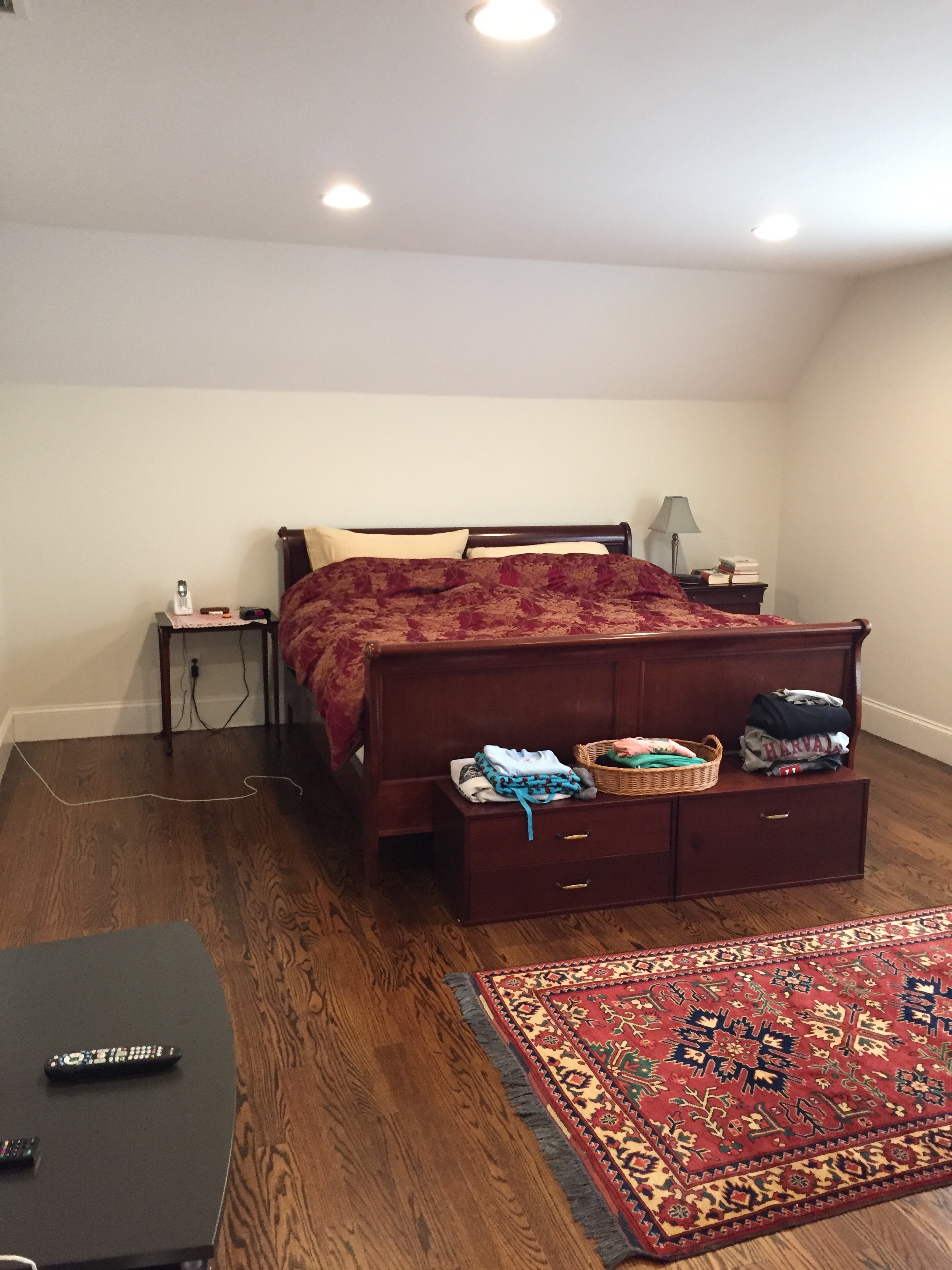 AFTER:
We kept the clients' sleigh bed and the off-white paint color, but everything else is new. The client favored a traditional aesthetic, which we delivered with a mix of textures and patterns, layered within a largely neutral palette featuring accents of slate blue, mulberry, and viridian.
Like many new construction homes, the master bedroom is very generously scaled, and is situated directly above the garage. This meant plenty of space to create a comfortable, yet refined seating area for reading (the husband is a voracious reader!) and watching TV. A room-sized cut-and-bound rug adds warmth, coziness and a small-scale pattern, while also unifying the large space. The windows were just begging to be dressed, and these draperies with a Duralee appliqué fabric add softness and interest to a space that really needed both of those things.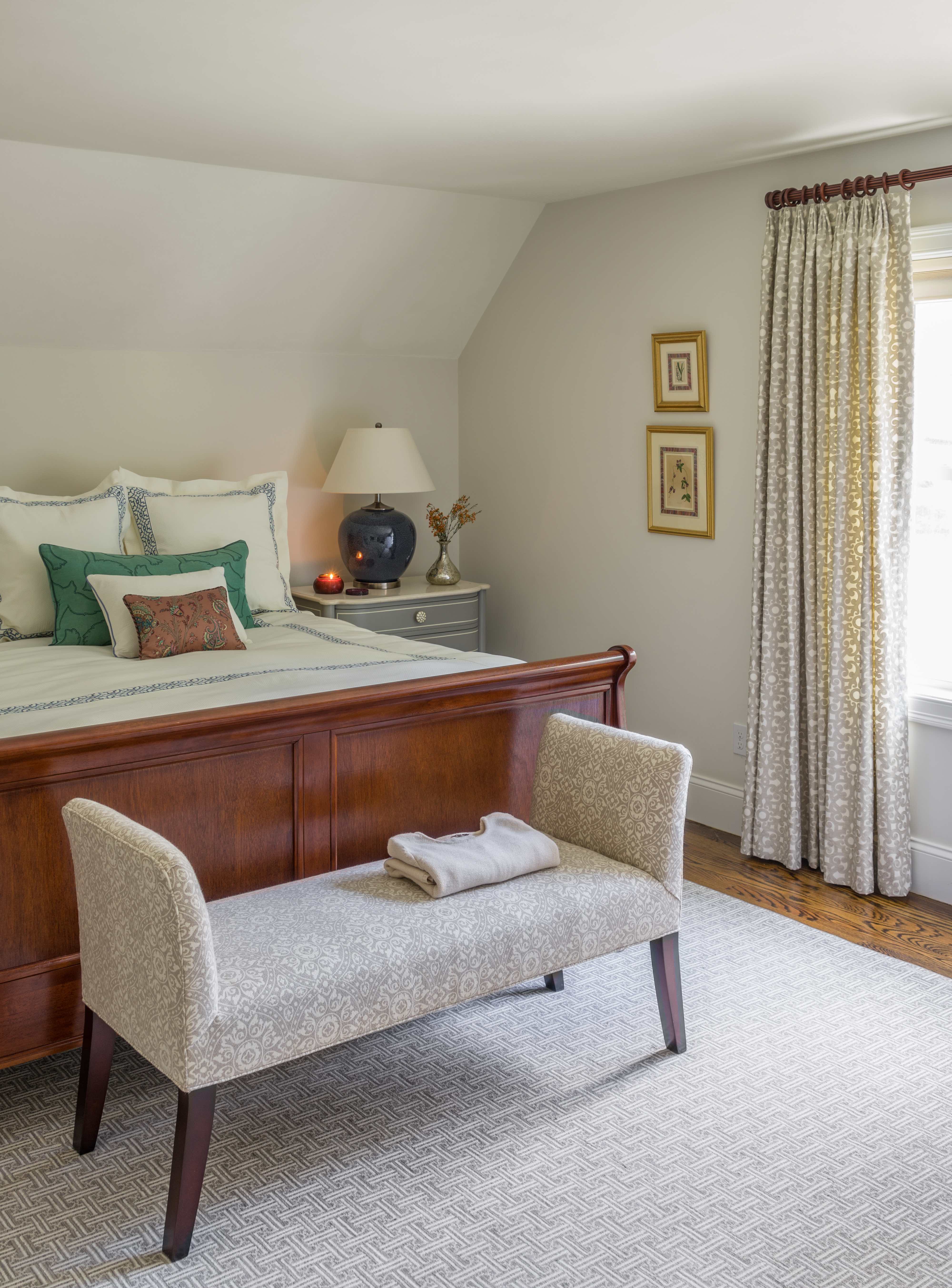 We tried to mirror the curved, elegant lines of the sleigh bed in many of the new furnishings, including this fantastic end-of-the-bed bench, which is perfect for getting dressed, and for storing all those pillows at bedtime. Note how all of the neutral patterns play so well together, and are very textural.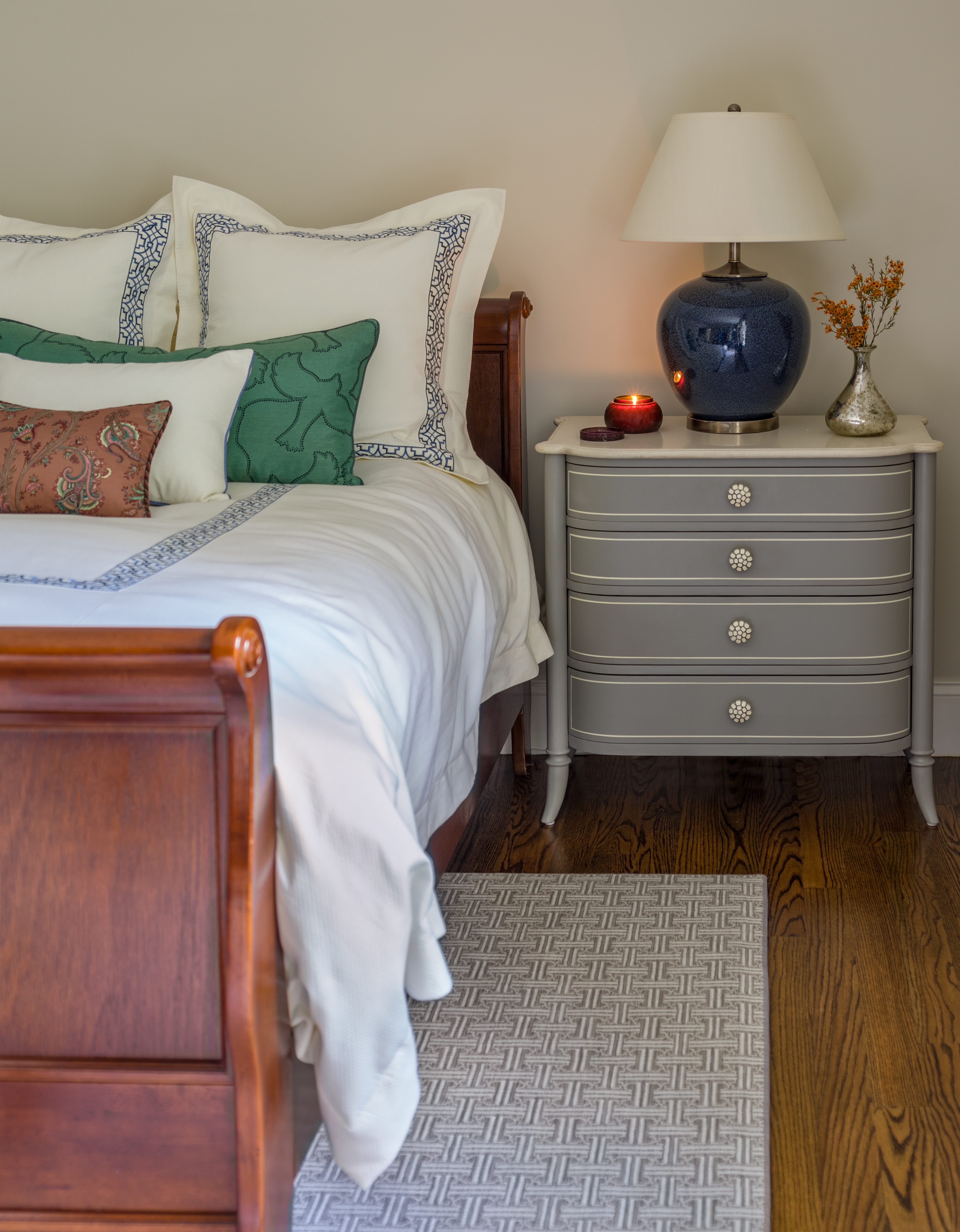 Great bedding is crucial in any bedroom design. The duvet and Euro shams from Legacy Home feature an embroidered fretwork border, and add a fresh lightness to the room. Unless you have pets sleeping with you, I am almost always in favor of white or ivory bedding with interesting pillows, like these custom ones that really make the room unique and special.
The stone-topped Caracole nightstands have lots of drawers (storage was a top priority for this client), and I just love the attention to detail with the white-painted striping, and the adorable hardware – even the insides of the drawers are charming! We went big with Currey & Company table lamps to be in proportion to the scale of the California King bed (and the room), and they add an important accent of color.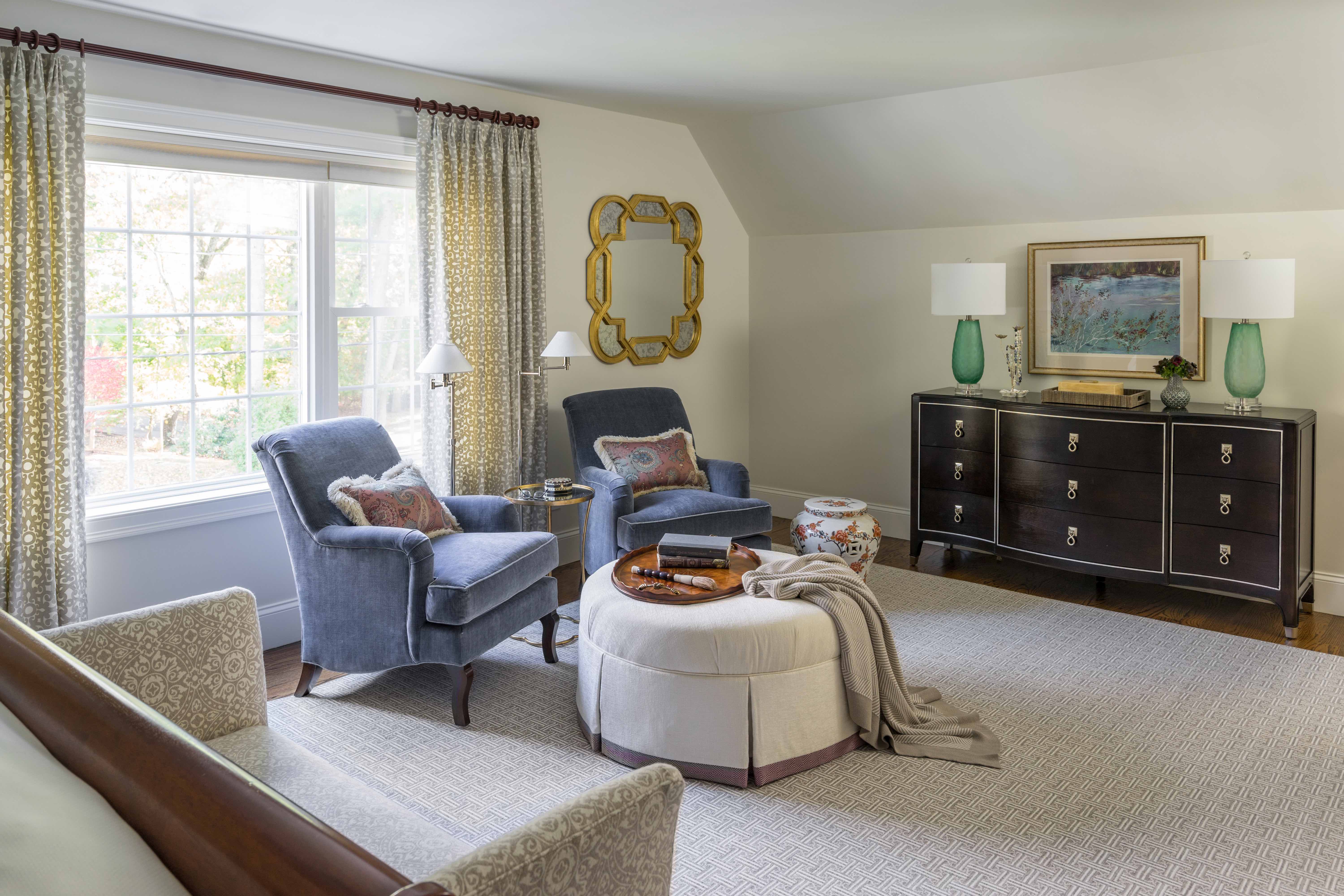 That cozy reading area features an ottoman with mulberry banding, and an ivory Crypton Home fabric from Duralee. Ottomans get dirty faster than other upholstered furniture (because, feet), so a stain-resistant, super-easy cleaning fabric is a must if you're going to go white or off-white. Yes, even if you have a no-shoes policy.
The large Bernhardt dresser adds more graceful curves, and a touch of glamour – not to mention even more of the much-coveted storage space.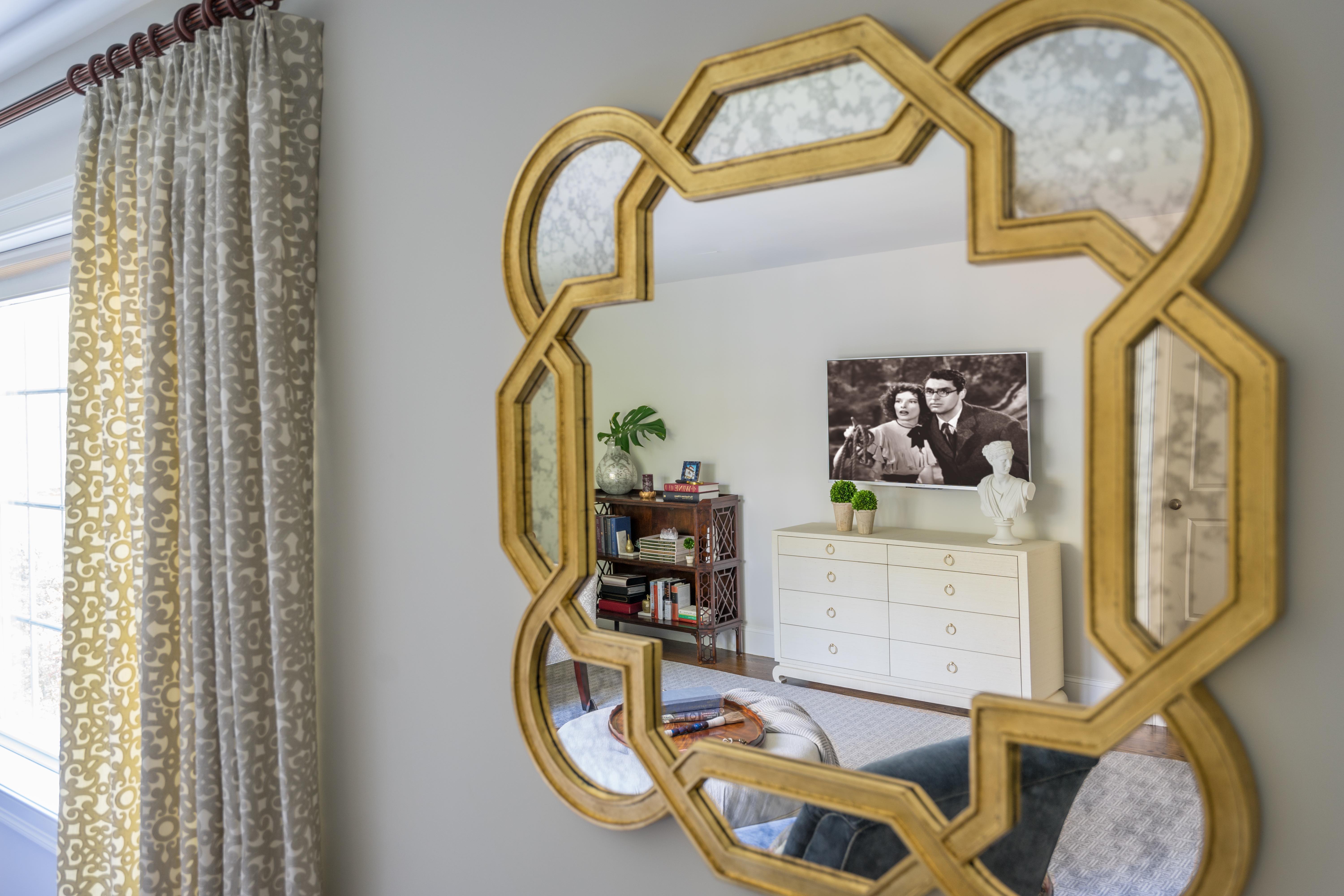 "Through the Looking Glass…" – remember that huge TV, which was honestly looking a little random, unsightly, and a bit too large in the 'Before' state? We added yet another dresser below it (a grasscloth-covered number from Bungalow 5), in lieu of a media cabinet, and a fretwork bookcase from Fauld, which helps both visually for balance, and, more importantly, to keep all the books that the husband has going at any given time. Not to mention all of the new baby and parenting books. I remember these days like they were yesterday!
Oh, and the mirror itself is pretty cool too! Also from Bernhardt…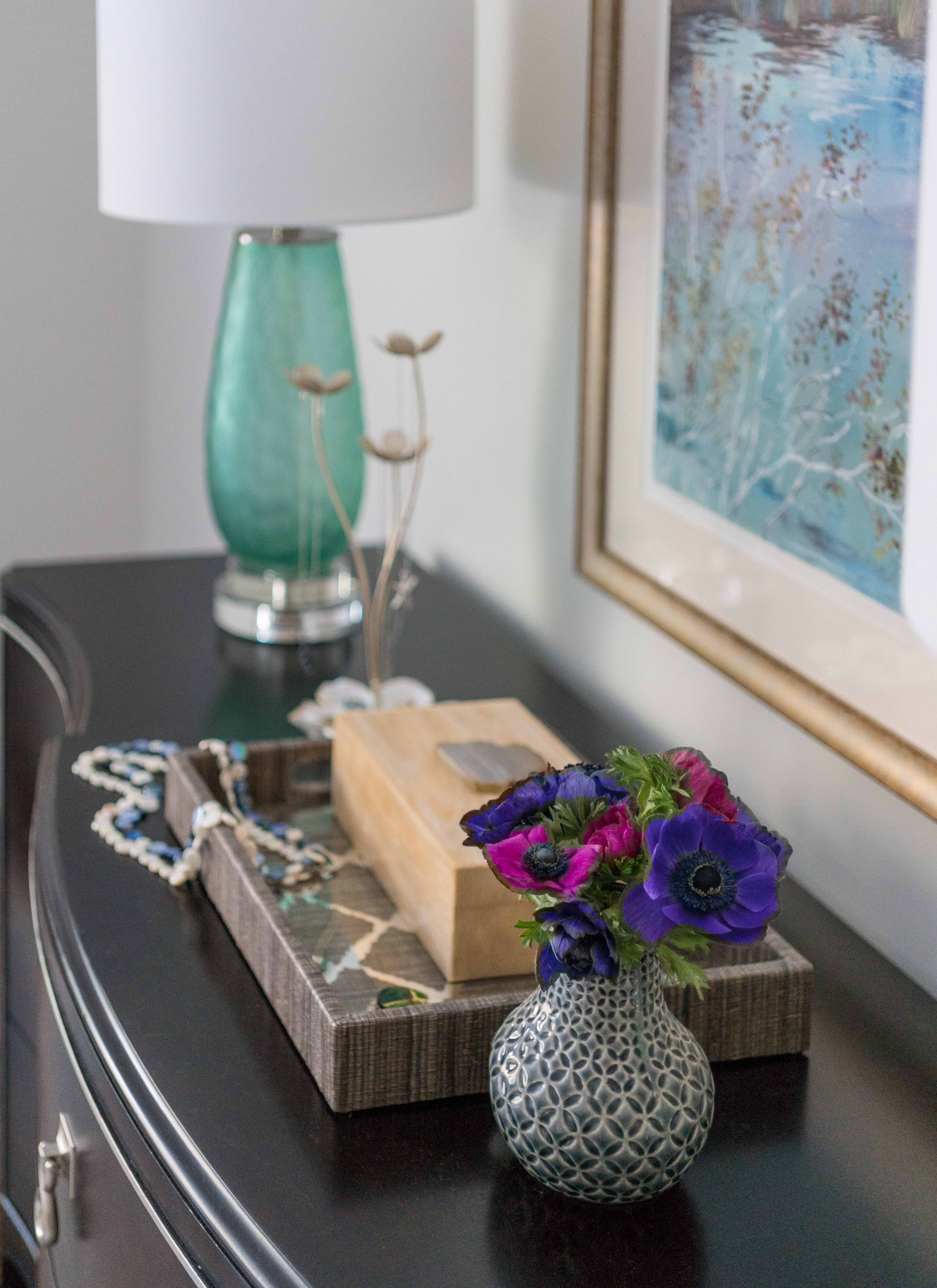 I had the pleasure of installing this room for my fantastic clients while they were at the hospital having their baby (a little early)! Talk about the nick of time! I know it meant a lot to them to be able to come home to their new bedroom all set up, complete with some pretty flowers and freshly laundered bedding. I even watered their plants and folded their laundry. Again, I remember these days like they were yesterday! It's a busy and sleepless time, and new parents need and deserve all the help we can give them. And, I think they also deserve beautiful homes :).
Are you a parent who wants to reclaim your bedroom, or create family-friendly spaces elsewhere in your home? Or are you expecting a child and have a nursery and master bedroom that need decorating? Visit us at Kelly Rogers Interiors to learn more about our services, browse our portfolio (which includes many  other bedrooms!) and to contact us about your project. We are currently booking February projects!
Photography by Eric Roth