One of the neatest things about being "this age" (36, ahem…) is that so many friends and former colleagues seem to be pursuing their entrepreneurial dreams – and totally killing it. It's especially cool when an old college friend and suitemate starts a new business that has created an opportunity for our paths to cross once again nearly 15 years later – even though she and I started our careers in investment banking and advertising, respectively.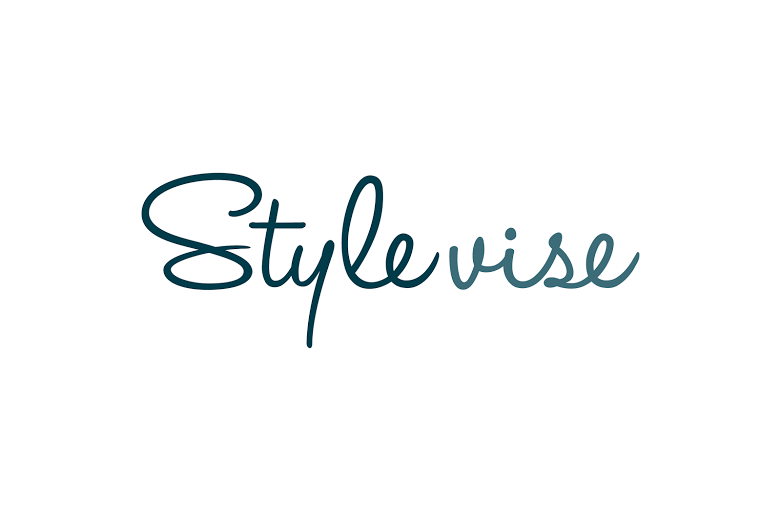 Megan Dubofsky, along with Kaycee Majxner, recently launched Stylevise, a brand-new marketplace connecting consumers seeking style advice with the pros (and talented, up-and-coming amateurs) that can provide it…and turn it around quickly. I consulted with Megan a few months ago as they were preparing to launch, and most recently helped one of their first clients with paint color selection and placement as a "Stylevisor" (more on that below). She generously agreed to do a Q&A about Stylevise, and also offered an exclusive discount to Interiors for Families readers (keep reading for the details). Thanks, Meg!
What inspired you to launch Stylevise?
My husband and I were remodeling our kitchen, and it was nearly finished, but I realized I just needed a little help with the pendants over my kitchen island and the sconces in the hallway. I had very little budget remaining and was pretty intimidated to hire a full-service designer. All the profiles I looked at on Houzz seemed to be for people who had more  "full service" needs than mine. Eventually, a friend of mine with a design background offered to put together a few Pinterest boards for me with several lighting options that would work well for my kitchen and hallway, for a fixed rate. I thought to myself, "Why can't it be easier to find people like her who are talented at this stuff, and be able to quickly access this kind of a-la-carte advice in a non-intimidating, quick-turn way? Something like Etsy in some ways, but for style services…" I thought there were a lot of designers, stylists and even event planners who could profile their skills in different niche areas, and maybe use a platform to build their portfolio or supplement their existing business. I was very, very fortunate that a former colleague and entrepreneur at heart, Kaycee Majxner, wanted to join me in this pursuit. So we're off and running – and extremely passionate about building and growing Stylevise. It feels really good to think we are building a platform to basically help people make money doing what they love.
So how does it work?
The full version of our site is still under development but we do have a very basic, "test" website up that's invite only. Your readers are welcome to email us at founders@stylevise.com if they'd like a private invitation to our interim site to check it out. Currently, "StyleSeekers" can submit a focused problem they are facing with regards to their home or work space (like finding a piece of artwork for above the sofa or what to do with an awkward space in the home), a wardrobe question (such as what to pack for an upcoming trip or how to style their kids for a holiday photo), or a question about party planning (for the holidays, a child's birthday party, etc). We will get back in touch with 1-3 proposals from Stylevisors on our platform who are excited and ready to deliver advice and solutions over an IdeaBoard or video chat. As our site grows, we hope to be a source of steady, focused, quick-turn, profitable work for talented designers and stylists, including those who are just beginning in their careers.
What kinds of projects or advice are people requesting?
 Some of our most fun projects have included a Doc McStuffins birthday party plan, helping a client pack for a big trip to Japan, picking out beds and bedding for a toddler girl's room, and styling a photo shoot for an up-and- coming videographer in New York City. And of course the amazing color selection project you were so gracious to advise on for us!! We are starting to post a few of our success stories to our Facebook page. Recently, we shared the before and after picture as a result of the advice you provided to our StyleSeekers, Katie and Sarah, who had just moved into their new apartment and came to us needing advice on paint colors as well as where (and where not) to paint.
Could you tell me a little bit about what a "Stylevisor" is?
A Stylevisor is our term for a designer or stylist who is on our platform (often at the same time as being in school, or building their own business, or even while being also a mother or homemaker) who would like a way to find some additional, short-term, quick-turn, focused projects. They can take projects on an ad-hoc basis. These individuals have great talent and an incredible eye, but are often not at the point in their lives where they want a 40 or 50 hour a week job.  Also, they often have some very cool, specific areas of expertise when it comes to style like color consulting or photo styling or even a specialty in planning favor bags for birthdays and weddings.  Sometimes they live in more rural or suburban locations where finding access to large numbers of clients is difficult.  Or, they just want to spend more time doing what they love (e.g., providing style advice and solutions), rather than worrying about marketing and other business-management areas.  They are super creative, kind and talented individuals who use us because we help them do what they love in the way they way to do it, with tools and support if they want it.
Do you think you will see a lot of holiday-related activity in the coming months?
Definitely!  While we are not at full-speed yet, we know there is a ton of demand in this area and we are doing our best to make sure we help as many people as possible!  There are so many folks who just want a little guidance to spruce up their home for the holidays, dress up their fireplace mantel, ideas for a Thanksgiving tablescape… to say nothing of the parties (and what to wear to them!!). Getting the kids in just the right look for all those holiday card photos is a real need as well. And we have some talented Stylevisors on board who can help in these areas.
Are you currently accepting new Stylevisors? If so, what skills and talents are you looking for?
Yes!  We are currently "meeting" new Stylevisor candidates (most often via video chats) – and it is absolutely one of the best parts of this job.  We are looking for people who are super passionate about what they do, who love helping others, and who would appreciate a new way to find clients.  We love finding people who have focused areas of expertise like fixtures or tile or toddler birthdays or mothers of the groom dresses, too.  There are so many things that go underserved or under-noticed, but are real, pressing needs for people out there.  We really believe that just a little advice can go such a long way in the lives of the people who are asking for it.  If any of your readers are interested in our platform, please have them contact us at founders@stylevise.com … we would love to meet them!
Cool, right? I was surprised (and delighted!) to see a "Before and After" picture of the apartment for which I provided color advice. My color colleagues know how elusive those "after" photos can be for virtual consultations!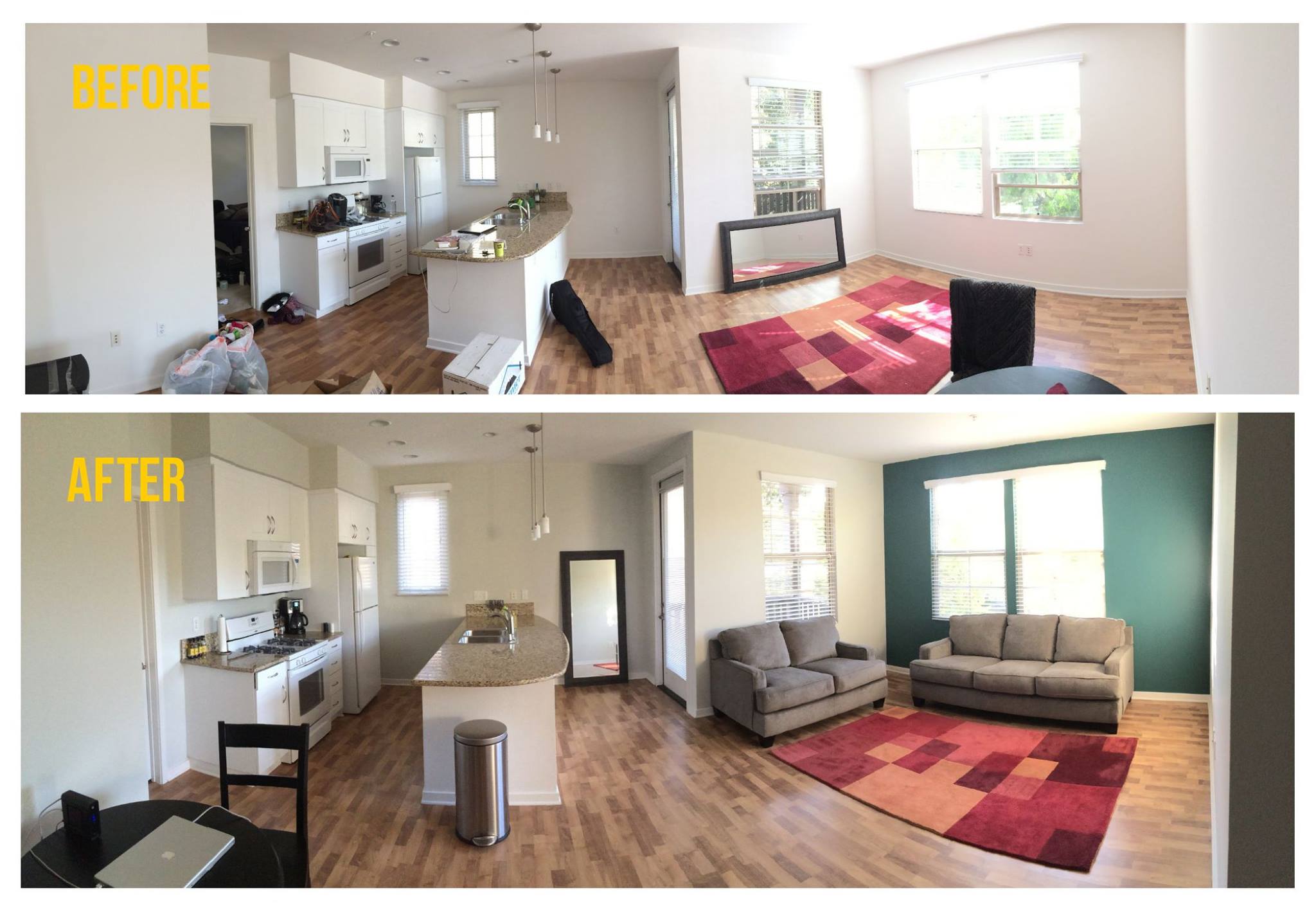 I suggested keeping the majority of the open concept space the same color, but the "apartment white" had to go. A very light, warm gray was used everywhere (to relate to the floors and kitchen countertop), but for one bold teal accent wall to help define the sitting area without chopping it up. It will soon be jazzed up with end tables and artwork to complete the focal point, but even though it is a work in progress, you can see what a difference paint can make in a space! The coolest thing was that I think it was only three days from the moment the request came through to me to the time the "After" photo was snapped (nice work on the panoramic shot, by the way!).
The exclusive, introductory offer especially for Interiors for Families readers is $15 off your first Stylevise transaction! Simply mention that you heard about Stylevise here and you're good to go. Email founders@stylevise.com for early, exclusive access and start StyleSeeking (or, Stylevise-ing!).